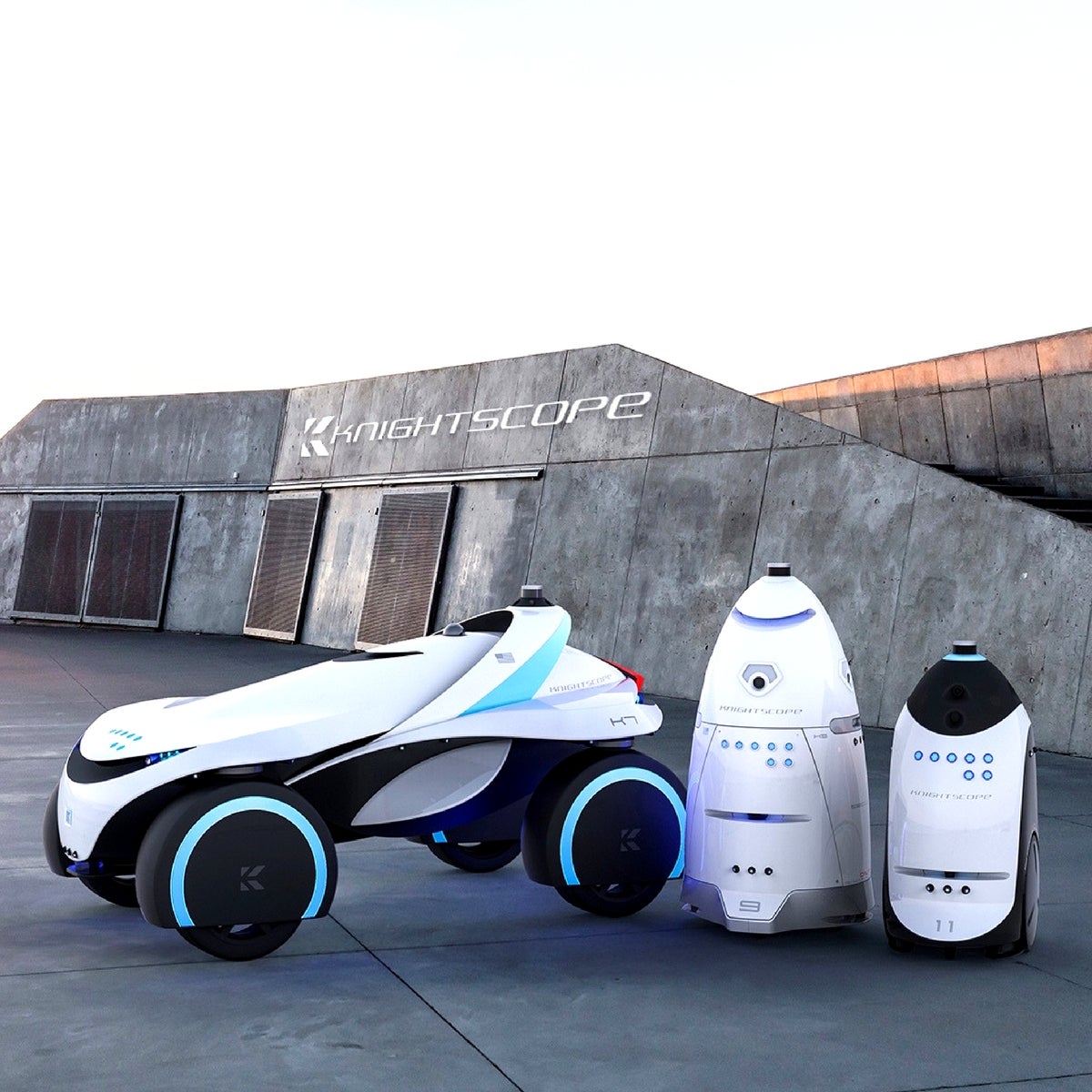 Apprehending a thief. Providing evidence that helps secure an arrest warrant. Stopping a fraudulent insurance claim.
The above achievements may read like the work of a local police officer or security guard, but they're not: these are just some of the ways security innovator Knightscope has helped law enforcement and security professionals stop crime in its tracks across the country—with robots. 
Why?
Silicon Valley-based Knightscope builds autonomous security robots. The 400-lb., five-foot-tall droids partner with security teams through an intelligent combination of software and hardware solutions to deliver a comprehensive physical security system for the areas they patrol.
While Knightscope is known for employing some of the most innovative security technologies (think: anomaly detection and forensic capabilities), the company is ultimately focused on helping people and the societies it's a part of. The company was incorporated in 2013, founded in response to the tragic events at Sandy Hook Elementary School and the Boston Marathon. Its ambitious goal is to cut crime nationwide by 50 percent.
Knightscope chairman and CEO, seasoned entrepreneur William Santana Li, knew that to meet this goal, leadership needed to start with a solid infrastructure that could thrive during periods of rapid growth and set the organization up for long-term success. Since choosing Plex, Knightscope has relied on cloud manufacturing to serve as the backbone of corporate deployment around the country.
The company's ability to build more machines is managed through production control on the shop floor—which is just one reason why Knightscope chose Plex. Knightscope leaders say they're using Plex to run accounting functions, refine inventory management, and improve supply chain planning. Implementation was a quick process for Knightscope—they were fully functional in Plex within just three months.
One of the challenges Knightscope has overcome with Plex is the ability to reduce the time it takes to complete audits given its complex manufacturing process. Since Knightscope essentially creates a bill-of-material for each machine, giving each machine one SKU in Plex before it ships allows for easy traceability and information access during audits, which are only expected to increase now that the company has moved from private to semi-public with its Reg A+ "mini-IPO". This ultimately ensures the company can be compliant without taking away resources vital to running the organization.
One of the most exciting things about Knightscope? The breakthrough technology innovator is just getting started. Later this year, Knightscope plans to roll out the K7, a four-wheel version of its technology stack about the size of a small car, to customers while expanding its reach across the U.S. Learn more about what Knightscope is doing to fight crime here.