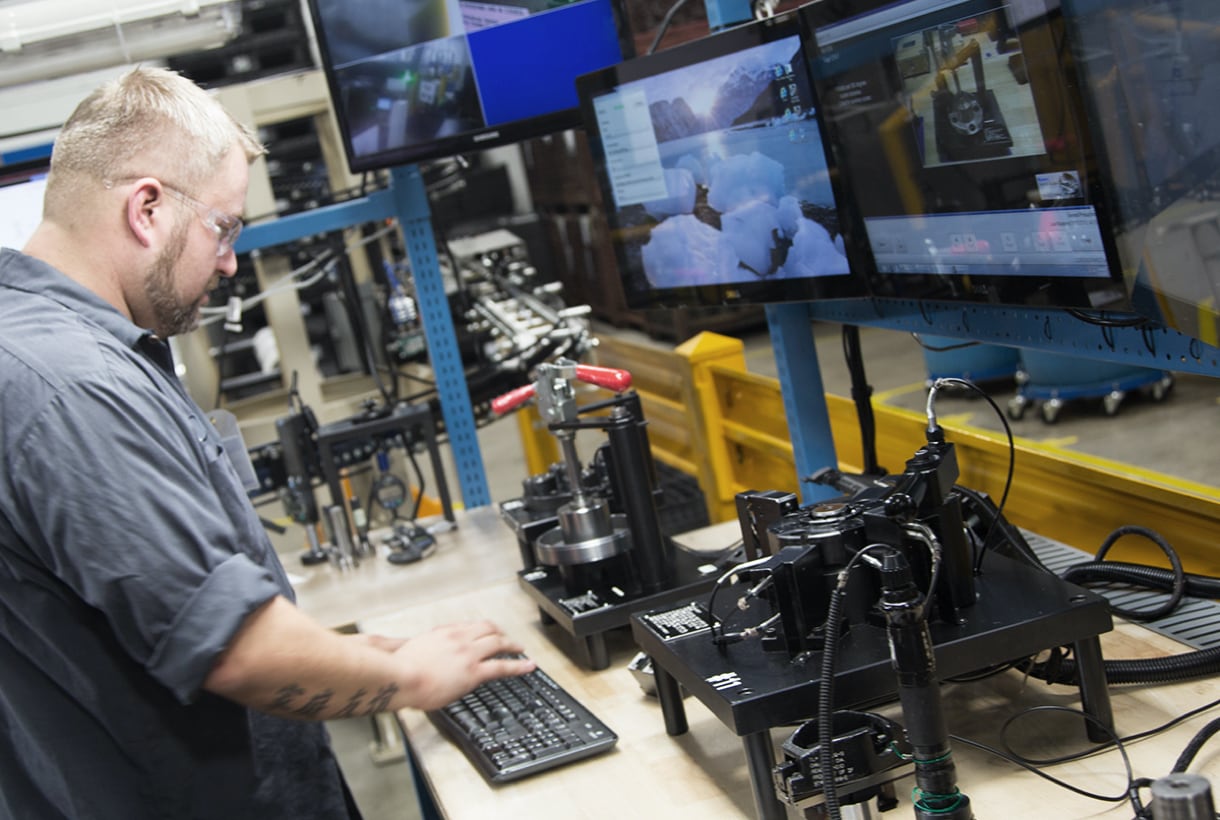 The Internet of Things (IoT) has created quite the buzz in retail, service, and other industries. Not so much in manufacturing. The lack of excitement comes not because it isn't relevant, but rather because the concept of collecting massive volumes of data from manufacturing processes is not really new. Manufacturers have had sensors and automated data collection (ADC) devices operating on their plant floors for decades now. But that's also been the problem. The data never really got off the plant floor. All too often it simply sat out there, disconnected from other enterprise data, not reaching its full potential. It's time we start connecting all the dots. But of course you can't do that without the right technology.
The Role of IoT in Manufacturing
There are essentially two different roles that the IoT can play in manufacturing. It can connect the "things" that make your product—machines and equipment—to potentially make your manufacturing processes run more smoothly. This is the role sensors and ADC have traditionally played, although in a somewhat limited way. Or you can tap into data collected or generated by your products, making them "smart" products, hopefully using that data to benefit the customer and build your business. Manufacturers participating in our 2016 Mint Jutras Enterprise Solution Study are about equally divided on which of these brings the most value to their businesses (Figure 1).
We dug a little deeper into the impact of IoT by also capturing what "things" are connected today, along with plans for connecting more (Table 1). Not surprisingly, production equipment is most likely to be connected today, along with mobile devices. The most common connections are used either to monitor production (e.g., sensing temperature or viscosity and creating an alert or even shutting down a line before product starts to stray out of spec) or to signal required maintenance.
Manufacturers are also connecting mobile devices, which could include bar code or radio-frequency identification (RFID) readers recording transactions on the plant floor or in a warehouse. Tablets are another popular mobile device for the plant floor as they're replacing the traditional clipboard carried by supervisors, connecting directly to enterprise applications such as enterprise resource planning (ERP) systems. Smart phones are also being used to provide an alert through text messages and/or emails. These are relatively simple connections, but provide a first step towards becoming a truly connected manufacturer.
Office equipment such as printers are easily connected via wireless networks. We see percentages start to fall slightly as we move to industrial products shipped to customer sites, but the most common use for this connection is for improved maintenance. This is slightly more common with industrial equipment (48 percent) than consumer durables and appliances (43 percent) even as consumer interest seems to lead (not follow) industrial demand. While automated storage and retrieval systems (ASRS) are quite common in large warehousing operations, they might be overkill for manufacturers with smaller warehouses. Yet safety light curtains, pressure-sensitive mats and laser scanners (often used on remotely operated vehicles (ROVs)) are all potential "things" to be connected in any manufacturer of any size.
But the value of connecting these "things" is oftentimes largely dependent on what they are connected to.
Most commonly, this data is used for business analytics, but how effectively it is mined for strategic insights and decision-making remains to be seen. Data is often used for tactical type of decisions made with the assistance of operational scheduling and management systems, as evidenced by those being a close second in terms of applications that are connected. Warehouse management systems are a specific type of these operational solutions and manufacturing execution system (MES) often times extends deeper into the plant floor than your typical production/shop control functions of an ERP system.
The more these solutions are connected, the more data is available, not only to provide twenty-twenty hindsight into manufacturing operations, but to surface the data in real-time for decisions that can directly impact the quality and quantity of production. And connecting to asset performance and asset management can directly impact the efficiency and utilization of machines and equipment by optimizing maintenance.
Connecting to customer relationship management (CRM) and planning and forecasting solutions brings an added level of insight, intelligence, and intimacy with your customers that can have an immediate impact on your responsiveness to real, rather than assumed, customer needs. Finishing off with a link back to finance and accounting also provides insights into real and controllable costs.
Leverage the Cloud to its full advantage
Of course, in talking about IoT, we have to talk about cloud. Cloud refers to access to computing, software and storage of data over a network—generally the Internet—which is the vehicle by which we achieve this connectivity. The connections to the solutions listed in Table 2 are more easily leveraged when those applications also live in the cloud. It's not just about surfacing the data, but also adding tangible value that can be accessed anytime from anywhere, from a desktop, laptop or a mobile device of your choosing.
While we find software as a service (SaaS) the most popular choice of deployment options for future purchases of enterprise applications, obviously today we see most manufacturers running a mixture of cloud and non-cloud-based solutions. Amongst our participants, about 43 percent of business software implemented now is SaaS, but that percentage is predicted to grow steadily over the next few years, and is projected to be over 70 percent in 10 years. So movement to the cloud is inevitable and a must in order to fully connect your manufacturing enterprise. Putting it off only makes it harder to gain the immediate value from the IoT today. The sooner you have all the right pieces in place, the sooner you can connect all the dots.