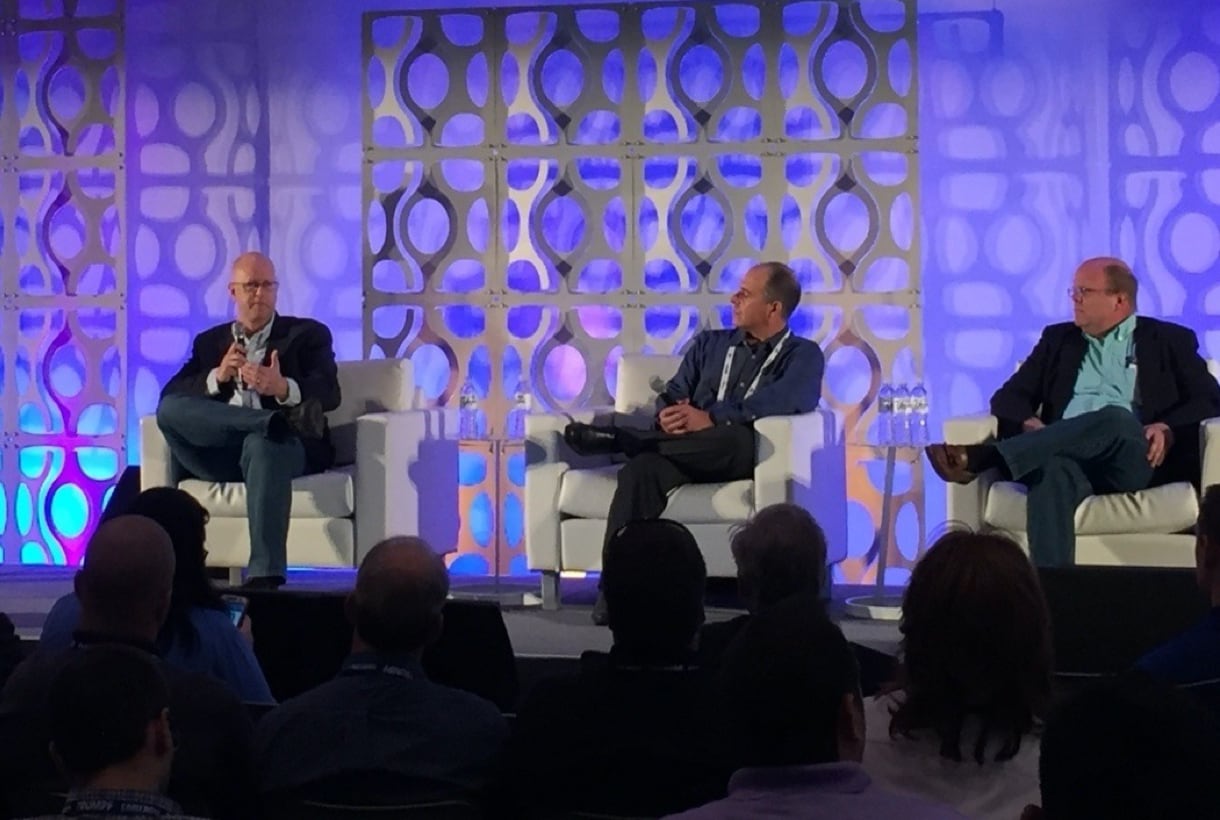 Technological capabilities are advancing exponentially, and business leaders everywhere are asking the question, "How do I take advantage of all these new capabilities without losing focus on my core business?" Manufacturers are no exception. 
Recently I had the opportunity to participate on a panel at FABTECH 2016 in front of a couple hundred small- and medium-sized manufacturing executives and business owners, discussing this topic. The session, Advanced Manufacturing: Creating Competitive Advantages for Product Development, covered a range of topics: connectivity, cloud ERP, training, mobile ERP software, tech skills, and IP-enabled tooling that harness the Industrial Internet of Things (IIoT). I noticed three themes that continued to surface throughout the discussion, and you might be familiar with some (or all) of them:
I'm already behind!
We've all read the headlines, "If you don't have a big data strategy by now, you're already behind!"  Such headlines are designed to induce fear even so, you may still feel pressured.
It's important to realize that it is still early in the game. Most companies are still figuring out how to proceed so, there's no reason to panic. You have a business to run. Keep doing that while you formulate a plan going forward. You really aren't behind, especially if you consider:
Many of the manufacturing technologies are still evolving.
There is typically a wash-out period that follows a large jump on the technology timeline, as companies, people, and products jostle for position and mindshare.
We are starting to move from a wild-west frontier to more mature manufacturing environments, which allows business leaders to start making technology decisions without worrying that their choices will be abandoned.
Where do I even begin?
There are so many useful technologies available to manufacturers, it's hard to know where to start. The key to not becoming overwhelmed is to start small and grow from there. The goal is to simply do a bit more each month than you did the month before.
Start by hiring someone who loves technology. They will have an expectation of how things should connect and work together. You can find recent college graduates or interns relatively inexpensively. Then, point them to your plant floor and ask them to start automating your processes.
Remember, the best technology is there to help you—and not to become a burden.
How do I prepare my workforce?
Training is always a major concern. Not only because of its cost, but also the worry that not everyone will be able to transition to a new way of doing things.
Three quick thoughts:
Don't assume—many workers who have been doing the same thing, the same way for many years are more than ready to try something new.
The non-technical workforce is being replaced by one that is very comfortable with technology, and have different expectations of how they should be interacting with their environment.
Consider having IT and Engineering work on the plant floor for a period of time, shoulder-to-shoulder with the workers on the line, and you'll discover that there will be increased respect between the plant floor and IT, and engineering-designed solutions will have a much better chance of succeeding on the shop floor.
Don't forget: you build great things already. Technology isn't much different. Find one or two people with a passion for technology, add a bit of planning, throw in some elbow grease, and you're on your way!
To learn how more than 150 leaders are embracing advanced manufacturing technology in their organizations and on their plant floor, download the State of Manufacturing Technology Report.