What is a Quality Management System (QMS)?
A 101 guide outlining the features, functions and benefits of a Quality Management System (QMS)
Watch a Demo
Quality management systems (QMS) are a collection of processes used by businesses to help increase productivity, improve customer service and reduce waste. These processes and systems can be highly complex and understanding how to implement them within your organization before adopting any new strategy is imperative. In this guide, we'll walk you through everything you need to know about quality management systems. We'll look at the basic principles, benefits, and steps to successfully establish and implement a quality management system in your organization. This resource will guide you through a QMS implementation while outlining how it can be used to help improve business functions and day-to-day operations.
The Principles of Quality Management
Learning the core principles of quality management will further your understanding of the primary function of these systems. Quality management has four main components:
Quality planning
Quality assurance
Quality control
Quality improvement.
Quality management as a concept has seven key principles that help to identify the processes and everyday operations that benefit from using the associated processes: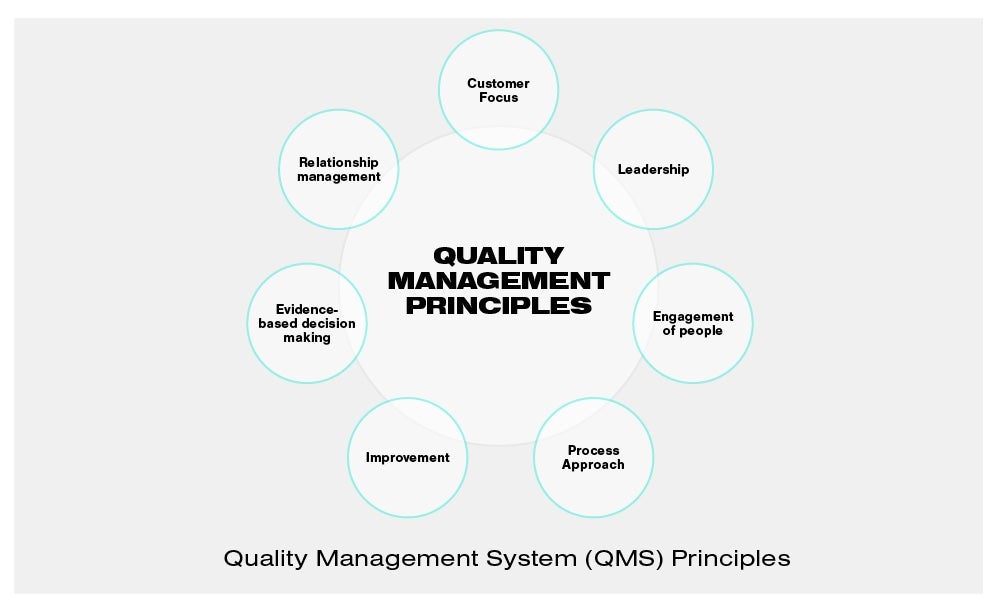 QMS can service these areas differently depending on the unique needs of the business, however, all Quality Management Systems must include the following elements and metrics to be successful
The organization's quality policy and objectives
A quality manual
Procedures, instructions, and records
Data management
Internal processes
Customer satisfaction
Improvement opportunities
Quality analysis
Introducing systems that cover these core elements throughout different areas of the business can help manufacturers use resources efficiently, improve customer satisfaction and loyalty, and heighten employee and company morale.
The Methods of Quality Management
It's also worth noting that there are many different types of QMS, each with its own set of advantages and disadvantages. This helps businesses with unique products and values find a system that can best service their goals. The methods of quality management are:
Standardized Systems
Standardized systems include any QMS that follows a set of federal codes and regulations. These include the following ISO certifications:
ISO 9000 series
ISO 14000 series: environmental management
ISO 13845: medical devices
ISO 19011: auditing management
ISO/TS 16949: automotive-related management
ISO 9001:2025 is the most recognized and implemented quality management standard in the world. It specifies the requirements for a QMS that businesses can use to create programs unique to their own goals and requirements. Organizations adopting standardized quality management methods must meet set criteria and pass detailed audits. In some industries it's a requirement, in others it can provide specific benefits that appeal to a company's overall objectives.
Total Quality Management (TQM)
TQM emphasizes quality throughout every aspect of an organization. All internal processes are aligned with company values and beliefs, with a focus on long-term development of quality products and customer service. This is done by analyzing individual processes and assessing if they contribute to the primary goals of the business while also introducing flexible strategies to ensure that they do.
Continuous Quality Improvement (CQI)
CQI is a system that focuses on continuous and constant improvement of internal teams and the individuals who play a role in quality control. Rewards are an integral part of this quality management method. The "Plan, Do, Check, Act" approach has been adapted to fit different industries and companies, including those who don't use CQI as their primary quality management system.
Six Sigma
Finally, Six Sigma is a data driven approach to quality management that focuses on perfection. It uses specifically outlines processes: define, measure, analyze, improve, and control to provide continuous improvement and the reduction of deviation. Six Sigma typically requires intensive and specialist training and is typically used by many enterprise organizations.
Why is Quality Management (QMS) Important?
Quality management systems (QMS) are essential for improving your business operations and enabling them to meet the requirements of your customers. Many types of QMS follow a set of regulations, most commonly ISO 9000. Whether you manage all internal processes or outsource to an external company, a QMS allows you to remain compliant with the latest standards and regulations. These systems allow businesses to identify, measure, control, and improve various core processes and ultimately leads to improved performance. These benefits contribute to increased profitability and can help businesses keep apace in competitive industries.
Benefits of Quality Management Systems (QMS)
Understanding all the benefits of QMS highlights just how important quality management systems can be for businesses. While the emphasis is not placed on profitability, proper implementation can increase a company's bottom line. The many benefits of using a QMS, some often hidden and unconsidered, can be used to skyrocket earnings and increase growth. Organizations who successfully implement a QMS will see improvements in several areas.
Organizational Effectiveness

A QMS helps establish important operational goals and provides a means to measure and review the progress in achieving these objectives.

Use of Company Resources

Using a QMS will improve effectiveness in the use of company resources, increasing efficiency and reducing waste.

Customer Loyalty

Improved quality will increase customer loyalty and lead to an increase in repeated business.

Company Morale

A QMS leads to heightened employee and company morale that reduces turnover rates, which in turn decreases the cost of training new employees.

Accountability

QMS track individual contributions to company objectives. This creates a sense of accountability and helps employees understand the role they play in the bigger picture, fostering open communication and active participation at all levels.

Growth

Challenging goals and targets encourage company growth and expansion. A QMS also allows for accurate measurement of progress.

Flexibility

A QMS allows for fast and agile reactions to opportunities and obstacles.

Compliance

QMS incorporates compliance into documentation, measurement and reporting, and internal auditing systems, to help eliminate some challenges of meeting certain standards and regulations.

Documentation

A QMS defines how critical processes are documented. This makes important knowledge accessible to people throughout the organization.

Tracking and Monitoring

QMS allows for measured and comprehensive tracking and monitoring of internal processes. It's capable of detecting defects, gaps in product and customer satisfaction, and other issues involving processes, goals, or functions.
Establishing and Implementing a Quality Management System (QMS)
Once you understand the benefits of a quality management system (QMS), you can begin identifying a business case and planning implementation. In this section, we will take you through the basic steps to implementing a QMS and ensuring continuous success. We will cover:
Design and Build
Deploying Your QMS
Control and Measure
Review and Improve
Design and Build
The design and build portions help develop the structure of your QMS, its processes, and your plans for implementation. Senior management should oversee this step, ensuring that the system meets both the needs of the organization and its customers.
Deploying Your QMS
Deployment should be approached in a granular fashion. Break down processes into subprocesses and educate staff on documentation, education, training tools, and metrics. Company intranets are often used to assist in the deployment of QMS.
Control and Measure
It's recommended that you carry out routine, systematic audits of the QMS. The specifics vary depending on the unique requirements of the organization, and often consider size, potential risk, and environmental impact. Using the data from audits helps you review and improve internal processes and your QMS.
Review and Improve
You can review the audit to identify certain goals for the QMS. These goals are used to determine the effectiveness and efficiency of each process against its given objective. Data from the audit can also be used to define new best practices within operations.
Following these steps allows for continuous improvement to both your product and your QMS.
This guide gives you a detailed overview of quality management systems, covering what they are and what they do. If you would like more details about the different types of quality management systems and how they are used across various industries, you can find additional resources below.