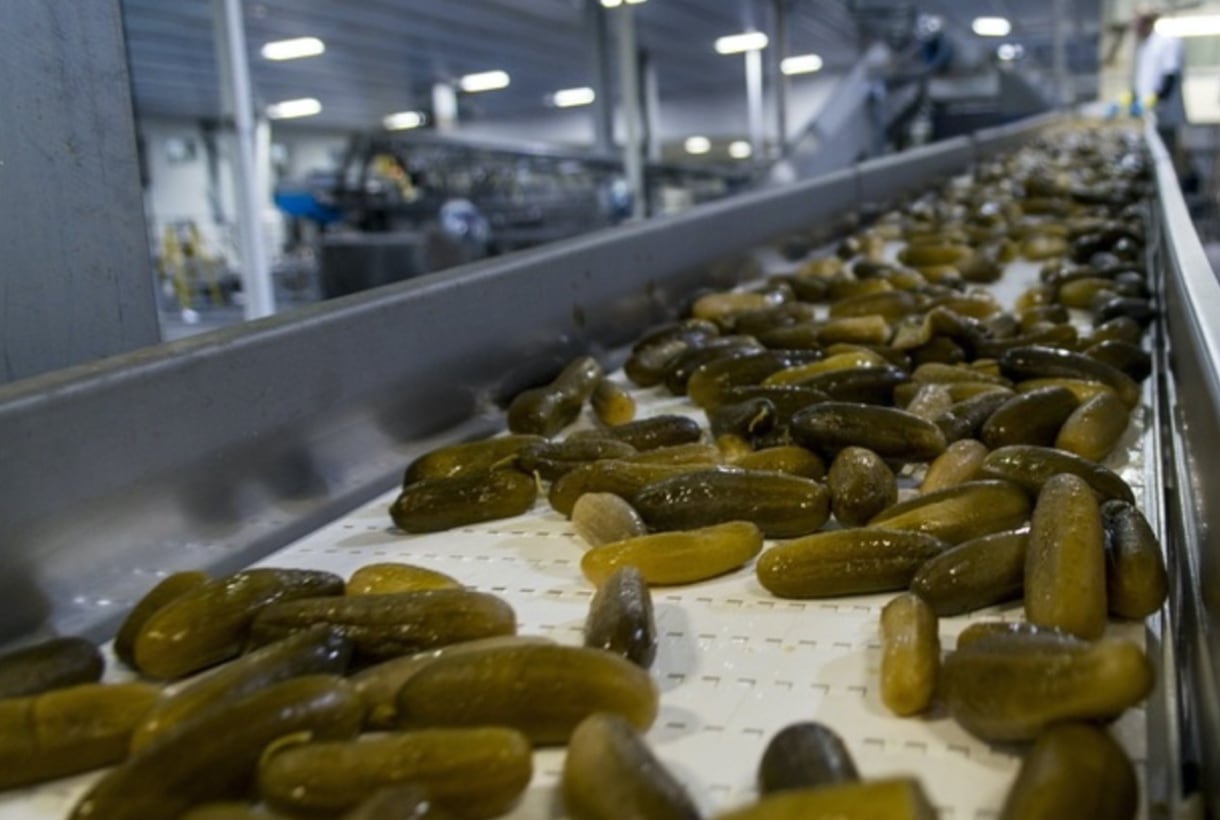 If you enjoy pickles or peppers on your fast food meals or pizza, you've probably had a Hausbeck.
Located in the heart of Michigan, pickle and pepper manufacturer Hausbeck Pickle Company has grown from providing pickles to local grocers to operating on an international scale. As the story goes, Hausbeck began working with Burger King in the 1980s and as the entire fast food industry skyrocketed, Hausbeck went with it. Today the organization serves some of the world's largest chains, including Yum! Brands (which owns brands Taco Bell, Pizza Hut and KFC), Sonic Drive-In, and Subway.
In business since 1923, the company now produces a whopping 50 million lbs. of pickles, 25 million lbs. of banana peppers, and 13 million lbs. of jalapenos every year. That translates to 10 billion slices of pickles annually—enough to wrap around the earth six times over.
As one can imagine, the company has grown significantly since its founding, and over time has invested in its pickling process, team, and technology to match the business opportunities ahead. Third-generation family owners brothers Joe and Tim have each applied their areas of education and expertise (agriculture and finance, respectfully) to lead the way forward, while keeping the company true to its family-owned and operated roots.
Any visitor to the factory can see that Hausbeck runs a sophisticated and fast-paced business. Depending on the schedule, the smell of pickles or peppers are in the air as workers efficiently produce up to 400,000 lbs. of pickles a day—whole, sliced, and relish. Boxes slated to be delivered to customers such as Domino's Pizza and Checkers and Rally's move quickly through the line to waiting pallets, where they're stacked, wrapped in plastic wrap, and are accounted for in the Plex Manufacturing Cloud before being shipped.
Plex is deeply integrated throughout the entire manufacturing process at Hausbeck and plays a particularly vital role when it comes to both managing inventory control and traceability. Traceability is especially critical for any food and beverage manufacturer. Mock recalls are conducted regularly. Plex ERP has significantly reduced the amount of time required for traceability of product during mock recalls, which are a required element of food safety audits.
Despite its growth, Hausbeck still has a family feel. Business patriarch, John, who still came into the office when he was 93, was treasured by many employees who would personally visit. The carefully selected Hausbeck family values are still prominently placed throughout the plant floor and in the office. And most recently, to celebrate the Fourth of July, Hausbeck brought together employees for a third annual rib cookoff, where all employees were invited to showcase special recipes before enjoying another Plex customers' treats: Jeni's Splendid Ice Cream, the perfect addition to a traditional summer cookout.
See how Plex helps food and beverage manufacturers gain visibility and control from the shop floor to the top floor. Watch a manufacturing cloud demo today.