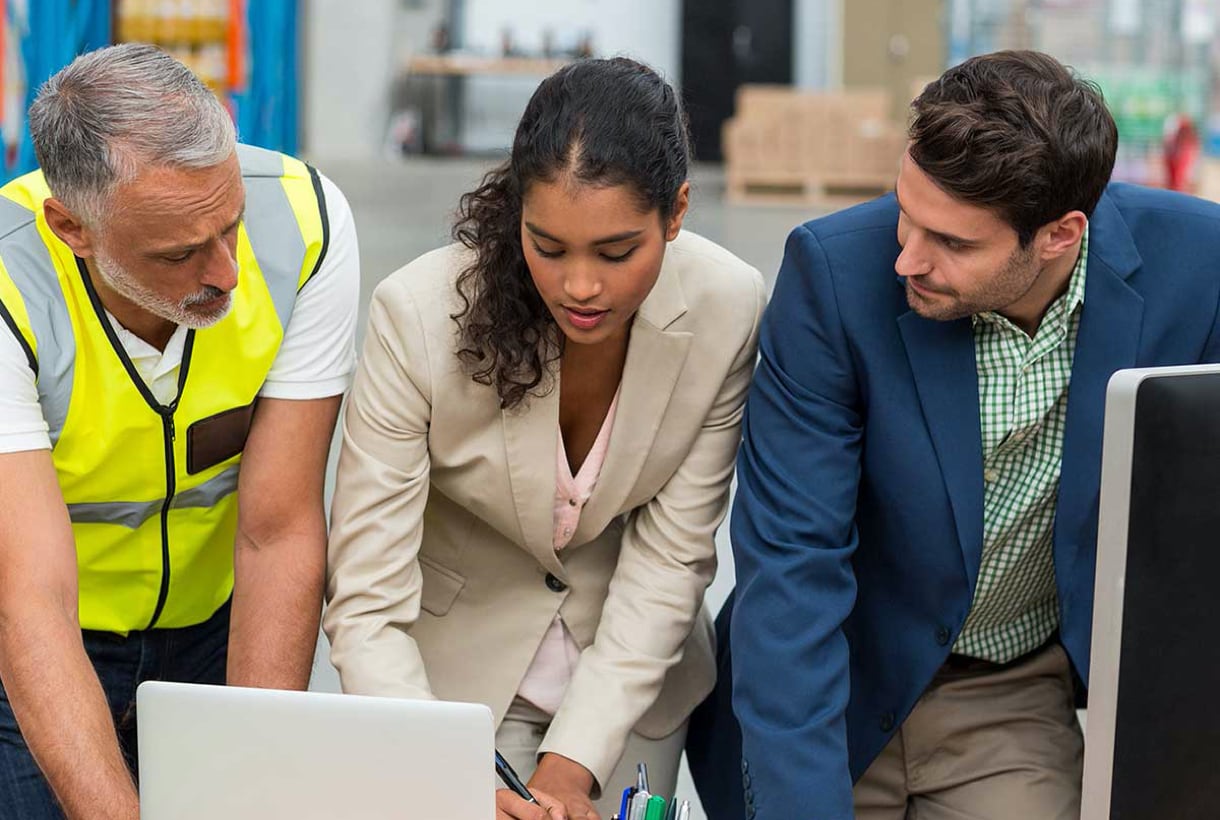 When your company has determined that it's the right time to look at an Enterprise Resource Planning (ERP) system, the first question that typically pops up goes like this: "Is our investment justified?" In other words, you'll need to go about getting buy-in across your company because ERP touches every facet of your company. From our experience, this effort involves a few steps that are necessary to ensure that everyone is on board.
If your management and C-level people clearly understand the benefits between your current business processes and the more productive future state of those processes, as well as the return on investment from the ERP project, they are more likely to help you get the time and personnel you need to justify the project.
1. Assess Your ERP Knowledge
First, assess if you have a working knowledge of the different types of ERP systems. If you lack that knowledge, you'll want to know how you can get it. It's good to ask questions like: "Does anyone in our company have experience with ERP selection or systems?" Or, "do we have people who have built a justification for ERP before?" If you don't have the expertise, finding it outside your company is necessary since you'll likely have to balance your ERP justification against your production schedules, customer demands, and all your other workloads. 
2. Fully Document Your Current Business Processes
You'll need to know how your current business processes are functioning, not functioning, or could be improved so you can determine where you want to be after your ERP implementation. Look from the top down at your business model value streams, the business process inventory, and down to the functional flows. Then you'll want to create process maps. Process maps help you understand the workflow of a process or series of parallel processes. These will be used to define your ERP-related process flows. Process maps should be created at the functional level, for example: Design, Planning/Scheduling, and Production.
Often processes have been developed over several years to address shortcomings in your existing systems, or because "we've always done it this way." When we work with clients we are able to identify dozens of issues (per process map) causing waste within their current business processes. Those wasteful processes are captured on a list that can easily run into triple digits.
Then you can identify the issues causing delays and non-value added activity to priorities and begin to develop solutions to these challenges. It's good to share your findings since this enables your entire team recognize any problems that exist. This is often one of those "Ah Ha!" moments, where many senior executives might not have at first realized the extent of waste or problem areas, but once a current state map is completed, it defines the processes visually and those issues of waste come to the light of day.
3. Map Out Your Future Business Processes—Where You Want to Be
The future state is the basis for your company's understanding and ultimately their buy-in to the project so it's critical that each of the key stakeholders of your business processes be involved. Ideally, you would review how things are working now against where you want to be with your team. This is where non-value added processes or NVAs can be identified and can include things like: emails created and sent to obtain approvals, or emails that are used to communicate the completion of some process steps.
Beyond looking at wasteful practices that currently exist, your team should discuss processes that are occurring outside your formal system or what types of value-adding activities could be brought in-house. These include things like processes that you currently outsource, but can also include tasks that customers have to take on themselves because your company is not offering them right now. The final step is to thoroughly document your future business processes and communicate the newly designed processes to the rest of your company in formal sessions. You will likely encounter employees who aren't on the core team who will see further possible improvements that can be considered or added. 
4. Look at Your Costs
Now it's time to tackle the big question: what are our expected ERP costs? The calculation of cost for an ERP system is determined by a number of factors, and careful analysis of these components of cost needs to be part of a true ERP cost calculation:
Deployment – this really should be your first step in calculating costs. Why? Because now you can deploy your ERP in the cloud. Manufacturing companies need to take a serious look at this option because it reduces risk, increases productivity potential, and saves money. True cloud ERP deployments means the management of the application software and hardware are the responsibility of the vendor so you don't have to build that competency in-house.
Implementation – this typically is a significant part of your ERP costs, but it is often difficult to get an accurate forecast of the investment that will be needed. Your ERP project team needs to fully document the anticipated transaction volume, the scope, and complexity of the implementation. It's also important to document the number of third-party integrations that might be needed, as well as any data mapping or conversion.
Recurring costs – these are costs associated with system administration, maintenance, and infrastructure. Again, if you go with a cloud deployment all of the application software maintenance and infrastructure costs are covered in your subscription fees so these become more predictable. Your IT costs are also more easily brought under control. And finally, traditional IT tasks are managed by the cloud vendor, so the need for a database administrator, a network expert, a web security expert, a disaster recovery expert and beyond, the need for all of these is reduced. 
5. Calculate Your Return on Investment (ROI)
If you've done your due diligence during the business process mapping exercise, you'll be able to more clearly see your potential ROI. The process of mapping out your future business processes will provide your team with the gap analysis to ensure that the proposed business case for ERP is well defined. You should also consider improvements in specific areas of your business including inventory control, better invoice management, better understanding of the customer and less hand offs to other groups, more visibility of the shop floor's hot spots, and more.
There is also the potential for an increase in sales or reductions in cost of goods sold. It is important to tie out directly the improved sales to the process improvement in selling via a specific function of the ERP to secure these benefits as part of the ROI. And finally, consider your soft savings such as the dollars that are gained from customer satisfaction, enhanced supply chain communication, improved decision-making quality, and delivery performance. Soft savings are typically realized after the system is implemented, but you can still look at them within the business process mapping exercise as these often help gaining buy-in from executives.
These are the major steps we recommend to our clients that we've seen work within many companies in justifying the investment in an ERP. Working with a partner who understands the best practices and has a proven track record for success is also a key strategy you should consider—not just for the initial implementation but also to continually make improvements. This is where the value of ERP really comes to bear fruit throughout your company. For more information about Ultra Consultants, visit www.ultraconsultants.com.