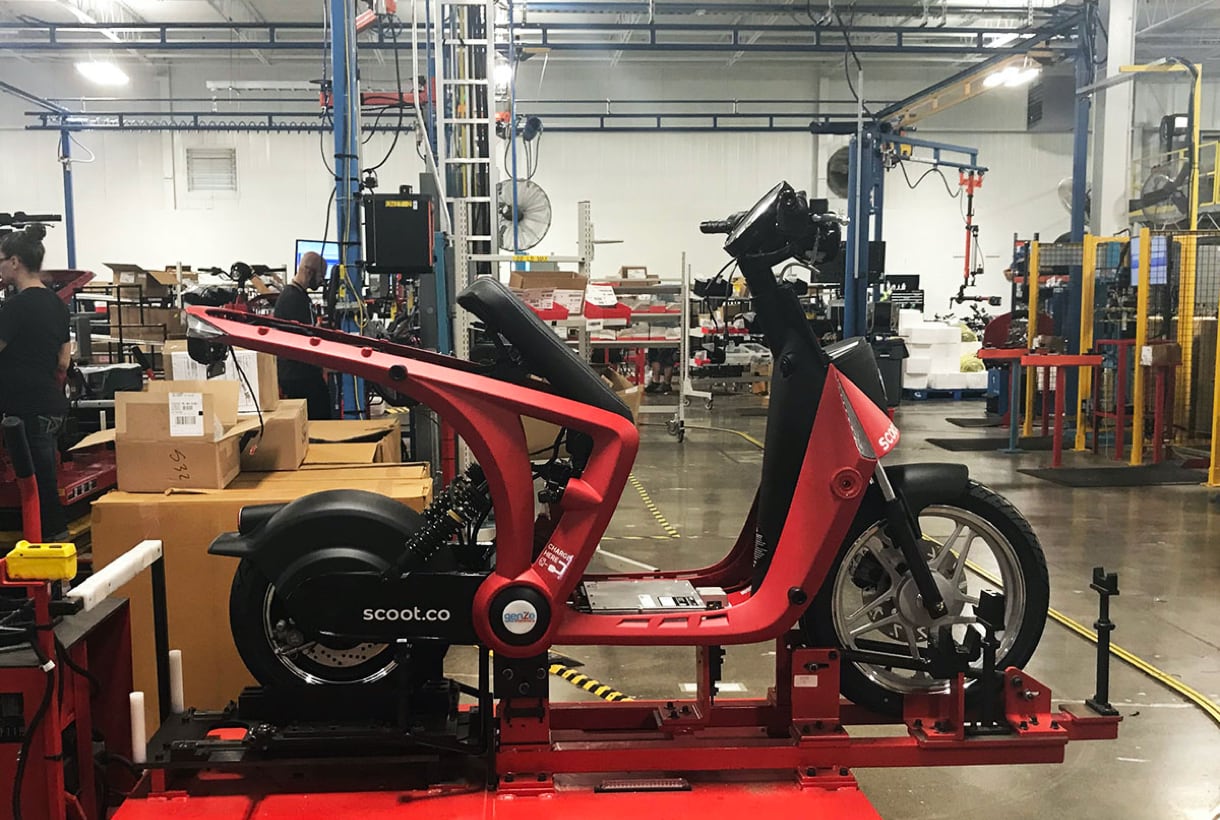 The transportation industry is rapidly changing, and not just due to the explosive popularity of ridesharing solutions like Uber and Lyft. Just look at any major urban area, and you'll see a fleet of bicycles joining rush hour traffic. Look a little deeper, and you'll notice that the entire infrastructure is evolving, from upgraded parking spaces with chargers, to the proliferation of new lanes. Today, the most innovative cities and companies are diversifying transportation options to suit the needs of its local population.
Four-person teams at GenZe perform final assembly on an expanded fleet for Scoot
GenZe is on the leading edge of this evolution, putting the "smart" back in bicycles and scooters for companies in the United States, France and Belgium. The electric bike and scooter manufacturer designs and produces eco-friendly electric vehicles that allow riders to travel 20-50 miles on a single charge, and emit zero emissions. In fact, its name is short for "Generation Zero Emissions." From fleet bikes for corporations, college campuses and tourism companies across the country, to large share fleets in major cities and a direct-to-consumer offering, GenZe builds its sustainable products for riders with different skill levels and transportation needs.
Though GenZe was conceived in Silicon Valley, its manufacturing and assembly facility is just outside the automotive capital of the world: Motor City, USA. What's also unique about the company's electronic bicycles and scooters is they are "smart," meaning they have a connected app (using Bluetooth and AT&T IoT technology) to provide riders with an enhanced experience, and GenZe/our partners with data to make their products perform better. GenZe is able to track a scooter's location, battery life and more from 170 sensors on the product. This proprietary system, the only one of its kind in the world, not only allows GenZe to predict range in different climates and terrain, but also recover scooters in the event of attempted theft.
Since GenZe is a Plex customer, we had the honor of visiting their facility in Ann Arbor, Michigan. At this location, employees do final assembly and prepare for shipping. This includes installing the electronic components unique to GenZe that are found in its scooters and bikes.
GenZe's product line includes the entry-level 100 series electric bicycle
During our visit, they were in the midst of deploying a fleet for Scoot, an electric scooter rental company in San Francisco. The GenZe team was also building an entry-level e-Bike that is available seasonally at select Costco stores across the country.
As you can guess, their factory is always busy. GenZe produces a scooter every 30 minutes with the help of four-person teams. The company uses a two-tier model to manage production, leveraging the Plex Manufacturing Cloud to manage its inventory and BOM activities.
With a big goal of being "the Tesla on two wheels," GenZe is marching forward with a focus on persistent innovation, continuous improvement in manufacturing and ultimately making personal sustainable transportation accessible to the masses.