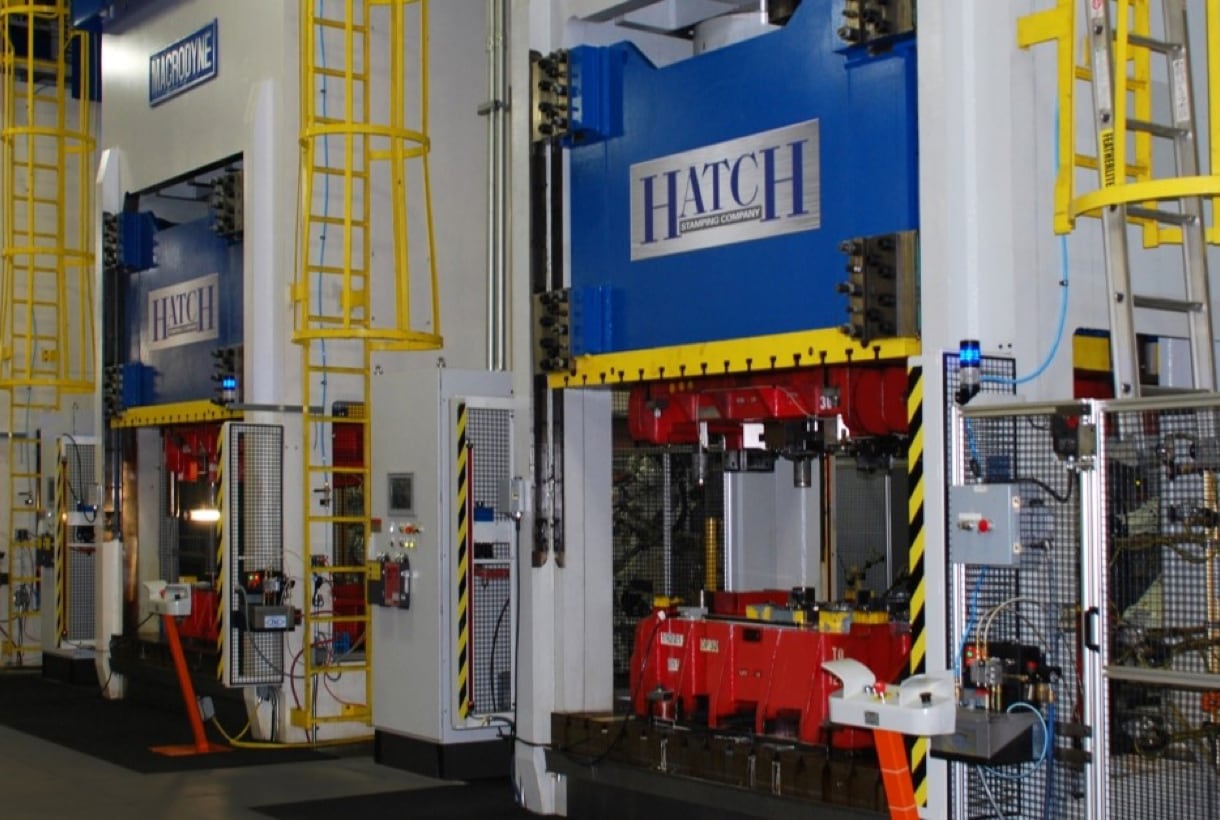 In 1952, brothers Raymond, Walter and Joseph Hatch launched a small family business. Their first job: stamping parts for model trains. Little did they know, this basement-based operation would become a global, leading manufacturer of highly engineered metal stampings and assemblies for the automotive industry. Talk about transformation.
Hatch Stamping Company set off on its incredible growth trajectory through steady commitments to quality, innovation and its customers. While its core competency is stamping, Hatch has expanded to offer a complete roster of capabilities, from design and engineering through production. Evolving and expanding its customer base led to incredible opportunities for Hatch, and its global presence now spans 13 facilities in the United States, Mexico and China.
Getting to where it is today required Hatch to stay on the cutting edge of what was next. And that didn't just mean what was next in the automotive industry. It meant staying ahead of the curve on the tools and technologies that would push the business's processes, shop floor operations and efficiencies to drive success.
In 2007, Hatch Stamping became one of the first stamping manufacturers to embrace cloud technology and implemented Plex. The results? Remarkable. They're what earned Hatch Stamping this year's Business Operations Transformer Impact Award.
Standardizing all 13 of its locations on Plex enables the Hatch Stamping team to better understand performance in real time and proactively manage and improve operational efficiencies. Now, instant access to data drives company KPIs and enables immediate problem solving. It has also sparked deep motivation among operators and supervisors, who can see their individual contributions and work to boost performance.
Among incredible outcomes attributed to its use of a smart manufacturing platform:
A 15% reduction in machine downtime. The Hatch team now has immediate visibility when downtime occurs and can analyze and correct issues quickly.
Waste Elimination submissions from employees are up 50%. An easy-to-use platform gives all operators the ability to make suggestions from their work stations, increasing employee involvement, engagement and ownership.
Scrap as a percentage of sales has decreased 1%. Proper recording of scrap has reduced errors, and scrap reporting capabilities provide easy-to-interpret visuals and access to supporting data.
Improved customer and supplier communication. A cloud-based platform allows data sharing and collaboration, all rooted in reliable, real-time information.
Beyond the transformation within its walls, Hatch Stamping is applying its drive for success in the community, too. It is a consistent partner with local, regional and national initiatives to inspire the next generation of manufacturers. These include robotics programs, job fairs, training programs and internship and expanded apprenticeships.
As Hatch Stamping looks toward the future, one thing is certain: the Hatch brothers' commitment to get their company up and running in a basement is the same one that will continue to fuel this world-class manufacturer.