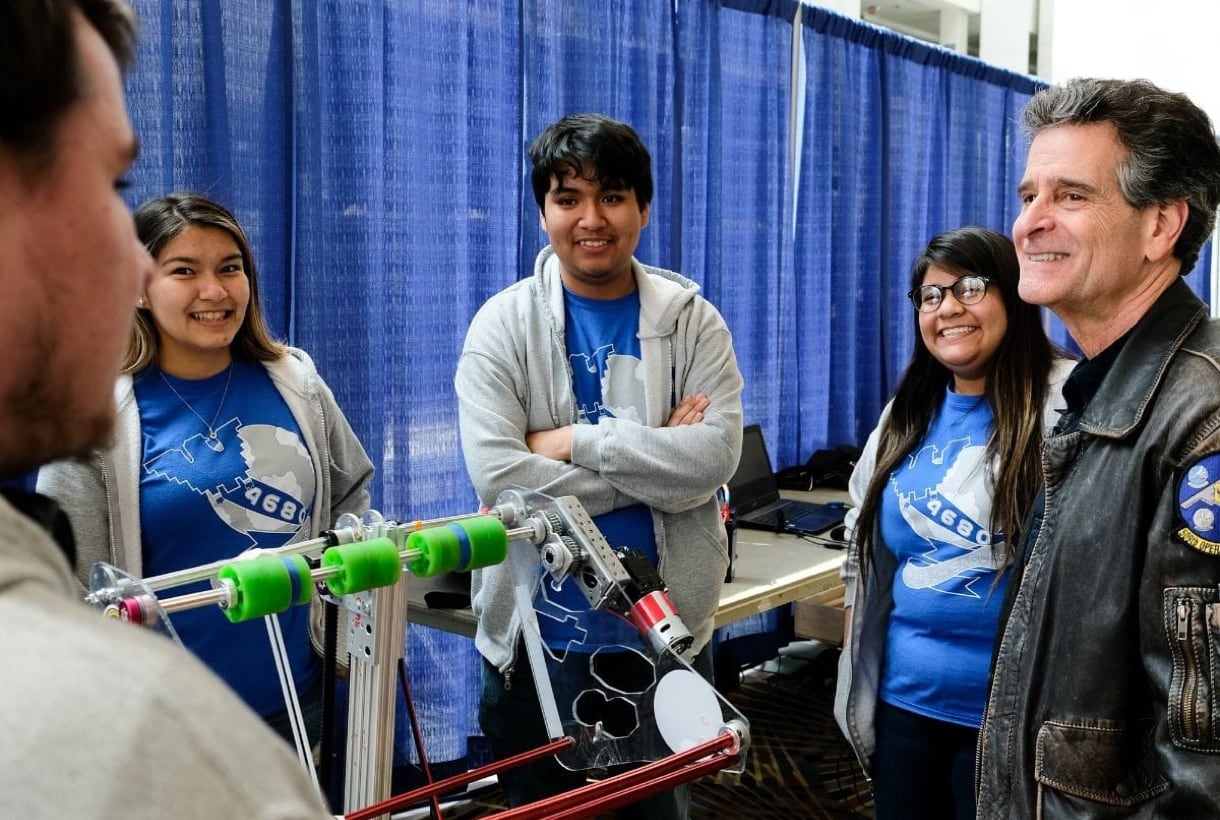 "Us technologists solve problems...we can always wait for politicians or lawyers...but why wait?" 
Inventor and entrepreneur and FIRST® founder Dean Kamen closed his keynote at PowerPlex 2019 with this call to action, referencing not only the role of science and technology in solving problems through innovation—but also the astounding shortage of skilled workers manufacturers face today. He highlighted how resolving this issue is not just left to one group, but everyone who is involved with or can influence the future workforce. With baby boomers retiring at a rate of 10,000 per day, experts predict the gap between open jobs and qualified workers will only continue to grow.
Kamen makes a difference through FIRST, his founding organization that is dedicated to motivating the next generation to understand, use, and enjoy science and technology through exciting robotics competitions. More than 570,000 students in over 100 countries participated in FIRST programs this past season below. As announced at PowerPlex, Plex is proud to help further the mission of FIRST with a $40,000 donation, helping them reach a larger portion of students who can benefit from being involved.
In addition to FIRST, there are a lot of ways you as a manufacturing professionals or part of a manufacturing organization can engage the future of the manufacturing workforce and make a meaningful different to bring diversity to the field and expose the incredible array of career opportunities available.
Here are some ways to get started:
Talk About What You Do
Based on the Women in Manufacturing & Technology Panel at PowerPlex, part of the challenge in inspiring today's youth to work in manufacturing is to showcase the variety of careers they can have in manufacturing. This means proudly sharing your role as a manufacturing technologist, or perhaps demonstrating how an education in applied computer science translated into working at a cloud software company—and those are just two of the jobs shared by panel participants.
According to panelist Rebecca Bray, member of the advisory board at the Michigan Council of Women in Technology and chief sales officer of technology professional staffing organization Epitec, representation matters. She said that seeing different careers in a highly visible way makes a difference to the next generation, and how they envision their futures.
Mentor Others
FIRST has a formal mentorship opportunity that pairs adults with diverse talents with teams, demonstrating for students not only career opportunities but also life skills that will help kids today and as they move into adulthood.
Outside of a mentorship program, manufacturers should consider other ways to be a role model for kids in their communities. Some manufacturers that we work with host students for MFG Day, welcome schools into their shops for a day or a few hours to observe the work in action, and sponsor Bring Your Kids to Work Day.
But mentorship doesn't just end with those who are considering their career. Consider reaching out to younger team members to bolster and support their manufacturing career progression.
According to AJ Jorgenson, AVP, strategic engagement at The Manufacturing Institute (the non-profit affiliate of the National Association of Manufacturers), workplace sponsorship is especially important to attract women to the field—and keep them. Workplace sponsorship is one of the top barriers to entry for women in manufacturing and technology, along with workplace visibility and flexibility.
Get Involved with Formal Education Opportunities
For some manufacturers, creating a formal relationship with a local trade or training program is just as important. Manufacturers can make a point to get involved with local trade and training programs, offering jobs or apprenticeships. Applauding and recognizing students who choose a job in manufacturing is being coordinated by manufacturers such as Toyota, Toyotetsu, and Caterpillar, local colleges as well as major organizations such as SkillsUSA, which annually hosts the Skills U.S. National Signing Day on May 8. At Plex, we welcome co-op students to help expose them to technology serving the industry as well, highlighting another layer in the complex manufacturing industry.
No matter your availability, there are numerous ways to get involved. What's important is to act now, because after all: why wait?