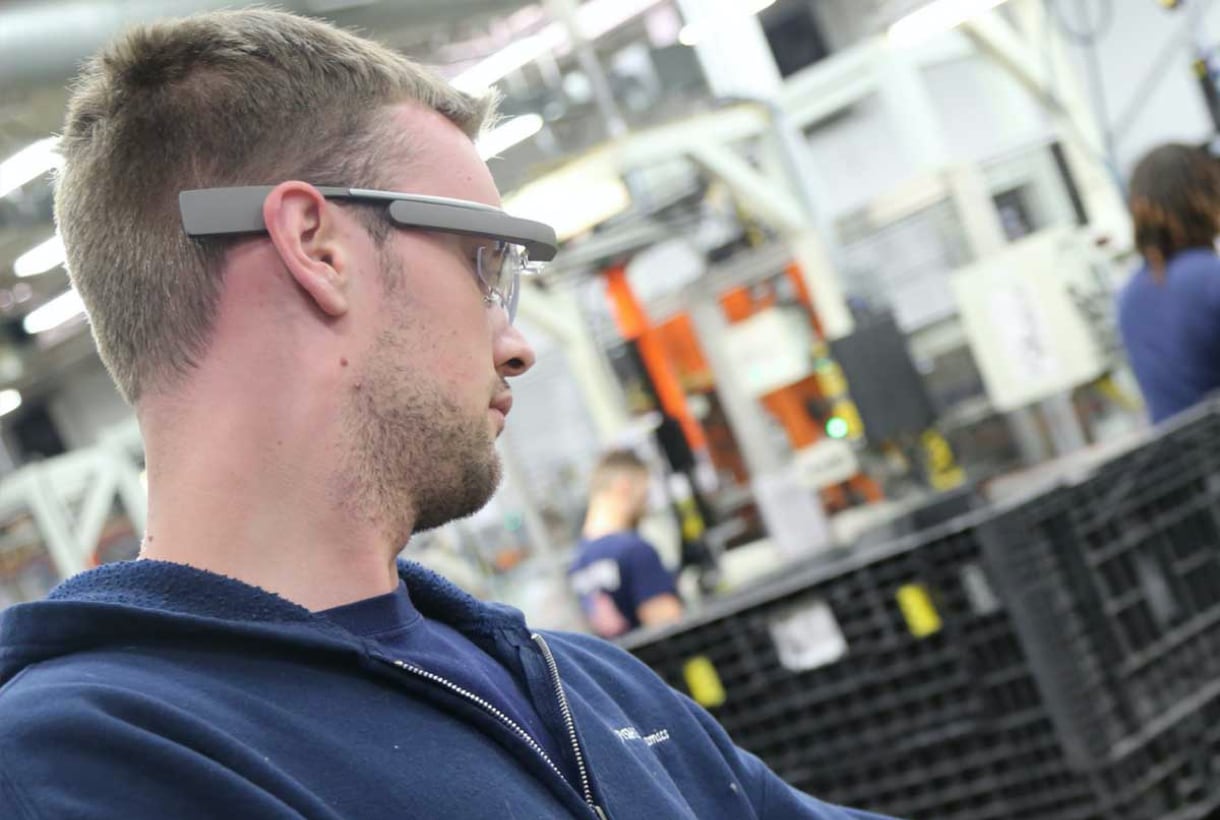 I'm always amazed at what Plex customers are doing when it comes to advanced technology. Manufacturers, after all, have led us through major technology revolutions that have forever changed the world around us. And our customers continue to look forward as they actively explore how to use wearable and augmented reality/virtual reality (AR/VR) technology on the shop floor.
When Google Glass was first introduced, Fisher Dynamics was interested in using the technology in production. They paired Glass with a wearable ring scanner to record materials, and also added an iBeacon so Glass could use accurate location awareness inside the factory. With Google's launch of Glass 2.0, Fisher Dynamics is reinvigorated about the potential of this technology.
Another Plex customer, Polamer Precision, has used augmented reality to map out their plant layout with a 3D model to position workstations and tooling, ensuring forklifts and other equipment have room to operate safely and efficiently. Polamer plans to test overlaying work instructions specific to a role or work center on HoloLens to simplify worker tasks and ensure more efficient on-the-job training. The company also sees the opportunity to use manufacturing data in a new way to manage production.
Augmented reality has become a burgeoning technology manufacturers are exploring to solve operational problems on the shop floor. Kamco Industries is among these innovators. When an operator runs into an issue during production and reaches out to a supervisor who is busy or out of the office, the operator can use Skype with HoloLens to work through the issue together. Kamco has used this same concept for its engineering group. Not only is this a great time-saving use case but it also saves the company on travel costs since engineers often have to travel for the programs they are working on.
Kamco is also looking at HoloLens for the company's tooling group. Tools get damaged from overuse or need repair when they break, and in order to fix them properly, the team has to pull up blue prints to map out the process as they disassemble tools. With HoloLens, workers can see inside the tool and how all the parts work prior to disassembly. This saves a lot of time on fixing the tools, especially if they are needed to fill high-priority orders.
As more manufacturers embrace the Fourth Industrial Revolution for increased accuracy and efficiency, we'll start seeing technologies like augmented reality gain momentum. Plex customers are at the heart of this revolution, bringing these technologies together to drive real value.