Plex Systems' Nandini Srinivasan Honored with The Manufacturing Institute's 2021 STEP Ahead Award
Employee Spotlight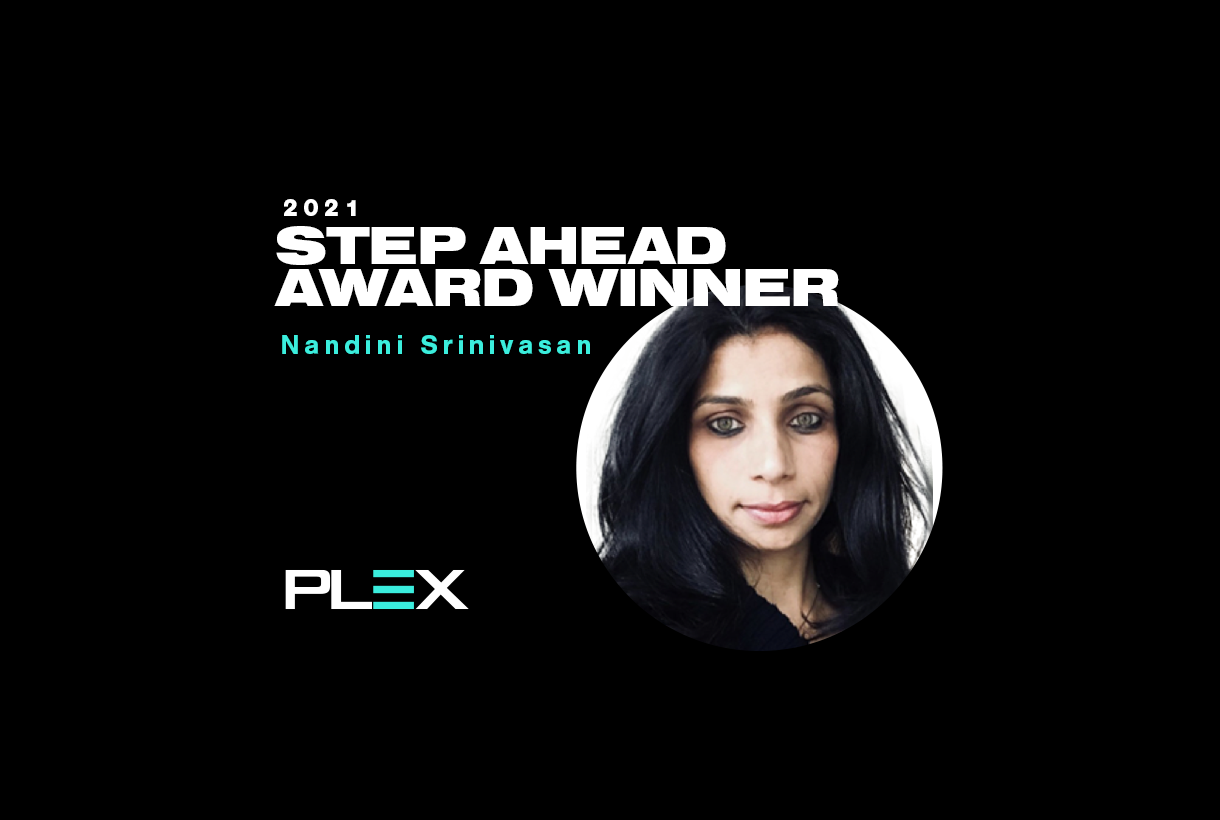 Plex is proud to announce that Nandini Srinivasan, Vice President, Quality Assurance, has been named a 2021 STEP Ahead award winner by The Manufacturing Institute, the workforce development and education partner of the National Association of Manufacturers.
This prestigious award recognizes 130 women across manufacturing for their outstanding achievements in their companies, communities, and industry. Out of more than 1,000 nominees, Nandini was chosen to receive this distinction for her exceptional work ethic and dedicated mentorship work. The Manufacturing Institute described the wide-ranging impact Nandini has made in her winner profile:
"As the vice president of quality assurance at Plex Systems, Nandini helps manufacturers realize the benefits of Industry 4.0 and smart manufacturing technology. Plex Systems runs more than 1,000 manufacturing plants in 29 countries around the world, and Nandini's leadership has proven critical to the success of the company's ongoing operations. By applying best practices from other industries to the smart technologies that manufacturers rely on, Nandini has played a key role in securing Plex Systems' exceptional track record of 99.99% uptime. From establishing internal quality standards to directing centralized end-to-end regression and end-user testing, Nandini's technical expertise has been crucial in helping manufacturers keep their operations running day in and day out.
"An advocate for women in technology and a hands-on educator of the next generation, Nandini is a prime example of what it means to be a successful STEP leader. She is an outspoken champion for women in the workplace who boldly confronts misconceptions about what roles females can serve in technology. Her support of women in technology is making a difference at Plex Systems and beyond. By starting her own FIRST LEGO League with the intent of being inclusive to girls, Nandini encourages young women to build on their interests in STEM.
"Through her volunteer work with Ramblewood Elementary, an underserved school in the Bay Area, Nandini helps expose students to STEM and the world of opportunities that awaits. More specifically, she works closely with the school's Mindbuilders' team to equip students with the skills they need to apply their robotics knowledge to address challenges in the local community. As a result, the San Jose area is set to install two roads that test the group's innovation, utilizing household recyclable plastics to make them. Whether she's leading a donut drive or helping fundraise for the school, Nandini has fostered a sense of community and support that's made a lasting impact."  
Visit The Manufacturing Institute's website to read through all the incredible profiles of this year's Step Ahead winners.