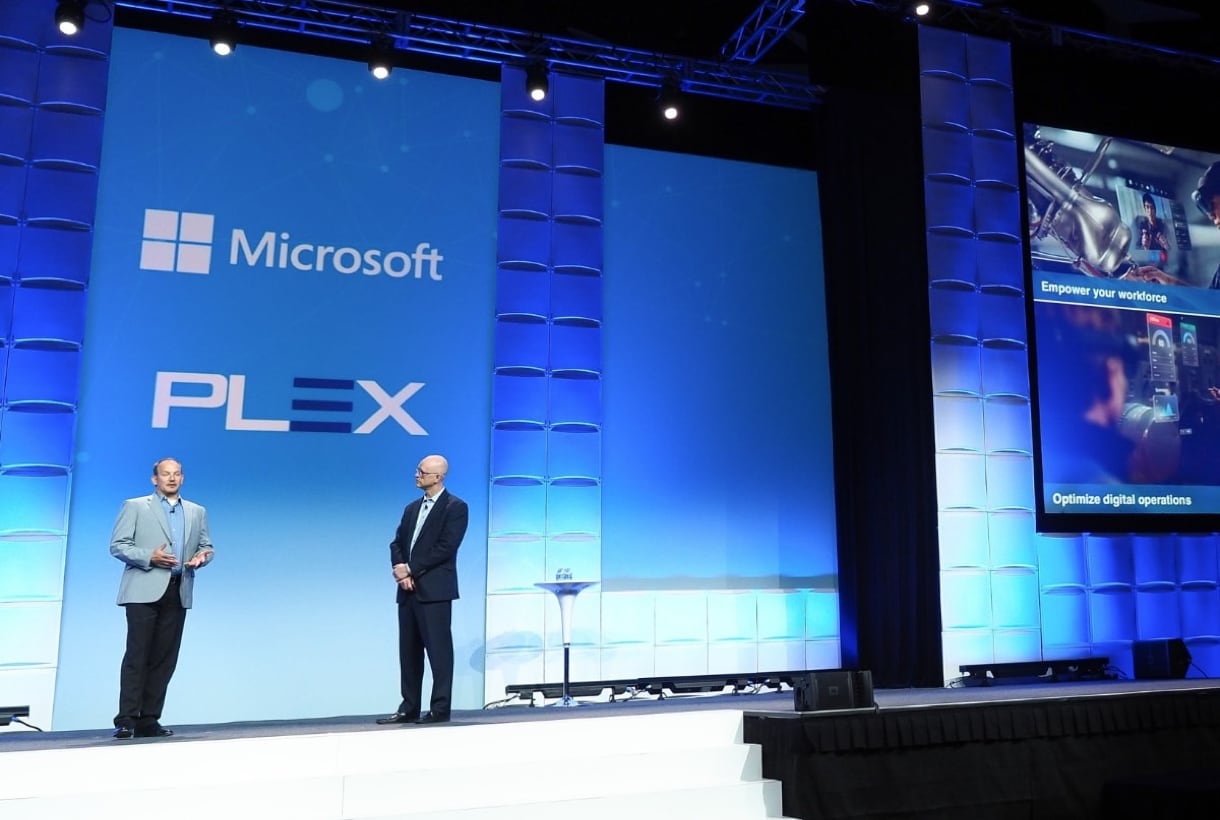 Ever think about how far we've come since AOL was introduced?
Plex CTO Jerry Foster does.
As the leading innovator at a manufacturing cloud software company, Jerry knows firsthand how technological advancements help companies drive and respond to rapid change. The pace of business is picking up, and nobody has seen this more than manufacturers.
Similarly, Plex Innovation Labs are working to do the same thing: focus on technology that positively impacts its community's bottom line. Connecting with customers can help bring focus in a constantly evolving industry, marrying innovation and connection with addressing customer needs.
Here are some leading innovations that will drive change in the next few years.
A Connected Manufacturing Future
One leader who embodies innovation is David Breaugh, Manufacturing Lead for the Americas at Microsoft. Plex has a long-standing partnership with Microsoft, and the two have worked together on many innovations benefitting the manufacturing industry. The two agree that the future of manufacturing technology will include collecting and leveraging data from sensors, connecting factories to existing systems for end-to-end visibility, and building the intelligent supply chain with flexible technology.
Plex and Microsoft's innovation efforts converge in the cloud. Plex is leveraging multiple Microsoft solutions to build industry leading Industrial IoT and security solutions.
An Experiment in Machine Learning
The future of manufacturing technology will undoubtedly rely on artificial intelligence (AI). But it will not be as futuristic as flying cars and humanoid robots. Instead, one of the first impactful forays into AI for manufacturers will be machine learning. Since the Plex Manufacturing Cloud has been collecting, processing, and organizing data for over two decades, it is a data rich resource to learn how manufacturers use cloud ERP solutions. Machine learning algorithms from Plex will initially deliver industry-focused best practices and evaluate whether a company's system of record is running optimally.
A Robotic Guest
A Plex innovation keynote isn't complete without Barrie Vince, Plex software architect, making an appearance modeling the latest wearable device. This year was a little different as a video-robot version of Barrie drove out onto the stage. 
Barrie explained that it was a Double Robot, lovingly named "Phil", a mobile telepresence system designed for remote office workers to allow them to roam the office in day-to-day activities. Barrie has much larger plans for "Phil" on the shop floor. Allowing plant managers who are off-site to interact with employees and get first-hand updates from the shop floor, to do things like get a close up look at a new assembly cells or check out the status of repairs on equipment. Instead of traveling to multiple plants, manufacturers could use this device to get a real-time view of what's going on.
Barrie aka "Phil" also announced that the new Plex Mobile app is now built to run on the Realwear HMT1 wearable device that he demonstrated at last year's PowerPlex.
Innovating for the Future
PowerPlex is the place where we proudly show what can be, and what will be. The future of manufacturing is changing fast, and only by staying ahead of it will we push manufacturing forward and prepare for the challenges ahead.