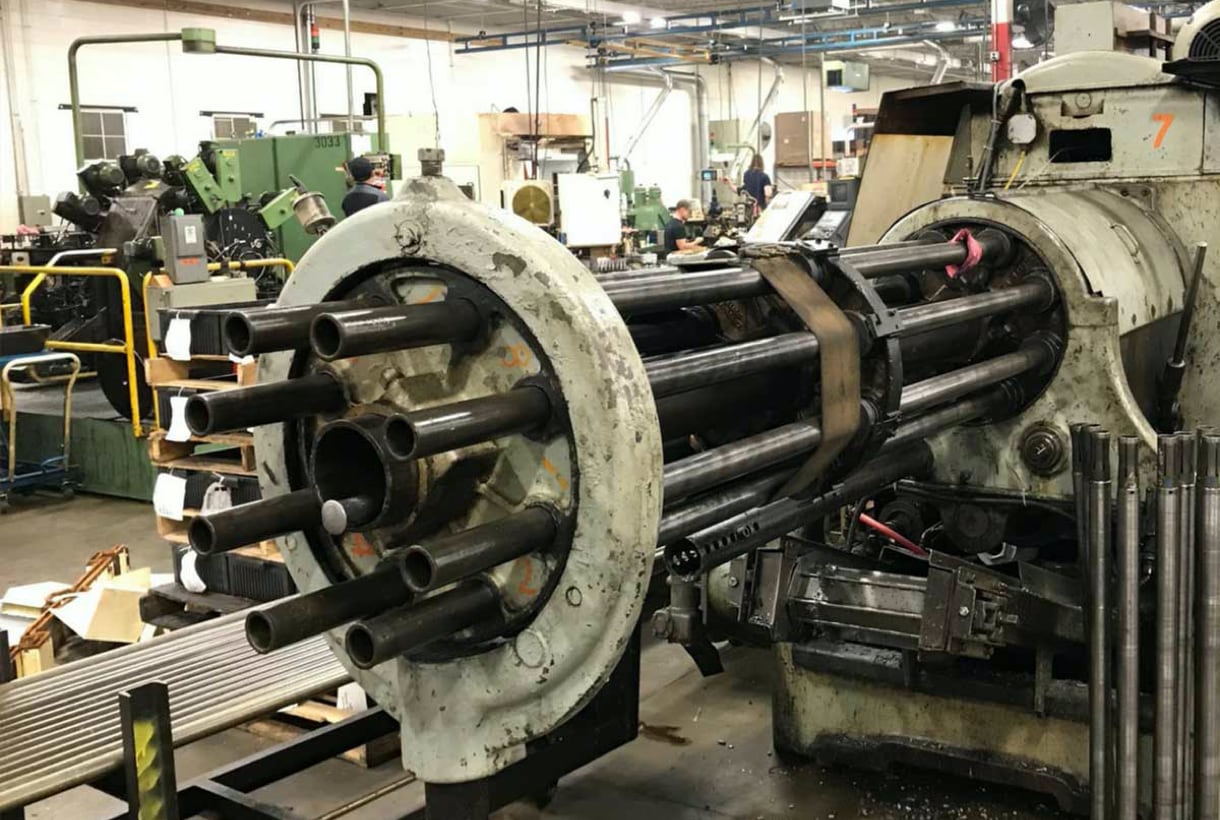 The phrase "manufacturing leader" often conjures images of large, multinational companies that are household names. Unfortunately, you rarely hear about leaders among smaller, often family-owned operations. Yet small manufacturers make up the majority of the market—98.5% of US manufacturing firms have less than 500 employees1—and have positive effects on local communities for generations.
Mitchel and Scott is a precision metalforming company based in Indianapolis, Indiana. They make parts for customers ranging from automotive to heavy industry. Founded during the height of the Great Depression in 1933, they are now run by the third generation of family members. They have 150 employees across two sites in Indiana and Tennessee.
I was privileged recently to be given a plant tour by Gary Smith and John Mitchel, grandson of founder Saben Mitchel. You can picture the plant, it's probably like many of yours - single-spindle and multi-spindle CNC lathes, grinding machines.
And they're running operations on cloud ERP, which they view as the platform and launching point for downstream innovation and meeting changing market needs.   
Mitchel and Scott is big on quality—their company logo includes the phrase "Where quality is built in." They're also big on lean manufacturing operations, vision, and technology and innovation as business drivers, according to CEO and Chairman John Green (another family member). They created a growth plan a few years back, including changes that needed to be made.
They focused on evolving to a more automated, less paper-driven environment. They focused on ensuring the highest levels of quality. They focused on eliminating data silos and consolidating data from both plants into a single database and becoming a more data-driven business. Cloud helped them get there.
Mitchel and Scott now has integrated EDI for automated supplier communications. They leverage in-line quality management that reduces wasted time and material, and ensures higher product satisfaction. They have a single system that fully connects their multiple locations and consolidates all company information into one source of truth.
All employees have access to and directly input data into Plex, forming a real-time single system of record. And their technical resources that used to manage software and servers now focus on enhancing business processes and lean initiatives.
These improvements form a foundation for continued growth and company evolution, but Mitchel and Scott is not resting on its laurels. System, data and employee connectivity will see further advancements as new, network-ready, communication-enabled production equipment comes online. Advances in mobility, wearable devices, IIoT and sensors provide opportunities for greater levels of business efficiency, data collection and automation. Mitchel and Scott welcomes this increasingly connected environment with open arms.
For 85 years, Mitchel and Scott has been a leader, adapting its business to changing customer needs and market demands. What's next for the market isn't totally clear, but whatever it is, they'll clearly be ready for it.
Are you ready? Check out The Definitive Guide to Connected Manufacturing for insight on what's coming your way.
1  http://www.nam.org/Newsroom/Top-20-Facts-About-Manufacturing/