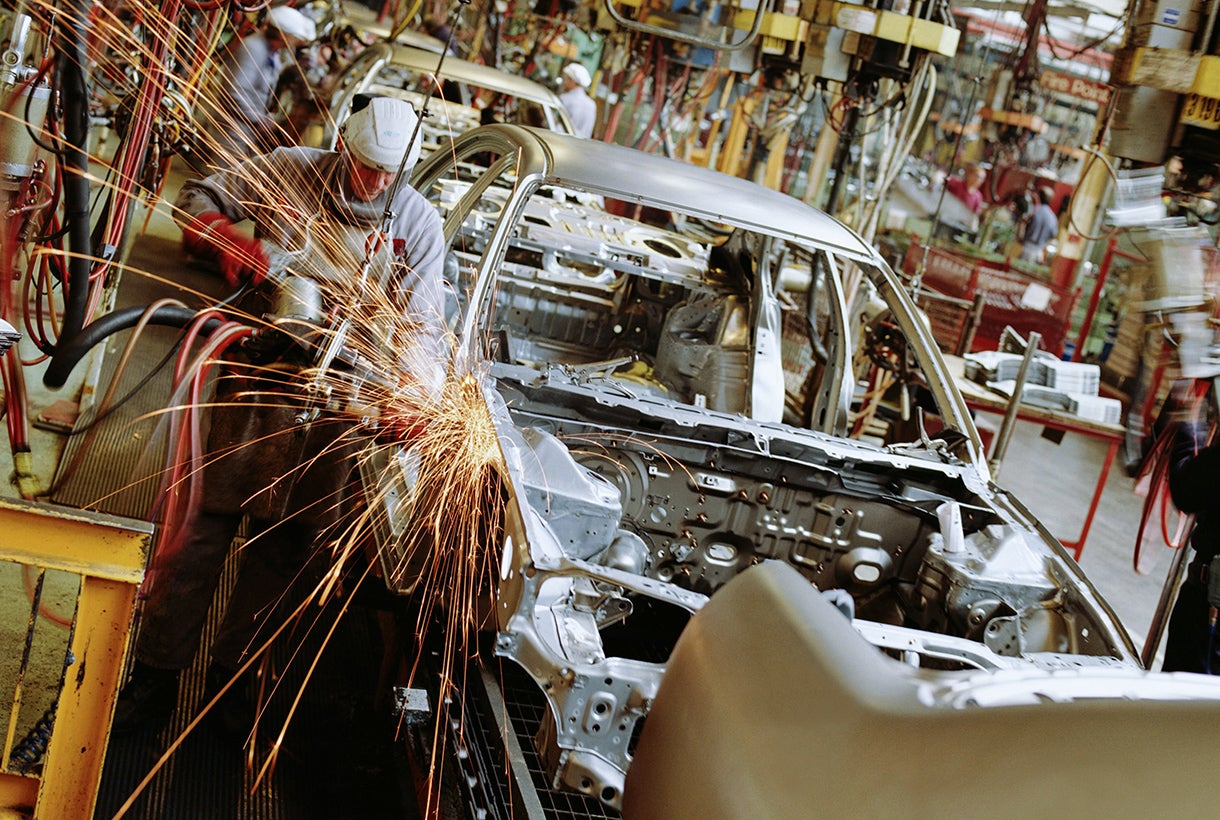 Global manufacturing data set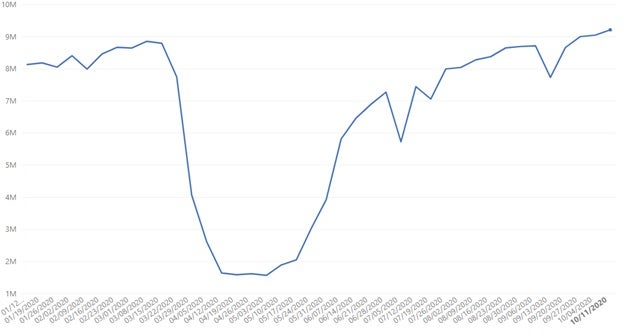 The global manufacturing community has hit a new record this week, producing at 104% compared to pre-pandemic rates of activity. Supporting this continued growth is Mexico, which is now producing at 113% of production – also a new record high – and the Czech Republic, Romania and the United States, which have all recently increased their levels of production.
France, Germany, Spain, Czech Republic, Romania data set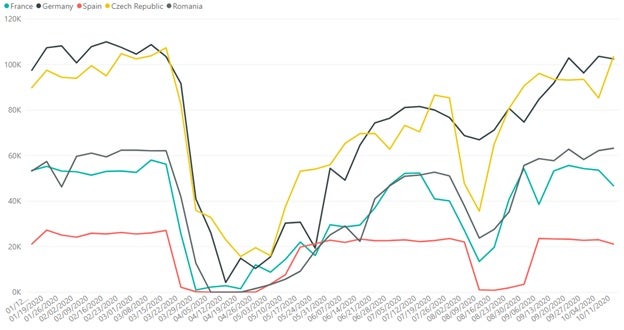 While Europe saw growth week over week, expansion was not equally distributed. Most of the recent growth was driven by the Czech Republic and Romania, while Spain, France, and Germany saw declines in activity week over week. This decline could potentially be due to new outbreaks of the coronavirus: Recent reports show a second wave impacting Europe, with Spain declaring a state of emergency Friday, France reporting the highest levels of activity since pre-COVID, and Germany seeing an increase in reported cases.
China data set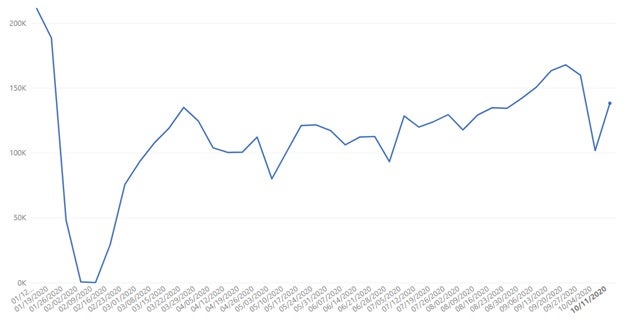 Chinese National Day and Golden Week (Oct. 1-7) led to a drop in production recently, which affected production for two consecutive weeks. Following this national holiday, we are again seeing an increase in activity, which we expect to rise again in the weeks ahead should year-over-year trends hold. More broadly, China's economy (the second largest in the world) is expected to grow 1.9% this year before expanding 8.2% in 2021 according to the International Monetary Fund (IMF). The IMF additionally attributed its "slightly less dire forecast to faster-than-expected rebounds in some countries, notably China" as it upgraded the 2020 World Economic Outlook by .8%, with estimates predicting the global economy will shrink by 4.4%.
Mexico data set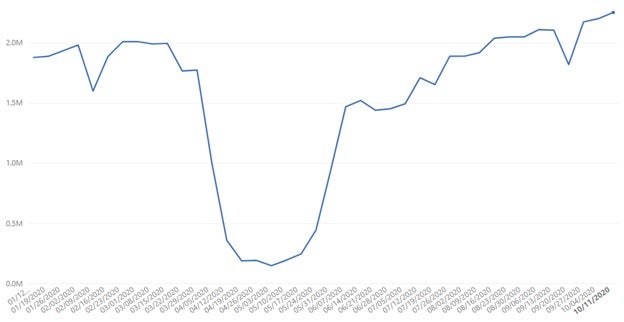 Mexico continues to experience growth after a short decline attributed to its Independence Day holiday, reaching 113% of pre-pandemic rates of production. Largely driving Mexico's growth is an uptick in automotive manufacturing activity, though the Mexican Automotive Industry Association (AMIA) says that cumulatively, vehicle manufacturing and exports could see a drop of 24-28% when compared to 2019 as a result of the pandemic.
Automotive data set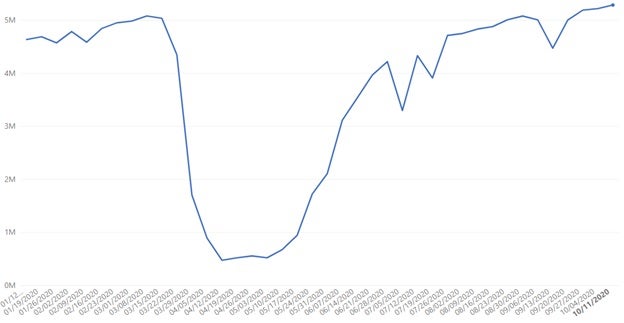 The automotive data set shows a steady rate of growth through the first half of October. While most reports confirm the automotive industry is stabilizing, it appears that new vehicle inventory shortages still persist. According to a recent news article, most 2021 inventory won't actually arrive in showrooms until the new year.
Food & beverage data set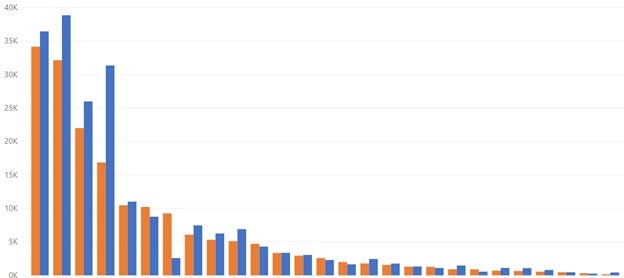 The food and beverage industry increased 11.2% week over week, reaching 104% of pre-pandemic rates of activity, a new record. As demonstrated in the chart above, the largest manufacturers in this segment are producing at rates significantly higher in the past week (see blue bars) than when compared to average rates pre-pandemic (see orange bars). In some cases within companies both large and small, manufacturers are producing double what they were pre-COVID.
Unique users v. production % data set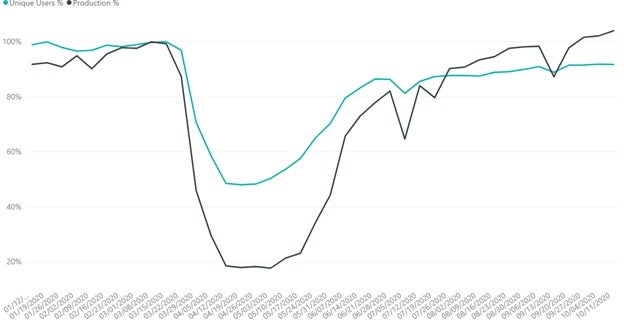 The above chart compares unique users logging into the company's manufacturing system of record/engagement per week against peak pre-COVID levels, in green, against peak pre-COVID manufacturing production activity, in black. Since late July, production has grown from 80% pre-COVID rates of production to 104%, while unique users have grown from just 87% to 92% during that same period. With a 12% gap, we're seeing continued reinforcement that manufacturers are able to produce at increasingly higher levels without showing similarly extreme shifts in their workforce volume.
A Look Ahead
While manufacturing production continues to remain high across the globe, we are hearing anecdotally that some manufacturers are expecting a period of declined production following "catch up" activity, particularly in the automotive industry. Based on our data, this conservative approach appears to be reflected in the chart showing that workforce hiring remains stable even while production escalates. This conservative hiring approach could continue into early 2021, or until forecasts and the broader global economy sees increased stabilization.
Details on the Data Source & How to Interpret Graphs
Plex Systems solutions are cloud-based, giving us access to 20 years of anonymized, compiled operational data from the approximately 700 manufacturers we serve. This group collectively runs 1,200 active production facilities in 29 countries, representing the aerospace, automotive, fabricated metals, food and beverage, industrial machinery, and plastics and rubber industries. For scale, in the fourth quarter of 2019 alone, this group together processed over 1.4 million shipments. Daily, they record upwards of 8 billion transactions (such as barcode scans, moved inventory, shipments, etc.). Note this data reflects production transactions from January 1, 2020 to October 11, 2020. There is a margin of error of +/- 2%.