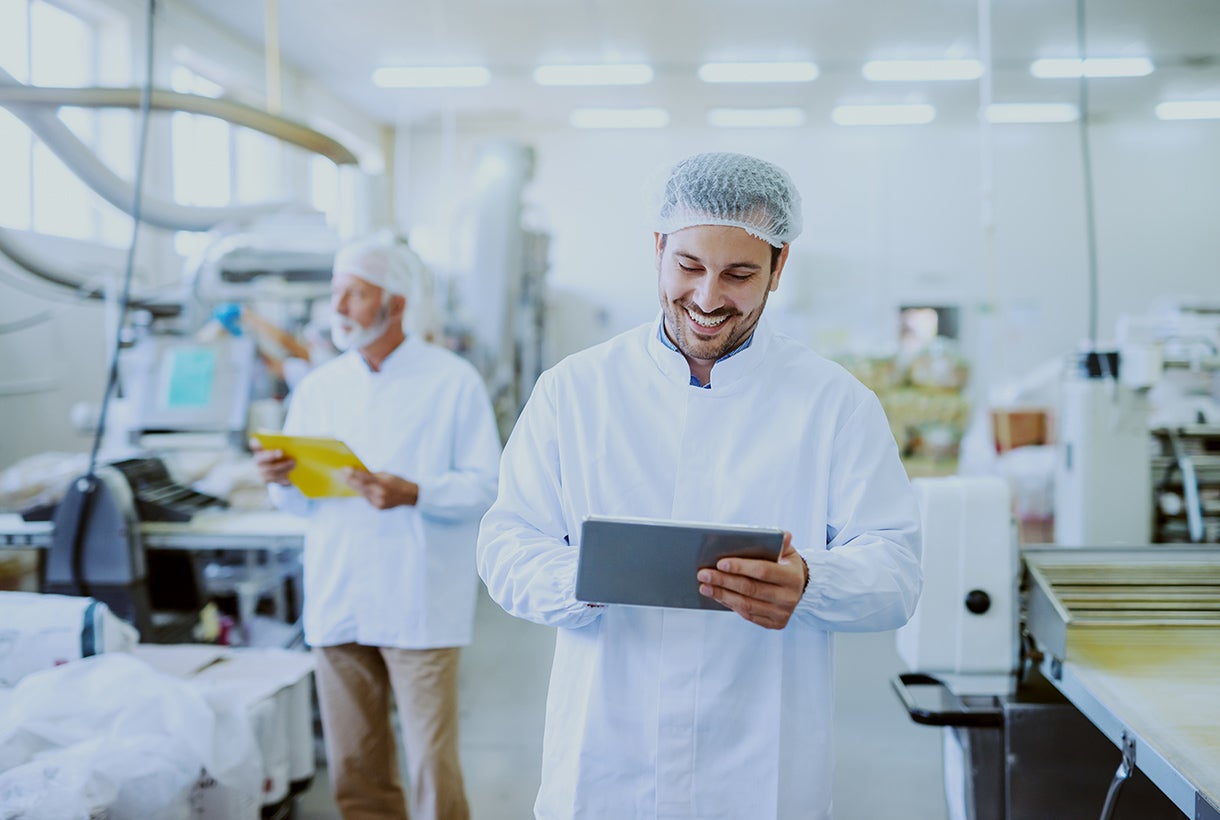 Global manufacturing activity continues to climb, reaching 94% of pre-pandemic rates of production as of August 9.
Global data set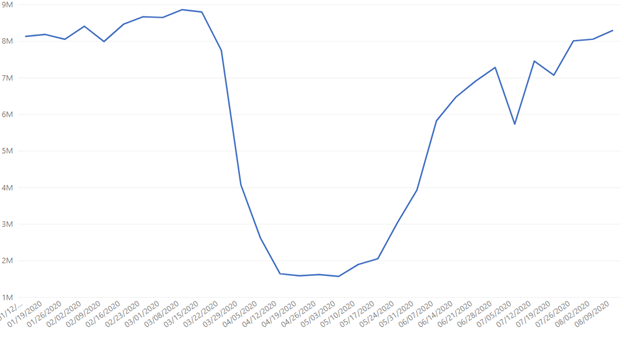 This report marks the third consecutive week of growth across the global manufacturing community we monitor. We are also seeing some resiliency and stabilization in certain regions and industries that previously experienced inconsistent recovery patterns over the past few months.
Europe data set (blue line indicates 2020 activity; orange line indicates 2019 activity)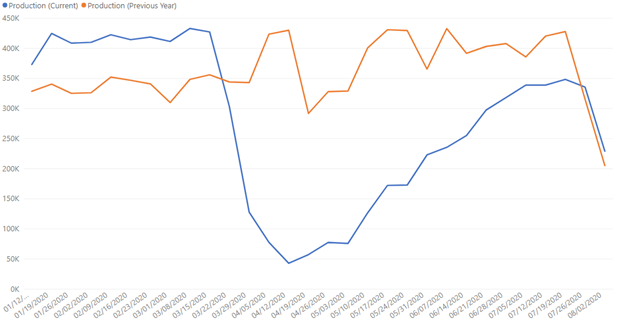 In Europe, we are seeing continued signs of normalization, as manufacturing companies slow or shutdown operations for the annual holiday season. As reported last week, production activity in 2020 (see blue line, above) is nearly identical to 2019 activity (see orange line, above). However, this week shows that the total volume of activity has not yet fallen as low as 2019.
China data set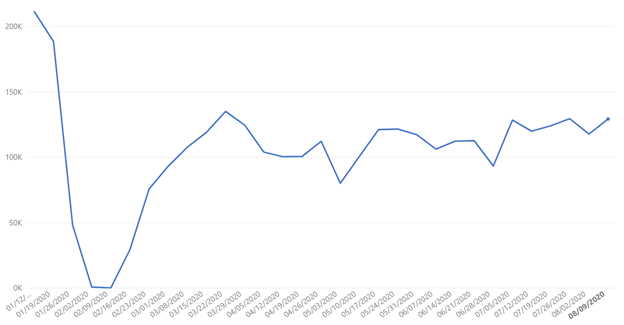 After activity fell last week in China, we saw another week of growth, though the country has not exceeded the volume of production activity seen in late March. As both the U.S. and China continue to see economic growth, much focus remains on how ongoing U.S. China trade talks will influence businesses, with the next meeting to review the Phase 1 trade deal scheduled for mid-August.
Mexico data set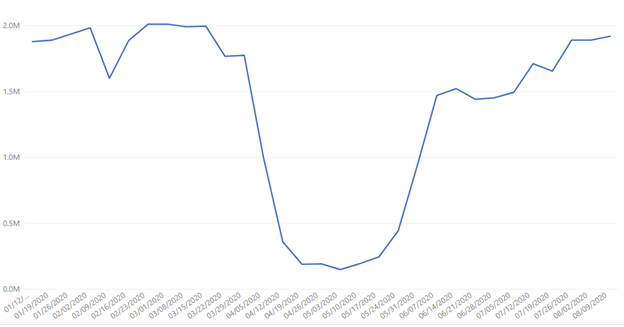 As Mexico continues to battle the coronavirus, with more than 52,000 COVID-related deaths reported, the economy is showing signs of resiliency, increasing (if slightly) again in the last week. With production activity at 96% of pre-COVID levels of activity, we might also see this region benefiting from reshoring activity and automotive divestments in China, particularly while some automakers work to stabilize inventory levels.
Food & Beverage data set (blue line indicates 2020 activity; orange line indicates 2019 activity)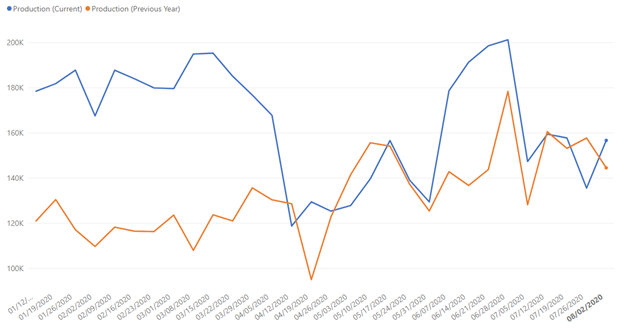 After a significant holiday-related drop-in production activity due to Independence Day and Canada Day, food and beverage manufacturers are seeing some growth after lagging reduced activity. It's important to note that rapid changes week over week are not unusual in this industry (as you can see when comparing 2019 activity, in orange, against 2020 activity, in blue), but demand may continue to increase in line with ongoing market demand. It's been reported that food producers have been struggling to keep up with demand generated in grocery stores and through online sales.
Login Activity & Jobs Update
Global worker login data set

Against this backdrop of positive manufacturing production activity, which has mostly trended toward growth in the last six weeks, another indicator of the industry's recovery is activity by workers on the plant floor. In addition to production activity, Plex tracks daily worker login activity, which tracks the number of total logins within a 24-hour period – or, every time someone anywhere in the business logs in to Plex to access, input, or manipulate information within Plex. Our data shows that logins reached 99% of the highest pre-COVID level of activity one day last week.
More broadly across the U.S., manufacturing jobs are continuing to rise based on the July jobs report. However, the pace of growth is slower when compared to past months according to the National Association of Manufacturers (NAM), and ISM reported in their most recent index that the employment is lagging.
Future Outlook
While some industries and regions have experienced unique challenges related to COVID-19 and the economic recovery, the global manufacturing community appears to be steadily recovering, demonstrating resilience in the face of new challenges as they emerge.
Interested in learning more about COVID's impact on the economy?
Join me for a free webinar August 25, along with the chief economist from NAM and data scientists from Machine Metrics as we talk about the latest data and what it means to the future of the business. Learn more and register here.
Or, you can join Plex at the Kentucky Association of Manufacturers (KAM) Autovision conference August 28, wherewe'll discuss the state of the industry and how smart manufacturing systems address an uncertain supply chain, sharing key insights from Garn Evans, VP of IT & CIO of Motus Integrated Technologies.
Details on the Data Source & How to Interpret Graphs
Plex Systems solutions are cloud-based, giving us access to 20 years of anonymized, compiled operational data from the approximately 700 manufacturers we serve. This group collectively runs 1,200 active production facilities in 29 countries, representing the aerospace, automotive, fabricated metals, food and beverage, industrial machinery, and plastics and rubber industries. For scale, in the fourth quarter of 2019 alone, this group together processed over 1.4 million shipments. Daily, they record upwards of 8 billion transactions (such as barcode scans, moved inventory, shipments, etc.). Note this data reflects production transactions from January 1, 2020 to August 9, 2020. There is a margin of error of +/- 2%.