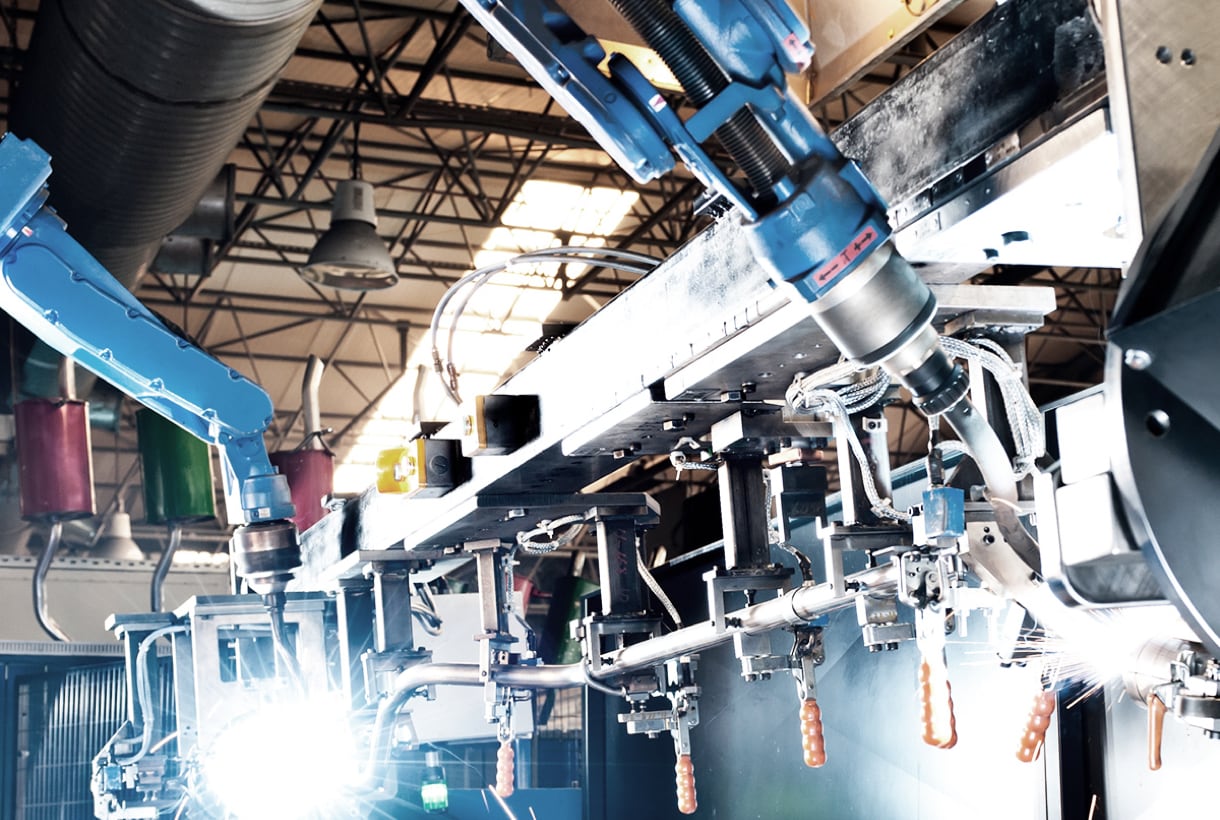 The question you probably get asked a lot by technology folks is what is your Industrial Internet of Things (IIoT) strategy? I'd like to suggest that this is the wrong question. If these technology folks really had your business requirements in mind, they should be asking: what are your business strategies to leverage the value this evolution in technology enables?
Because at the end of the day, as a manufacturer, you're dealing with efficiency, quality, and safety. Technology should be all about driving value for your business rather than a "what's next in cool technology" philosophy. McKinsey highlights value drivers for manufacturers who are looking at industrial automation and IIoT, and I think they have the list about right.
Potential value from Industrial Automation and IIoT for manufacturing. (McKinsey)
Industrial Automation and IIoT Are Not New to Manufacturers
If we take a step back and look at what you've been doing as a manufacturer for the past 20 years, you've already been implementing and using industrial automation. Manufacturers already use robots, sensors, and other equipment that connect to servers to automate processes that are either difficult or monotonous for humans or to ensure repeatability and safety.
Many of you have also added more and more wireless devices to increase productivity and efficiency in interesting ways. And some of you are using the servers on the shop floor to do computing on the edge with some data going up into the cloud. While there hasn't been technology terms like industrial automation or IIoT for all this until recently, the reality is you've been doing it for decades.
Digitization, Connectivity, and Mining Data Are New
What's new for manufacturers is the transition from manual, disconnected processes to a digital, connected environment. In a recent survey by Mint Jutras, 86 percent of manufacturers agree that embracing digital technologies is necessary for survival. And many, including all of our customers, are in various stages of making that transition because the cloud is key to making the connectivity required in this new, digital world affordable and sustainable. 
The other new opportunity to drive value is taking the data from machines on the shop floor and using it in conjunction with a manufacturing execution system (MES) in the cloud to more efficiently manage manufacturing operations. This real-time data gives you a level of control, synchronicity, and accuracy with production, inventory, and quality that's never been available before. Taking the data and insights available in an MES and adding an ERP in the cloud enables you to connect the shop floor operations to top floor business management for a complete system that runs your entire organization.
Finally, the newest opportunity is taking the wealth of data from machines, the shop floor, and the top floor and adding a manufacturing analytics layer that helps you visualize and make sense of all that data. This technology is evolving rapidly to deliver insight through role-based dashboards and drag and drop analytics to users rather than having to wait for programmers to create reports that are out of date by the time they are available.
What Manufacturers Need is a Connected Manufacturing Platform
Everything I've described above is what we at Plex call a Connected Manufacturing Platform. The beauty of this platform is that it's a journey, not a major disruption to your business like many legacy systems required in the past. The journey begins where the heart of your business is: on the shop floor.
Controlling the shop floor gives you visibility into what's actually happening during production—and the best way to do that is with tangible data you can use to make objective decisions. With a Connected Manufacturing Platform, every action in production from moving inventory to consuming it at each workcenter to inspections to assembly and shipping to the customer is captured within the system. What you get is a digital trail of real-time data for visibility into production operations. This becomes your system of record to sustain and maintain processes that result in profitability.
In this new world of smart manufacturing and IIoT, connectivity to the data is key. Starting with the shop floor and all the other systems that run your business, the cloud provides the connective tissue to make all this work. There is so much software, communication, databases, servers, and integration that can hold it all together. The cloud can handle it all, it's both secure and scalable and the only tangible way to create and maintain a true Connected Manufacturing Platform. Imagine the hours of your people's time that could be freed up from manually integrating and managing points solutions versus extending.
This is where you unlock the potential of your people. When they're freed from mundane tasks they can focus on mining the data and other activities related to making your business better, you can truly unlock the value of industrial automation and IIoT. New devices and data streams present new opportunities for your business. You'll need to put that data into business context so you can gain insight into how your business is operating—because at the end of the day that's what IIoT is really about. With a Connected Manufacturing Platform, you'll be ready to take advantage of analytic tools and applications because the modern infrastructure of the cloud makes it easier for these technologies to be combined.
The next time you're asked "what's your IIoT strategy?" you may just want to reply that you're leveraging that technology to feed actionable data throughout your enterprise to improve processes and productivity. Just know that the next generation of industrial automation and IIoT relies on connectivity, that requires a solid Connected Manufacturing Platform to sustain your business into the future.
Get your journey started by visiting How Connected is Your Manufacturing Business?