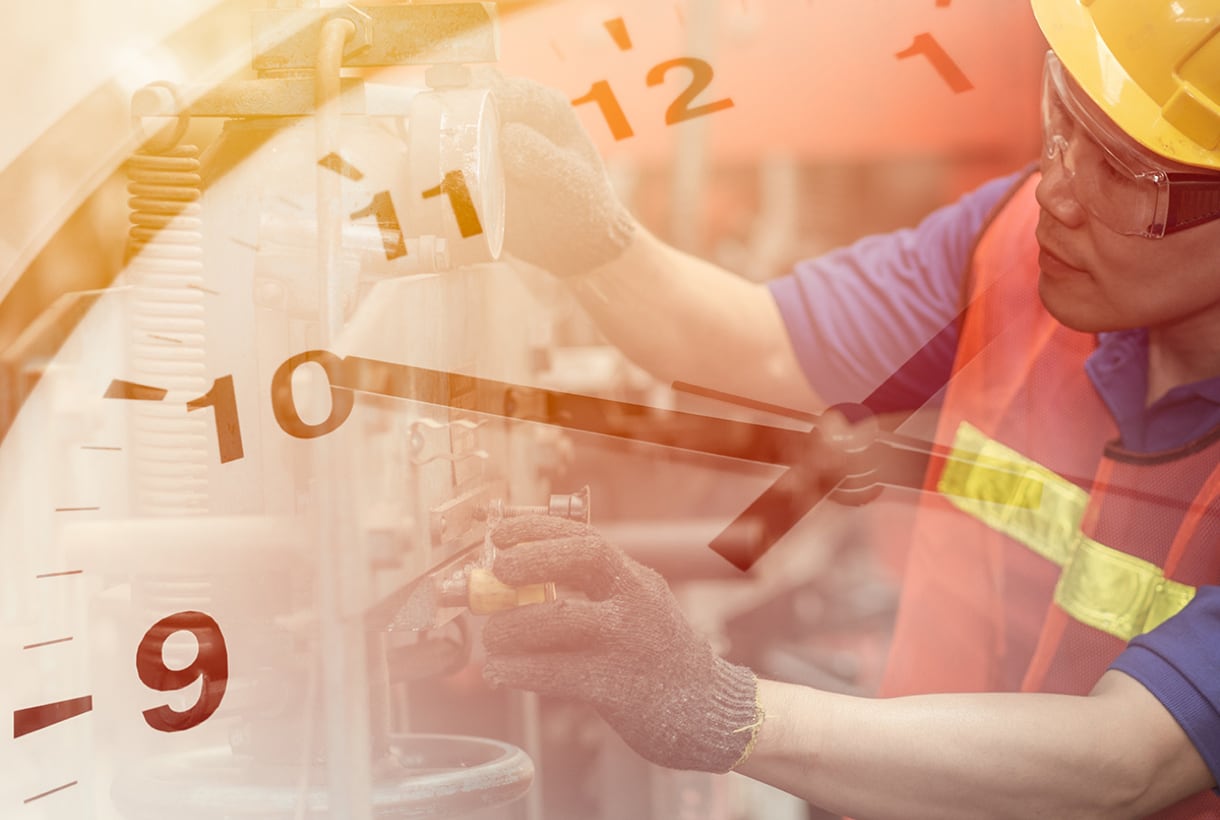 A lot has changed around the world since we at Plex reported last week's findings.
The number of reported COVID-19 cases in the U.S., Italy, and Spain have each surpassed China. Italy is starting to see a modest decline in new cases. Innovations born of acute need and cross-functional collaborations are emerging, and include a 3D-printable medical device that allows four patients to benefit from a single ventilator, a breathing aid developed by Mercedes Formula One engineers which will reduce dependency on ventilators, and a refactored ventilator from Dyson, among many others.
Despite many manufacturers involved in the fight against COVID-19, the data that we're reporting on is still showing the global manufacturing industry struggling as coronavirus cases continue to rise globally (see below).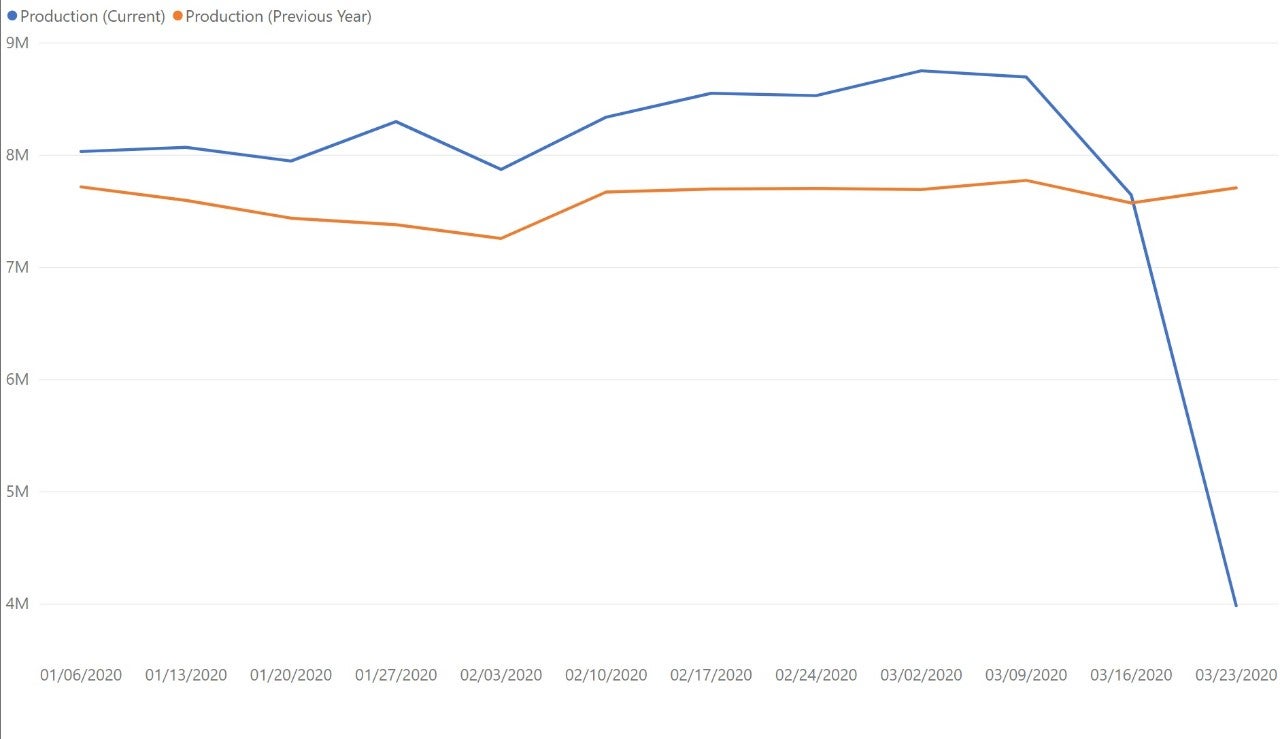 Here are the top takeaways from this week's data (current graphs and more details on the source are at the bottom of this post):
Production in China, which showed an aggressive ramp up for the past several weeks, is seeing a decline this week. This could indicate two things: 1) There are still small pockets of outbreaks occurring, affecting manufacturing; and 2) This lower rate of production reflects broader economic trends indicating decreased demand.
 Most individual countries we are watching are experiencing a rapid decline in production, and for some this may continue. While China's increase in production has been slow, despite several consecutive weeks of growth, and Mexico's productivity is holding steady, they are anomalies. Most countries we're watching are experiencing a decline. And other major centers of manufacturing have not yet seen virus cases peak, implying a drop may continue. The U.S., for instance, is estimated to be weeks away from seeing a peak in deaths caused by coronavirus. And it could be weeks or months until all regions are able to lift all shelter-in-place or stay-at-home orders. We will keep an eye on the production impact in the coming weeks.
Expect a slow global recovery. When considered together, the country-by-country experience of a steep curve, following by a slow recovery period as demonstrated in the graphs below, could collectively slow major global economies. This is echoed by a recent report by McKinsey and Company, which asserted "the US and Eurozone's economies could take until 2023 to recover from the impact of the COVID-19 coronavirus crisis."
Recovery will likely be cyclical. Based on China's production curve, as we see countries inch toward pre-epidemic production levels, resurgences of the virus could emerge, especially when considering the incubation period of coronavirus (up to 14 days). Take Hong Kong's experience with two waves of isolation as a recent example. This will manifest in the manufacturing industry by impacting the workforce in waves. One possible positive outcome is that some drastic virus-fighting measures will no longer be new, meaning specific businesses can implement them more quickly with greater effect.
Our global supply chains could dramatically change. The sheer force of the coronavirus' ability to effectively stop operations country by country (just consider China, Italy, and France) will have companies looking twice to ensure their supply chains are also regionally diverse. The supply chains of major companies, including Apple, "could be rewoven as key manufacturers for the company consider relocating and diversifying centers of production outside China as the coronavirus rattles supply chains." This move by Apple is already being replicated by companies that rely primarily on China for resources.
Final thoughts
China still serves as the best model for the manufacturing industry's eventual recovery given the flatness of its COVID-19 curve (see most current version here) and relative rise in productivity. And across Europe, we are seeing modest decline in new cases in heavily impacted countries like Germany and Italy, indicating manufacturing productivity improvements might not be far behind.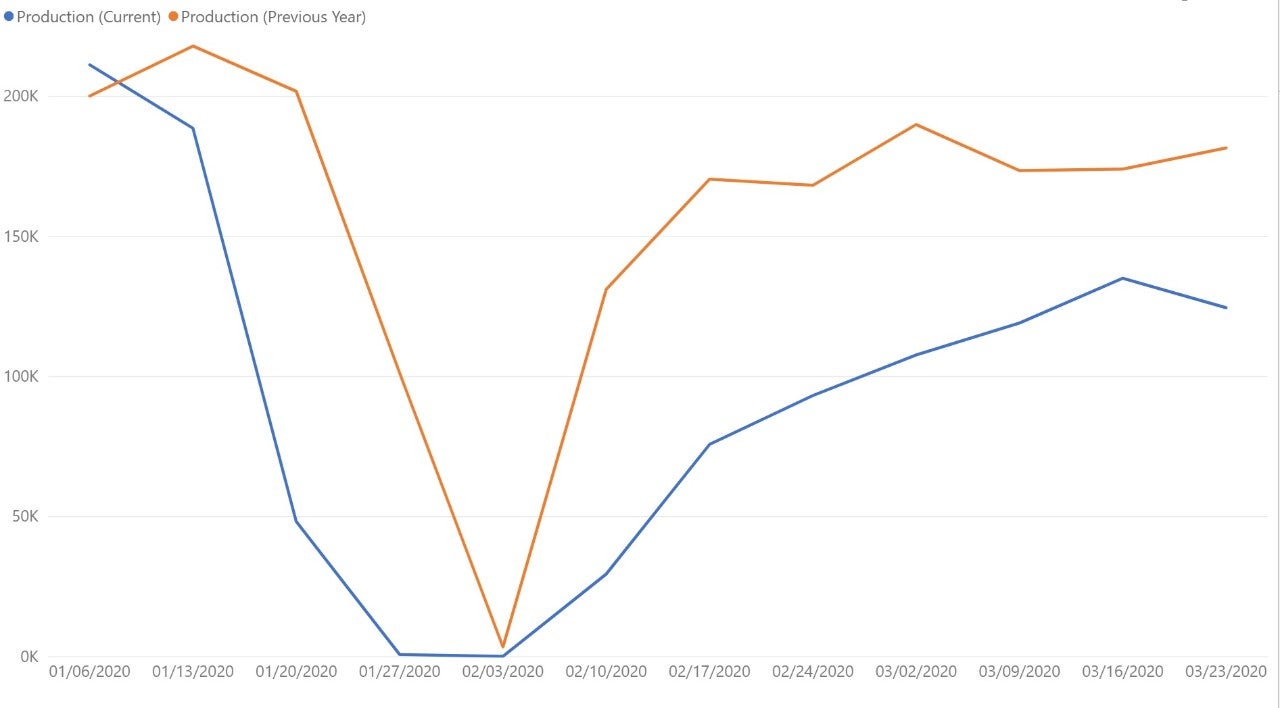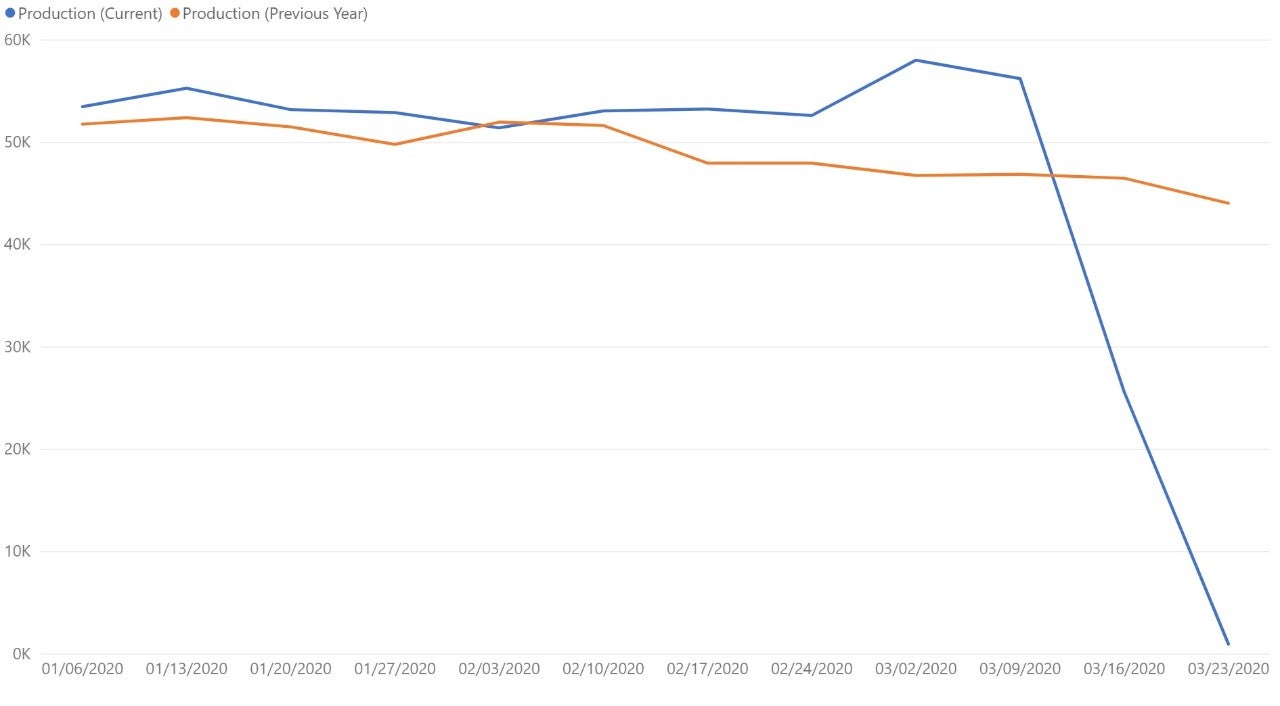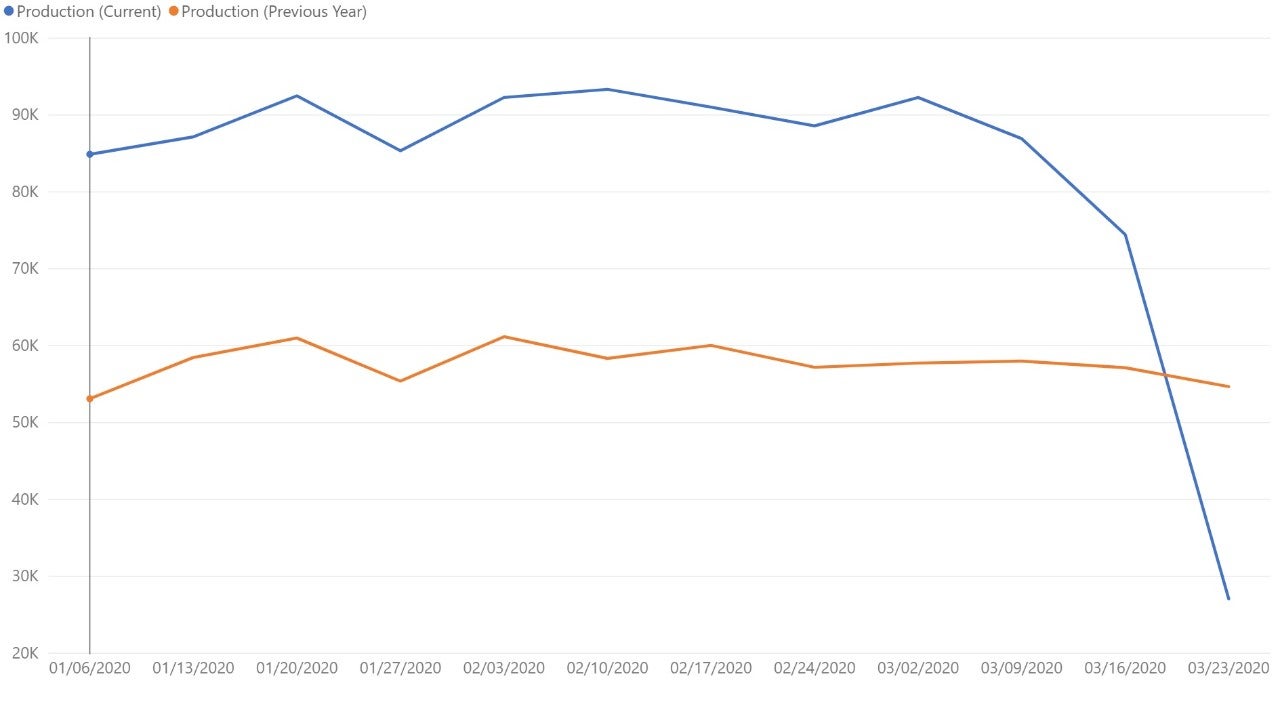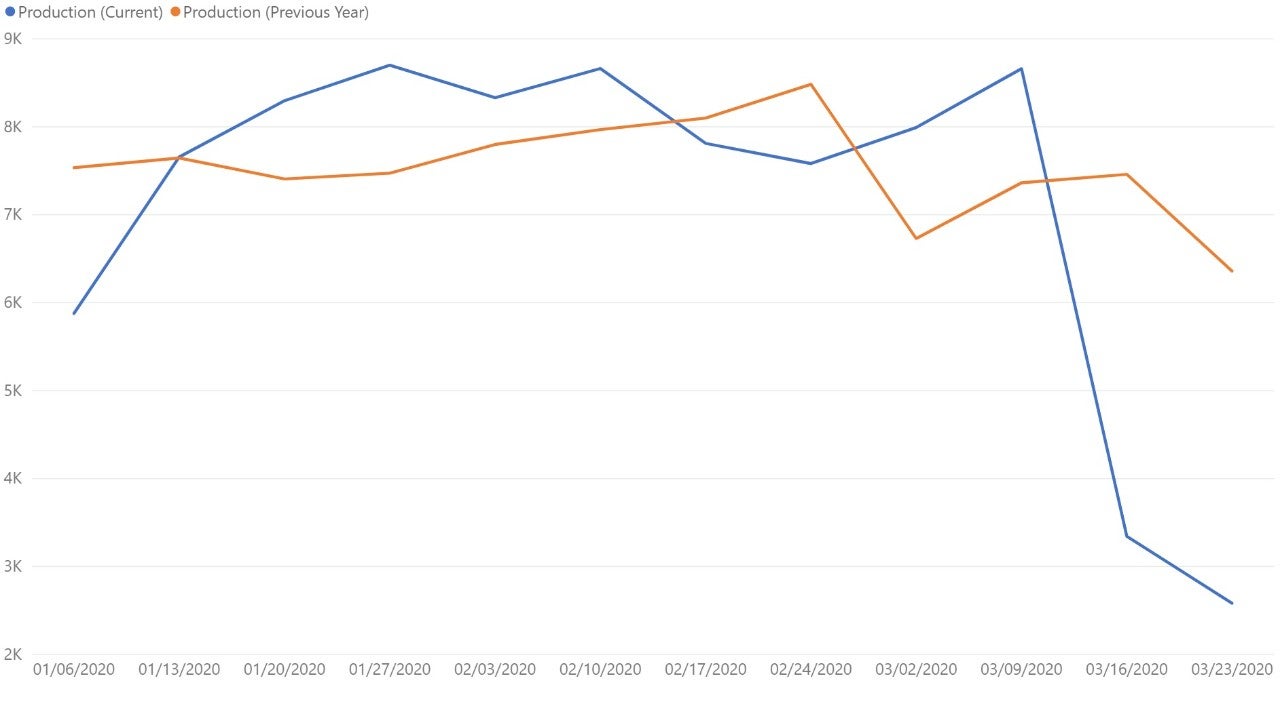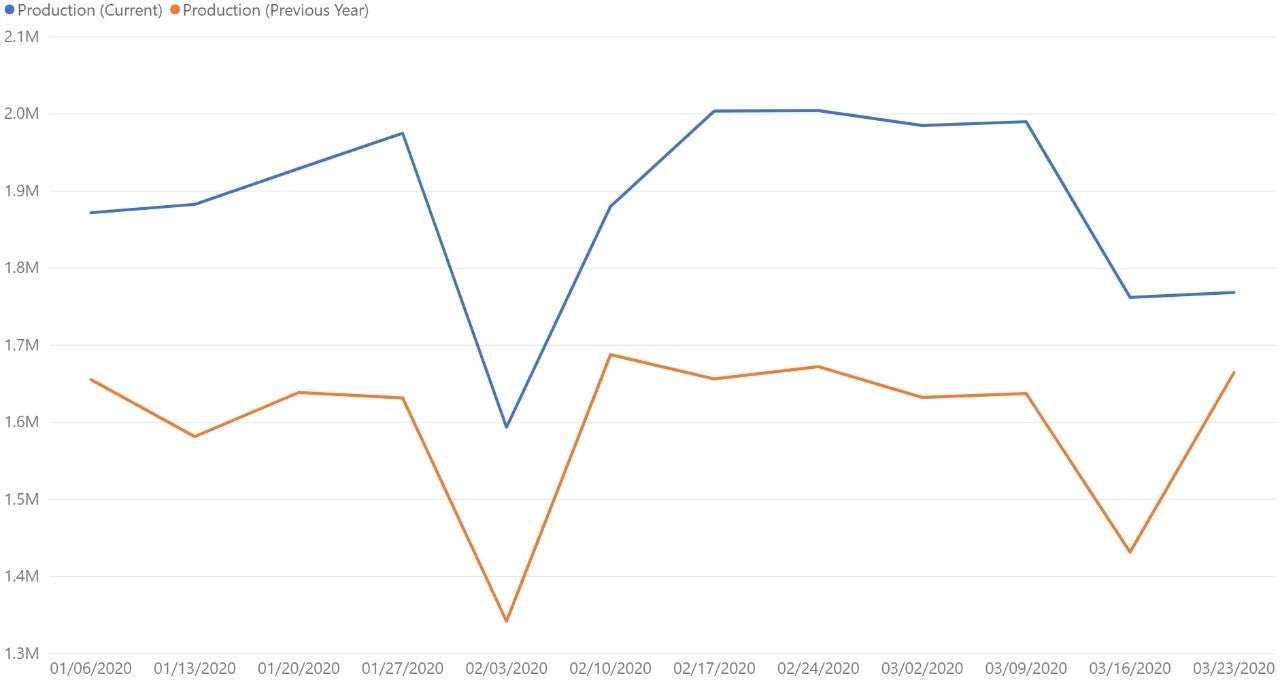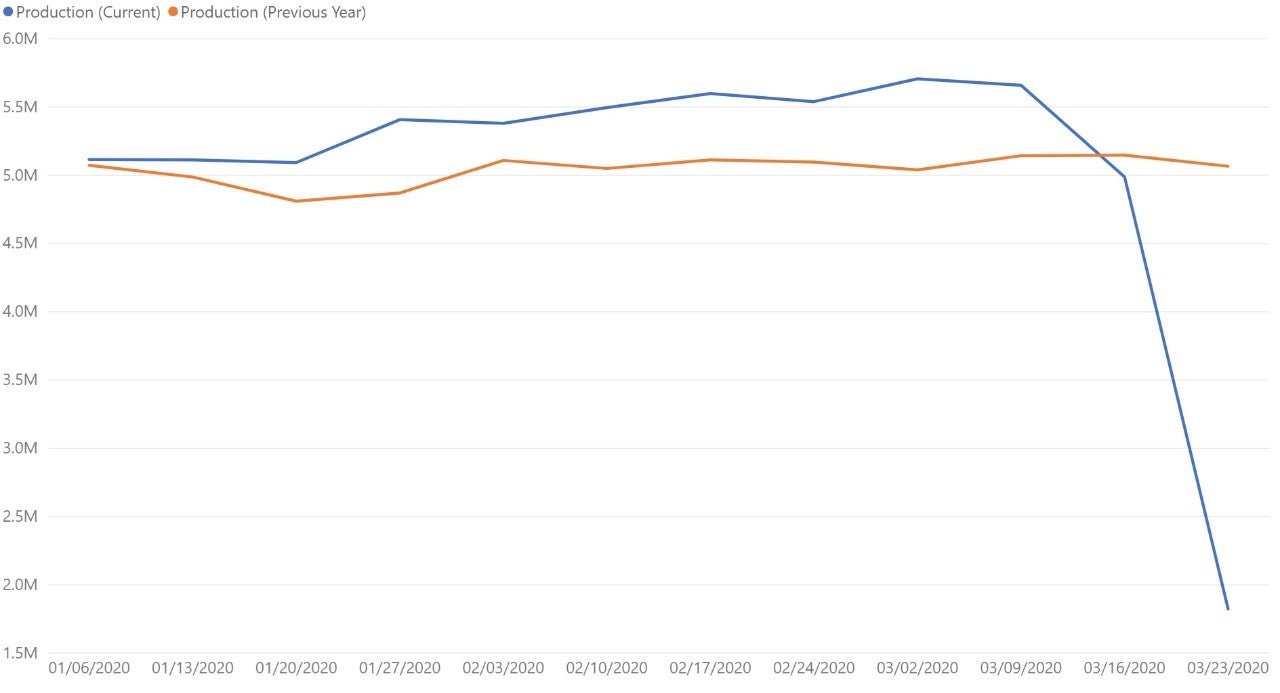 Details on the Data Source & How to Interpret Graphics
Plex Systems solutions are cloud-based, giving us access to 20 years of anonymized, compiled operational data from the approximately 700 manufacturers we serve. This group collectively runs 1,200 active production facilities in 29 countries, representing the aerospace, automotive, fabricated metals, food and beverage, industrial machinery, and plastics and rubber industries. For scale, in the fourth quarter of 2019 alone, this group together processed over 1.4 million shipments. Daily, they record upwards of 8 billion transactions (such as barcode scans, moved inventory, shipments, etc.).
Note this data reflects two periods of activity to compare year-over-year trends: the blue trend line is production transactions from January 1, 2019 to March 30, 2020 and the orange trend line indicates production transactions from January 1, 2018 to March 23, 2019. Keep in mind that Plex customers added more facilities in 2020, so it's not necessarily important to look at the absolute number of transactions but rather the relative shape of the curves year-over-year.