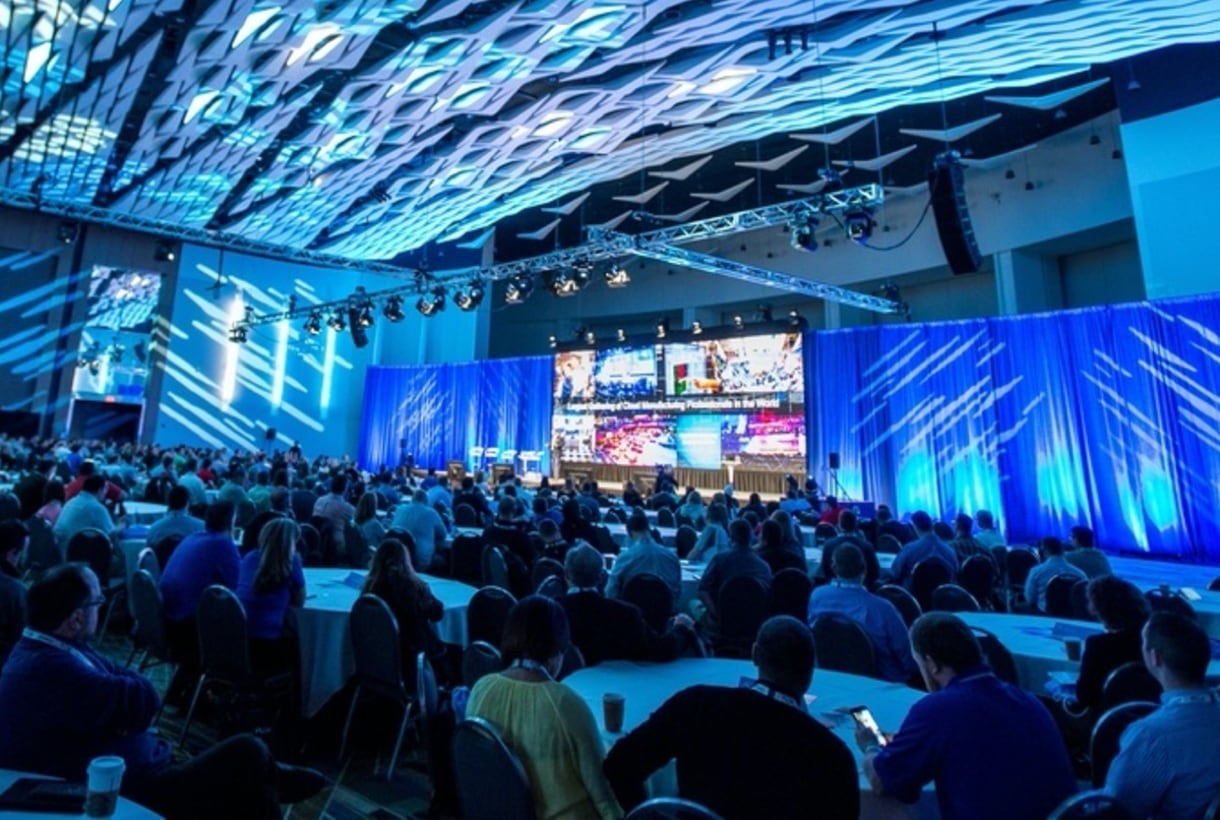 This year's PowerPlex conference April 25-28 in Detroit, Michigan had 1,200 attendees—that is to say, 1,200 "makers of things"— the largest gathering of cloud manufacturing professionals in the world. Each attendee's badge told us, "we make automobile braking systems" or "we make beer" or "we make innovative ideas," highlighting the manufacturing focus of Plex, as well as the company's customers and partners.
The conference featured 10 tracks, 84 sessions, 100 presenters (44 customers), 14 peer exchanges, 12 roadmap breakouts, and the Plex Experience Lab Solutions Expo. The expo provided an informative mix of content—including Plex product information, strategy and roadmap information, customer use cases, and product demonstrations. "Hands-on" sessions, panel discussions, networking events, and meals provided ample opportunities to share information among members of the Plex community.
Plex CEO Jason Blessing delivered the keynote, providing statistics about Plex's growth and customer base, and outlining his vision for the future. Joined by CTO Jerry Foster, Group VP of Development Jason Prater and Group VP of Product Management Karl Ederle, the audience learned about new Plex product announcements and innovative use cases. Here are the highlights:
The Plex Manufacturing Cloud Continues to Grow
The Plex Manufacturing Cloud delivers five million containers of product each week (up by 40 percent year-over-year) with each container holding thousands of parts—just under 10 containers produced every second of every day of every week. The combined customer revenue of the Plex Manufacturing Cloud is equivalent to a $32B company, up over 31 percent from last year, and larger than well-known companies such as 3M and Nike. Of the 460 Plex customers spread over 1,500 facilities and 22 countries, 40 percent expanded their usage of Plex this year. And Plex boasts an industry leading renewal rate of 97 percent.
The Future is Now
Blessing spoke about the coming of the Fourth Industrial Revolution which will be characterized by clean modern factories, mobile devices, wearables, networked machines, smart sensors, and automated reporting and analytics. Interestingly, nearly half of the traffic to and from the shop floor to the Plex Manufacturing Cloud are transactions to connected sensors and machines, with the Plex Manufacturing Cloud processing over 45,000 transactions every second, in a highly automated, scalable environment.
In fact, Plex customers are already leveraging Fourth Industrial Revolution technologies "to deliver great products that delight customers." For example, Green Flash Brewing Company (and what is more delightful than beer?) is using the Plex Manufacturing Cloud to quickly scale its San Diego-based business and to add a new manufacturing plant in Virginia Beach—supporting a 40 percent compound annual growth rate (CAGR).
GenZe electric bikes and scooters are part of the rise of the sharing economy—providing alternative, affordable transportation across the US. The Plex Manufacturing Cloud supports the company's rapid expansion into new markets and new products. The scooters are internet-enabled and connected to the cloud, enabling GenZe to collect information that can be analyzed to understand customer usage patterns and to provide monitoring of the scooter's parts to support proactive maintenance.
New Plex Products and Capabilities
Supply chain planning includes Plex Master Scheduling, Plex Sales and Operations Planning and Plex Distribution Planning (available now, while Plex Distribution Planning will be available in Q3 2016), an integrated cloud-based solution from sales and operations planning to shop floor execution to shipping and distribution. These products are particularly focused on helping predict and plan for volatile and uneven demand cycles. The solution can predict demand based on internal initiatives and external factors, and can account for upcoming plant shutdowns while automatically direct manufacturing activity to a different plant.
Plex UX is the next-generation user experience platform, already in use by early-adopter customers. Plex UX will enable customers to tailor their experience to meet individual needs for a more modern user experience. The solution is more visual and intuitive, includes customizable screen-building wizards, and supports enhanced security features. Transition to the new platform begins in May 2016 with Plex enabling customers to adopt a phased migration plan, enabling them a dual-mode access to Plex both from classic and Plex UX user experience.
The Plex Connect Open Integration Framework provides APIs and tools to make it easier to connect to the Plex Cloud. Enhancements include new pre-built connectors with application partners, as well the ability to build custom integrations using REST/JSON APIs available through the new Plex Developer Portal (available late Q2).
Plex Mobility solutions will embrace enhanced mobile capabilities that will enable a "two-way" conversation, recognizing the employee in the context of where the employee is located and what he or she is doing at a given point in time. Use cases include visualization of Plex on scanners and tablets and wearables. Plex's mobility strategy will be device agnostic and use case focused. Plex is exploring the use of devices such as Google Glass and "smart" helmets that support augmented reality. In one use case, the augmented reality device automatically detects the user's environment and then superimposes the appropriate work instructions (without impeding the user's view). Instructions can be delivered in the correct order with verification that the step is complete before moving on.
Plex Insight is focused on capturing data and turning it into meaningful information. The newly announced IntelliPlex Sales and Order Management Analytic (available late Q2) and IntelliPlex Financial Analytic (available now) applications, as well as IntelliPlex analytic applications are built on the cloud-based IntelliPlex Analytic Platform (already in use by more than 200 Plex customers). Applications feature drag-and-drop customizable dashboards that can aggregate information in a single view for easier creation and sharing of reports. Information can be "sliced and diced" to provide metrics by location, product, customer, or other dimensions. These tools will enable customers to identify poorly performing products, geographies, or customers and take appropriate action.
The keynote provided an excellent overview of conference themes and subjects covered in more detail in breakout sessions. Look for future blogs that will delve more deeply into products, customers, and customer use cases featured at PowerPlex.