PowerPlex 2016: Women Leaders in Manufacturing and Technology
Culture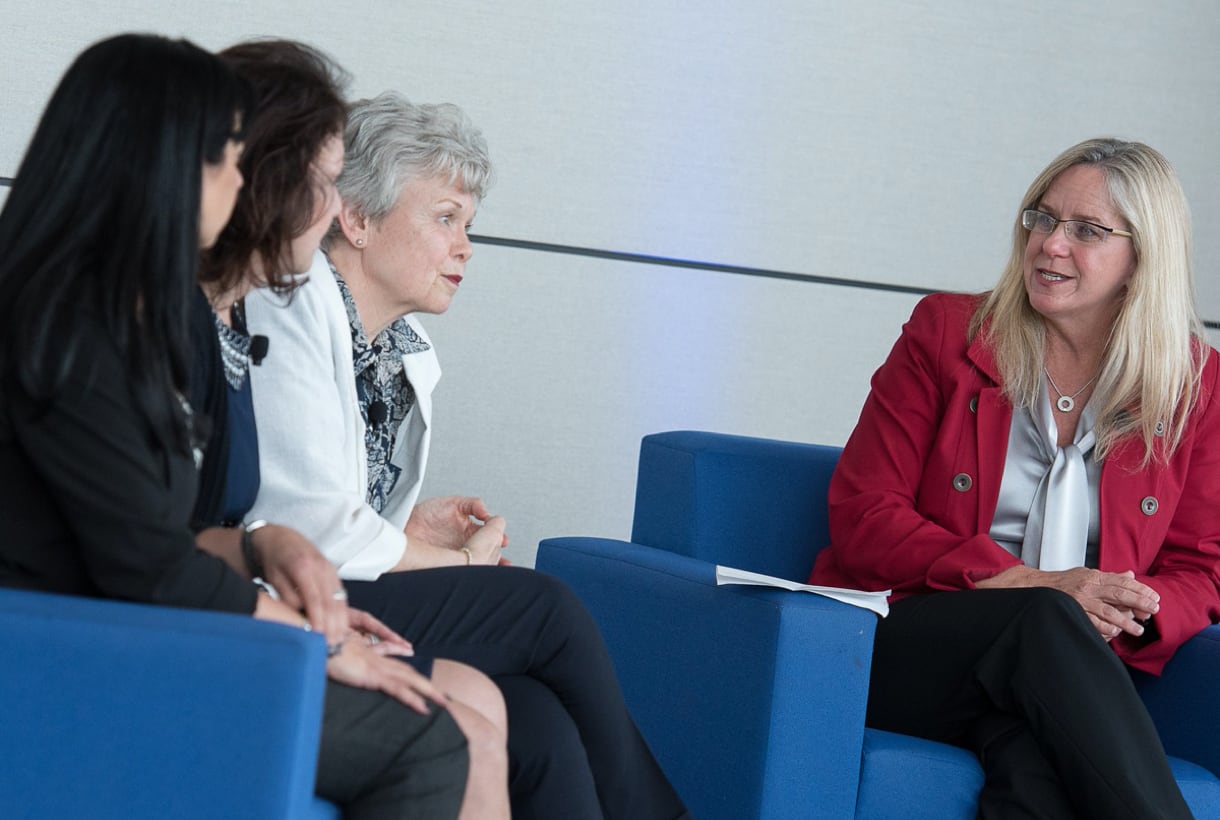 While at PowerPlex 2016 in Detroit, I attended the Women Leaders in Manufacturing & Technology reception and panel. The panel included Kathryn Ullrich, Executive Search Consultant in Technology and Diversity at Heidrick & Struggles and author of 'Getting to the Top: Strategies for Career Success;' Cindy Jutras, President of Mint Jutras, LLC; Mary Blair, Senior Vice President of Supply Chain Management at Accuride and Lillian Reaume, Chief Human Resources Officer at Plex. Heidi Melin, Chief Marketing Officer at Plex moderated the panel.
This event was the second annual PowerPlex session devoted to women. This year's panel included a cross-section of strong, articulate, and successful women in executive positions who had great advice for women pursuing careers in technology and manufacturing. The session piqued my interest and I was curious to find out just how many women are working in these traditionally male-dominated industries.
Women in Manufacturing and Technology by the Numbers
The 2015 Women in Manufacturing Study: Exploring the Gender Gap study that was commissioned by The Manufacturing Institute, APICS, and Deloitte to "understand why manufacturing isn't attracting, retaining, and advancing its fair share of talented women." This study states that: "…women make up about 47 percent of the labor force, but only 27 percent of the manufacturing workforce." Three-quarters of the respondents believe women are underrepresented within their organization's leadership team.  
Another study published by The International Labour Organization, Women at Work: Trends 2016, revealed that worldwide only 15 percent of plant and machine operators, and assemblers are women.
The current situation in technology isn't much better. According to a special report published by CNET in 2015, women employees at tech companies represent roughly 30 percent of the overall workforce. But interestingly, only 15.6 percent of women hold technical roles and only 22.5 percent of women are in leadership roles at tech companies.
Excerpts from the Panel Discussion
The panel delved into strategies that women working in the manufacturing and technology industries are utilizing to navigate the unique challenges they face. Below are excerpts from the panel discussion:
Q: What advice can you give other women who want to pursue careers in manufacturing or technology?
Jutras: First and foremost, be confident in your abilities.
Reaume:  It is important to recognize that you belong there. It takes time to figure things out but you can and will be successful.
Blair: There will be different challenges at every level. Take one step at a time and stick with facts and data to support your arguments. I agree—be confident and stay true to yourself.
Q: How do you handle conflict?
Blair: When confronted with conflict, take a step back. Take a moment to collect yourself and to evaluate the situation. Take the emotion out of it.
Reaume: Think about the big picture. Is this battle really worth fighting? Pick your battles and focus on large-scale change.
Jutras: The conflict happens, in many cases, due to an unconscious bias against women in leadership roles. We can be perceived as bossy. But we need to stay focused and show that we can perform the job as well as males. In many cases, we put limitations on ourselves. Support and encouragement from family members is extremely important. For example, I remember hearing the story of Condoleezza Rice who said that it was the support of her family that fueled her success. Her parents raised her to believe that "the little black girl, that couldn't order a hamburger at the Woolworth's lunch counter, could be President of the United States."
Ullrich: Research on unconscious bias against women in male roles shows up in two ways: the first bias is that women don't perform as well as men. When women repeatedly demonstrate they are performers, the second bias comes to play: that they shouldn't be high performers. With this bias, women are seen as tough or bossy. In tackling this bias, women need to show their softer side.
Q: How can women take charge without being considered bossy?
Blair: I think you can make a joke of it sometimes. For example, "Hey, I parked my broomstick around the corner." But seriously, hold yourself accountable and hold others accountable. Make it about job performance.
Jutras: Show some gumption! Be confident without being bossy. Be influential rather than aggressive.
Q: What does it take for a woman to be successful?
Blair: Realize that we are women. Use being a woman to your advantage. Always treat others how you want to be treated and lead others the way you want to be led.
Ullrich: Ask for stretch assignments. Talk about your accomplishments. Men tend to talk a lot more about what they have done. A man might say, "I have 100 people reporting to me," meaning not just direct reports but also those who report to his direct reports, while a woman may tend to be more literal. Think about how you are presenting yourself.
Paving the Way for Future Women Manufacturing and Technology Professionals
For women in business who hold careers in the manufacturing or technology industry, the panel offered some great advice on how to further our careers. I also uncovered a number of initiatives that support women in technical roles, as well as organizations that can help our daughters gain the confidence they need to pursue careers in predominantly male roles and industries.
The Manufacturing Institute promotes the role of women in manufacturing through the Science, Technology, Engineering, and Production (STEP) Ahead initiative, which serves to mentor and recognize women while also leading research efforts. The Science, Technology, Engineering, and Mathematics (STEM) Education Coalition advocates STEM education within schools to boost U.S. global competitiveness—with many efforts focused specifically on young girls including, the National Girls Collaborative Project and the Girl Scouts' Imagine STEM series.
These initiatives along with open and authentic conversations like the panel held at PowerPlex are helping to pave the way for future women manufacturing and technology professionals.