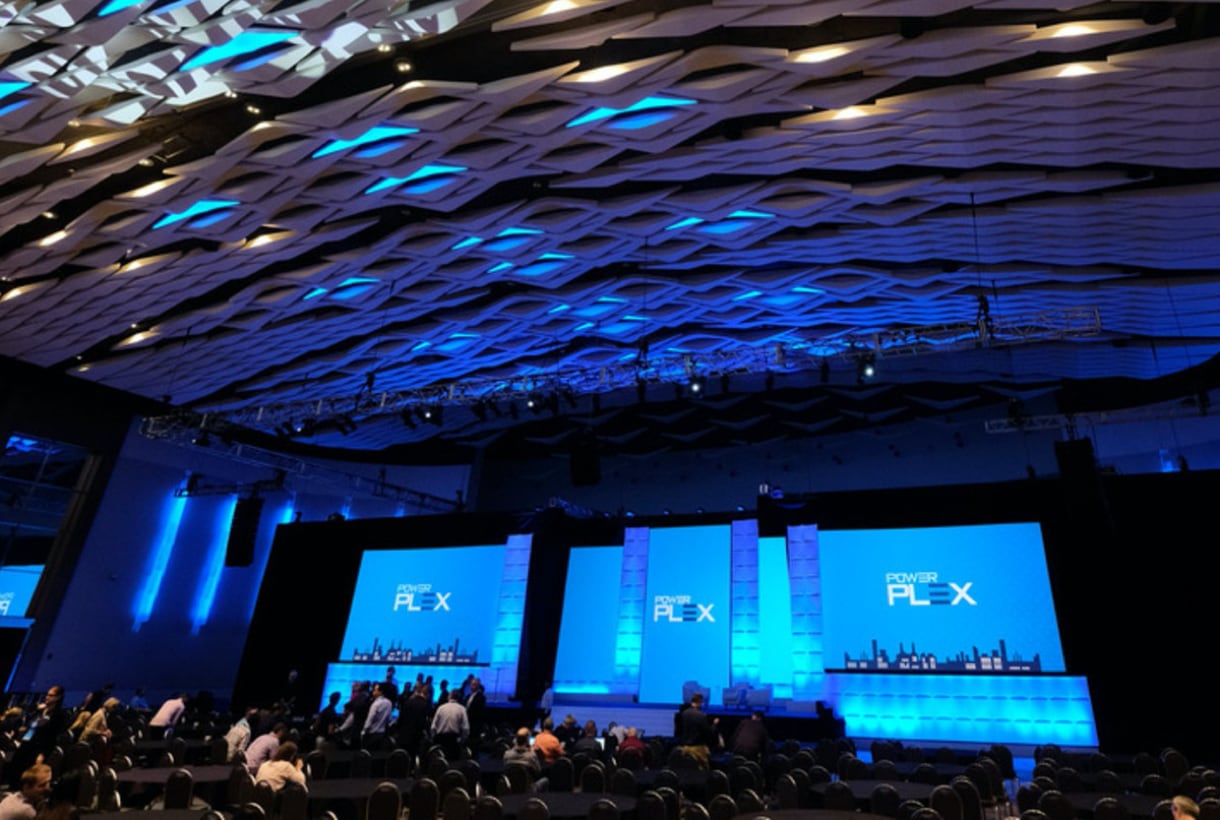 Introduction
After hosting PowerPlex 2017 in Atlanta, Georgia, PowerPlex 2018 returns to its roots in Detroit, Michigan, one of the nation's biggest manufacturing hubs. CEO Don Clarke welcomed the audience in his Opening Keynote, "Makers Making an Impact," recognizing the Plex community of manufacturing professionals who are positioned at the intersection of manufacturing and technology. This event gives the community a unique opportunity to explore ways that technology can be used to develop more innovative products, services, and processes.
PowerPlex is the world's largest gathering of manufacturing professionals. This year, the event features 90 sessions with 40 percent presented by customers from around the world and across multiple industries, and includes a women's panel for the 4th year in a row. From candy to castings, the Plex customer base is comprised of a broad cross-section of businesses who are leaders in their respective industries, using innovation to drive growth and outpace the competition.
 Customer Focus Fuels Company Growth
Clarke shared some interesting statistics that reinforce the company's customer focus. This year, Plex has added 65 new customers, bringing the total number to almost 600 customers in 2,000 facilities across the world – the fastest year of growth in company history. Almost half of Plex customers expanded their use of Plex in 2017, adding new products or new plants to their environments. Equally as compelling, Plex customers performed over 1.5 trillion database transactions within the Plex Manufacturing Cloud while recording production. Of those transactions, 99.64 percent of them completed within 500 milliseconds. Availability is up to 99.98 percent from 99.95 percent last year keeping shop floor applications running in real-time 24x7x365.
Since the start of Q1 of this year, Supply Chain Planning has been the company's fastest growing segment. Following the acquisition of DemandCaster in 2016, Supply Chain Planning began rapidly growing in 2017. This is significant for Plex because not only is Supply Chain Planning available for the Plex Manufacturing Cloud, but it is also a leader in cloud Supply Chain Planning for other ERP systems, enabling Plex to target new customers in new industries.
Plex Impact Awards
Each year at PowerPlex, Plex announces the Impact Award winners for that year. Winners are awarded in each of three categories: transformation, leadership and Innovation. Last year, Plex recognized Polamer Precision, Accuride, and Shank's Extracts. This year Plex saw double the entries for the Impact Awards and many more nominees. We heard a bit more from G&W Products, one of this year's finalists.
G&W Products
G&W products, a metal stamping and fabrication facility headquartered in Fairfield, Ohio employs 145 people working from 140,000 square feet of manufacturing and warehousing facilities and 15,000 square feet of office space. G&W's is a build-to-print metal contractor with 50% sales to the military and 50% to commercial customers. G&W produces everything from gas pumps to dump trucks to store displays to military components and heavy equipment (and even this year's Plex Impact Awards!). When G&W identified that their current ERP system couldn't support the company's goal for growth, they evaluated several ERP systems and the employees themselves selected Plex. The business has grown by 30% - growth made possible by Plex. Plex has enabled the business to put technology in the hands of the operators with tablets, touch screens and scanner guns. G&W plans to continue to use new technologies to innovate and manage growth in this strong economy. G&W received a special Impact Award based on their years of service on the Plex Advisory Board and for the design and fabrication of this year's Impact Awards.
Plex Vision for Connected Manufacturing
We heard from several members of the Plex Leadership team on the topic of Plex and Connected Manufacturing. The company is "laser-focused" on Plex as the extensible manufacturing platform delivered as-a-service to connect systems, people, shop floor and processes–offering the following benefits:
State of-the-art MES and ERP solutions available for manufacturers of all sizes going live on the manufacturing cloud in months, providing accuracy, efficiency, and speed;
Real-time communication across supply chains;
Data as the system of record for manufacturing enterprises; and
Analytics for better business decision-making and traceability, quality and efficiency.
Let's look at a few areas where Plex is making progress toward this vision.
Industrial Internet of Things (IIoT)
The proliferation of IIoT in connected manufacturing provides an opportunity for both Plex and its customers. With Plex at the hub, customers can derive the following benefits:
Industrial automation – by connecting devices and collecting data, fixes to problems can be automated. For example, if a machine on the shop floor senses vibration which is out of spec and could affect quality, the machine will automatically shut down.
Advanced analytics – by collecting historical data, data analysis can support preventative maintenance. For example, by collecting information about machine performance over time, maintenance canbe scheduled in advance, reducing the possibility of downtime.
Resource optimization – information can be captured for augmented reality and simulation. A process can be mapped out virtually in advance before going live reducing the possibility of errors.
Extended enterprise – with manufacturing businesses connected to the supply chain, your success can depend on the success of your customers or suppliers. Think, for example, of a self-driving car. Insight provided by data collected and analyzed can identify if a problem is related to the driver, the condition of the roads, or the car itself.
Plex IIoT is planned as a new product that will help enhance connectivity and standardize processes in order to provide these benefits. The solution will be designed for use case, to solve a business problem or to help achieve a business outcome with the goals of reducing cost, managing complexity and improving reliability. Several of the areas that Plex is evaluating include attribute-based finite scheduling, sequenced shipping and lot inheritance.
Mobility
Last but not least, we heard about Plex's future plans in the mobility space. The goal is to have mobile devices increasingly take the place of stationary PCs on the shop floor. With SmartPlex and plant floor mobility using things such as blue tooth tethering and audio and vibration feedback, the target will be the shop floor user– making the user interface more task-oriented and minimizing clicks. The (future) Plex Mobile app will interact with wearables and use voice control to minimize manual actions. The focus will be on common workflows and increasing productivity on the shop floor.
Conclusion
Plex's customer commitment came through loud and clear in the PowerPlex Day 1 Keynote. With the focus on customer experience, and new developments in IIoT and Mobility, Plex customers are better equipped than ever to take advantage of the many benefits of a connected manufacturing environment.