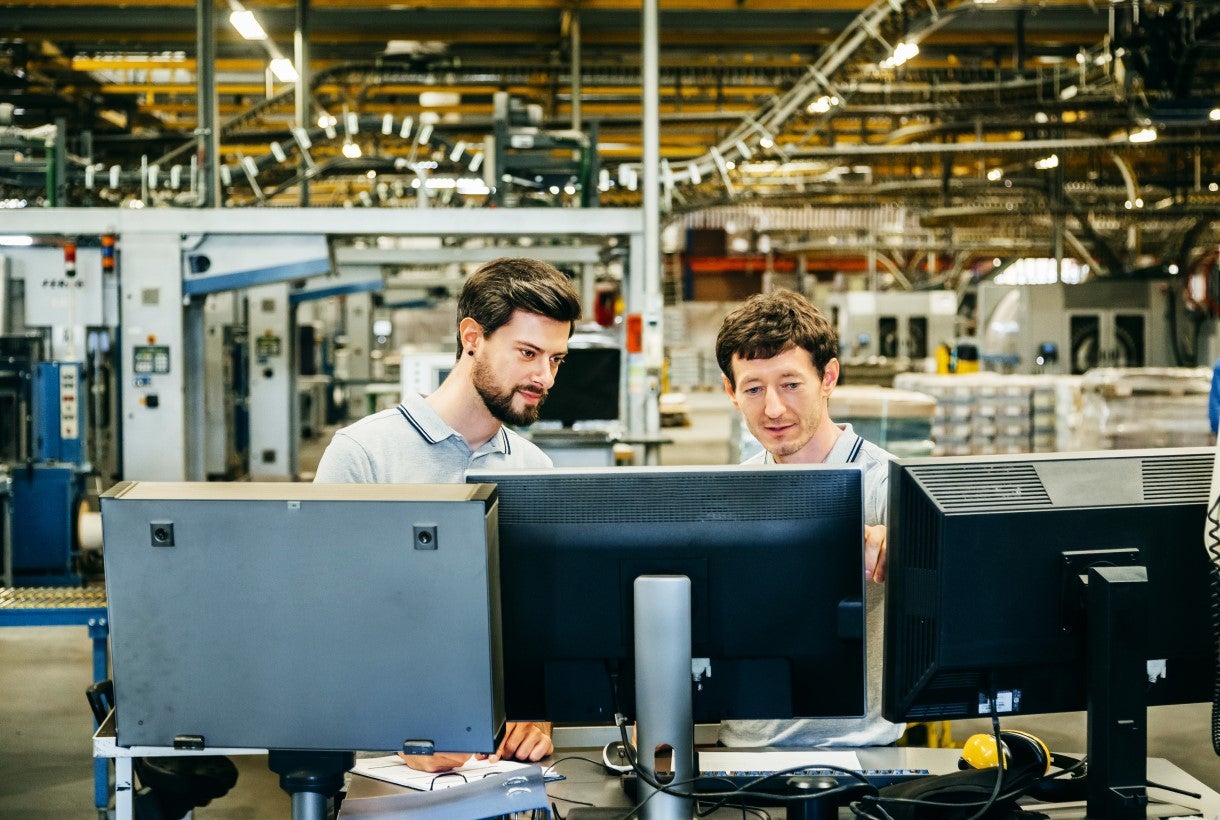 You can't fix what you can't see. Without access to and analysis of the data resulting from production, manufacturers risk higher costs, poor quality, and mysteriously low equipment utilization. And with global manufacturing competition at an all-time high due to disruption, trade wars, COVID-19, and other issues, companies just can't afford to be in the dark about what's going on in their factory.
In addition to the competition, today's OEM equipment operates faster and with more manufacturing automation than ever before. While the old stereotype image of an assembly line defined the factories of the past, today's perceptions of factory life conjure up factory robots and other high-tech equipment producing goods at an astonishing rate.
Connecting to Visualize
While automated production is not new, the arrival of the smart factory has taken that automation to a new level. By connecting equipment on the factory floor to cloud-based analytics software, real-time data is leveraged to unlock greater value across the enterprise.
This connectivity can be realized with cost-effective and off-the-shelf hardware in the form of devices or sensors that link equipment to production monitoring software. And many of these devices and their easy-to-connect capabilities are being added as standard features on new OEM equipment.
The result is complete visualization of the shop floor and the ability to close the loop on production monitoring. By measuring KPIs for production and quality in real-time, managers can use data to visualize what's happening and turn it into actionable insights to manage production better.
Visualizing to Improve
With a production monitoring system, visualization is everything. Robust, best-in-class systems such as Plex's offer fast setup and are highly customizable to both users and industry. This visualization may take the form of interactive dashboards for direct operator interface, robust reporting customized to each user, or autonomous or semi-autonomous actions by the equipment to control quality and performance.
Production monitoring software also offers many tools to empower operators and managers to see real-time results. Production monitoring tools include production cycles by the hour, shift, machine, operator, or other defined periods. They also allow for the capture of downtime by category, machine status, and even load and packing information. And today's production management software can be used in parallel with equally powerful QMS software to manage scrap rates, inspection, and quality monitoring and management.
Improving to Succeed
Armed with these insights, operators, managers, and executives can develop tactical and strategic plans to improve processes and operational excellence. These plans can be targeted at the shop floor level to identify process deficiencies, training needs, and bottlenecks such as floor layout or material flow that directly impact efficiency.
Powerful analytics can drive action in real-time at a higher level, while historical and trend analysis can point out root causes that allow for process optimization. This analysis can improve overall equipment effectiveness, enhance scheduling and inventory practices, reduce downtime, and increase productivity per employee. With both macro and micro focus, production monitoring can drive change to improve operations across the enterprise.
Turn Insight into Action
With powerful production monitoring software by Plex, a truly connected closed-loop system delivers accurate visibility in manufacturing. By connecting and automating your monitoring, powerful analytics will deliver prescriptive and proactive insights that allow you to act fast.
And because you can see what's happening and trust your data and analytics, you have a much better chance of meeting your customer's needs than your competition. Now that's what we call turning insight into action.