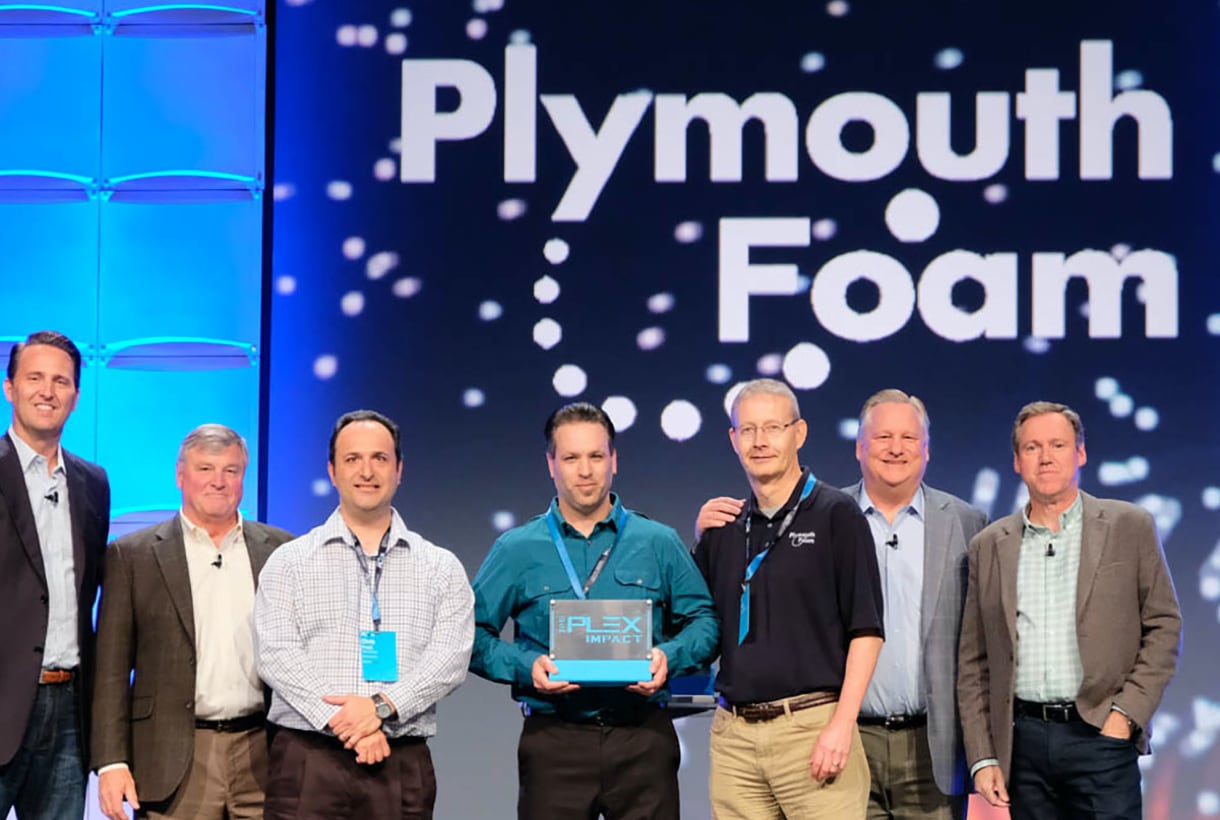 Back in 1978, foam products weren't commonplace in Plymouth, Wisconsin. However, Tecwyn "Tec" Vance Roberts, a local engineer, realized that area industrial and commercial builders could benefit from a foam insulation product. Seeing this opportunity in the market, Tec set out to bring it to them. Each night, he made the insulation at home in his garage and woke early the next day to sell it to local builders. Demand for Tec's innovative foam product grew so quickly that his sons soon joined him on the road, and they formed Plymouth Foam.
Plymouth Foam has grown from a small family-only organization to a "company of families," with six locations in Wisconsin and Ohio, and approximately 170 employees. The Plymouth Foam team makes the particle foam found in everything from coolers for food and beverage manufacturers, to custom sound dampening applications for automotive OEMs, and insulation for the construction industries. This well-established company also uses sophisticated technology to develop new products. Plymouth Foam leverages rapid prototyping, using 3D modeling and in-house Computer Numerical Control (CNC) equipment to develop new products. 
Plymouth Foam continues to introduce new, innovative products to the market. Most recently, they debuted a product that combines lightweight air foam technology with a rugged exterior. The new foam is appropriate for a number of applications and has reduced the weight of automotive seat assemblies by as much as 15 pounds—providing drivers with the same comfort and support but decreasing the overall weight of the vehicle.
This year, Plex recognized Plymouth Foam with a 2018 Plex Impact Award for Innovation. The award recognizes Plex customers who drive innovation within or beyond their industry by delivering new products, leveraging new devices/technology to improve their manufacturing process, or finding new ways to manage their business. Plymouth Foam has leveraged cloud technology for business management since 2012 when they moved all company communications to the cloud and in 2017 when they went live on the Plex Manufacturing Cloud. Upon going live on Plex, the Plymouth Foam team saw immediate benefits. Now they have a true picture of actual BOM usage for their molding applications, which is something they didn't have before.
"We are very proud of our entire team and the innovation and creativity that goes into everything that we do at Plymouth Foam. This recognition also reinforces our commitment to Plex and we are grateful for the support that they provide," said Dave Bolland, President and CEO of Plymouth Foam.
Plymouth Foam remains a family-owned business today. And when a new employee joins the company, they, as well as their families, are invited to follow the vision of their founder Tec who single-handedly brought the innovations of foam to market.
For details on the 2018 Plex Impact Award winners, check out our press release.