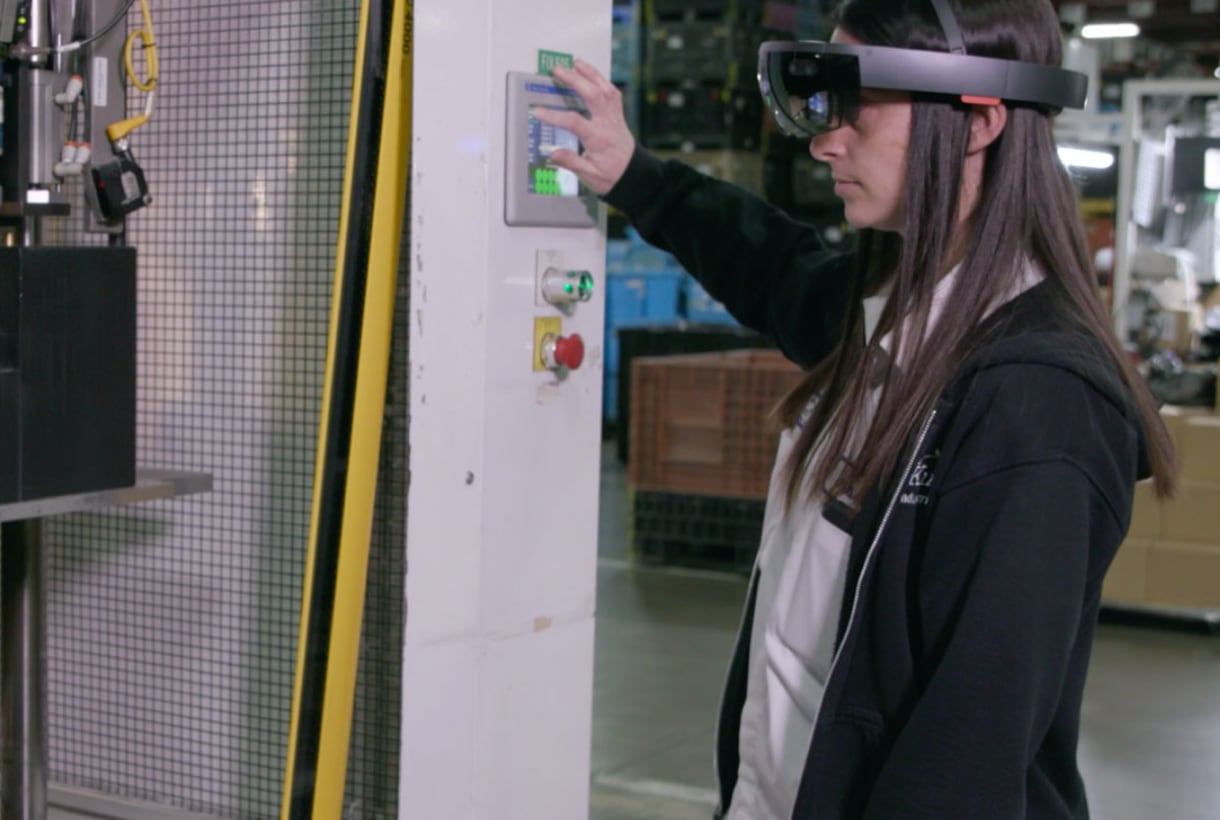 It's no secret that most manufacturers are focused on value-added activities, and often have little resources for technology research and development exploration—unless its dedicated to the development of new products. Decisions to invest in capital to run the business are not taken lightly.
In the Plex Labs, we are constantly evaluating advanced manufacturing technology with our main goal being to help you within your manufacturing operations. I feel lucky that it's my job to explore, test, and validate technology to see how it can be used with Plex in ways that makes our customers successful. When we look at any new technology we always apply three main principles: can it improve efficiency, quality, or safety? We do this because we know these are critical to your business.
Recently, we've been investigating augmented reality (AR) and virtual reality (VR), what's often called XR for short. This technology has yet to reach a critical mass with many smaller manufacturing enterprises, but with the proliferation of consumer grade technology it's getting cheaper and easier to purchase, deploy, and connect things, and we see some very promising use cases for how you could use this technology to: 
1. Drive Efficiency
XR offers a lot of potential for your operations when it comes to efficiency. Shop floor operators can be hands free, and access information that's useable in the moment, right within their view. This means that shop floor employees don't have to put tools down, pick devices up, or move to different area to get to a computer. They can be more productive in any operation with the right information, presented when they need it. We saw this in with early versions of Google Glass on making it easy to manage machines, material, and people on the shop floor.
Watch: Plex App for Google Glass: A Modernized ERP System
2. Ensure Quality
As you look for more ways to ensure quality during production, XR offers new possibilities for improving quality while keeping costs down. Shop floor workers can access quality information instantly, rather than having to go reference a manual or stop work to go locate the manual. One use case we've seen is with just-in-time training. In a situation where you'd hire a new employee, supervisors can walk them through operations as they are happening. Also, if problems happen during production, operators can directly contact a manager to ask questions without having to walk away or shut the line down to ensure that the job is being done correctly.
3. Maintain Safety
Safety is another area where you can benefit from XR. Since information is projected in the line of sight, employees driving a high low forklift could receive a warning if other employees are near or around the machine. Another interesting use case for augmented reality is to map out the plant layout to determine the best position for workstations, tooling, forklifts, machines, and other equipment from a safety and efficiency stand point.
At Plex, we invest in technology so your workers can be the best at their jobs and you can deliver on customer demand. In essence, you can leverage what we're doing in the Plex Labs as your R&D resource. If you're looking at XR technology, your best strategy is to identify a single, specific use case where you can see potential ROI. While the technology is not expensive, it is an investment, so it's a good idea to really think through a use case. We're really excited about the Plex Mobile app because it will include integration with wearable devices like Realwear.
Watch: In the Plex Labs: Realwear Headset feat. Microsoft Luis
This really opens up the opportunity for you to leverage the efficiency, quality, and safety potential XR in your manufacturing operations, which is what makes me excited to go to work every day.