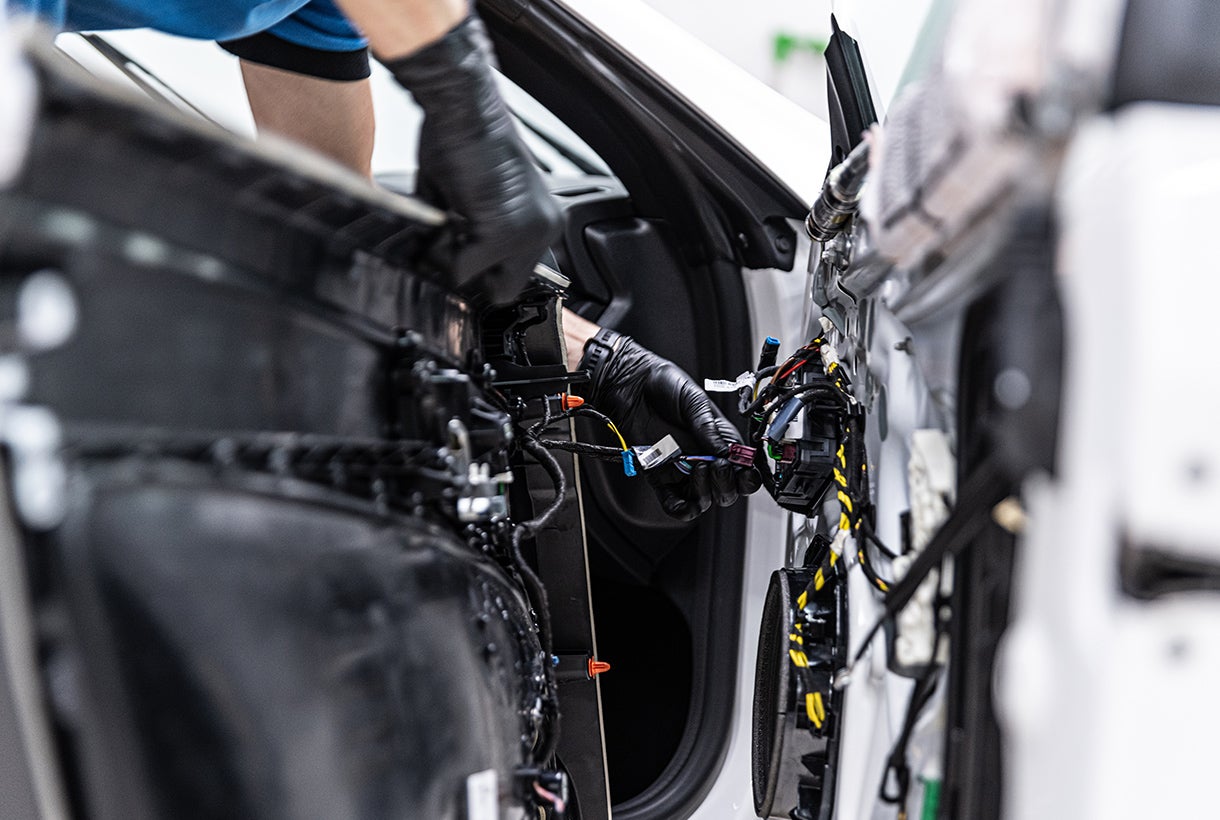 Although COVID-19 cases continue to surge across the world, the global manufacturing community experienced its highest jump in production levels (5% over the previous two weeks) and is now producing at a record high of 108% of pre-pandemic activity.
Global manufacturing data set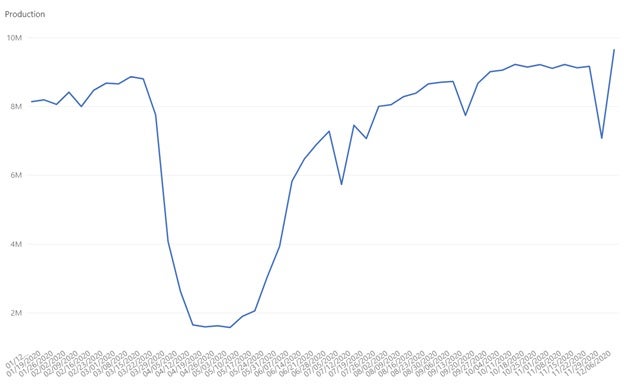 Global production gap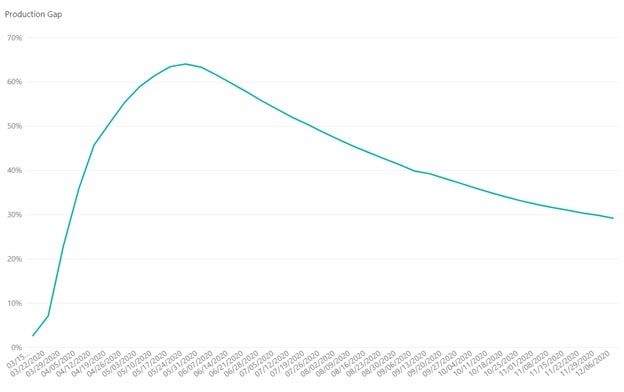 Manufacturers are also steadily closing the production gap caused by the pandemic earlier this year with a cumulative 29% production loss to date (a 2% improvement since our last update). At this rate, we expect the gap to shrink to roughly 27% by year end.
North American production data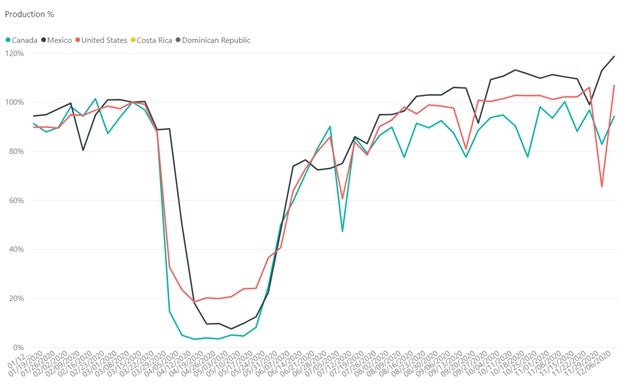 The continued expansion of production levels is largely driven by North America and predominantly in Mexico. While volume in the U.S. and Canada both continue to see an uptick, this week, Mexico leads the pack, recording its highest production rate to date at 118% of pre-COVID (up 9% since our last report).
China production data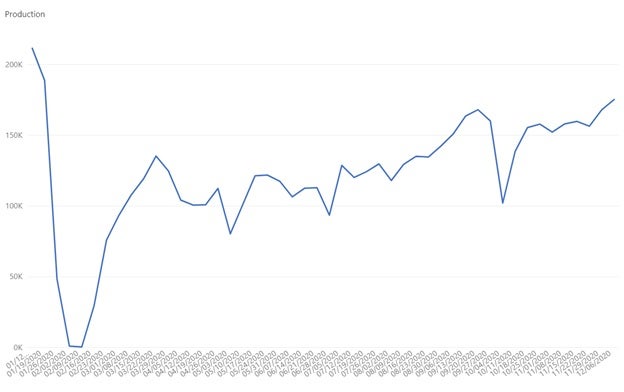 Across the world, we also continue to see a positive trend in China with two solid weeks of growth. When we look at the data set over time, China has showed relatively steady and stable recovery. According to the Purchasing Managers' Index (PMI) for November, manufacturing activity in China expanded for the ninth straight month.
European production data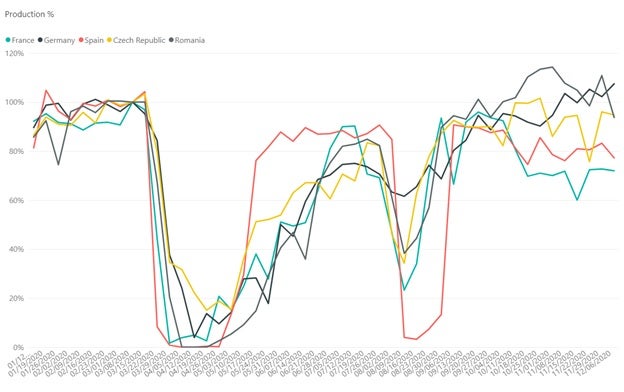 Consistent with our previous update, amid another COVID-19 wave, European countries continue to experience a slight drop in manufacturing activity. Germany is the exception, now producing at 107% of pre-COVID rates, jumping 5% in the last week alone.
Users v. production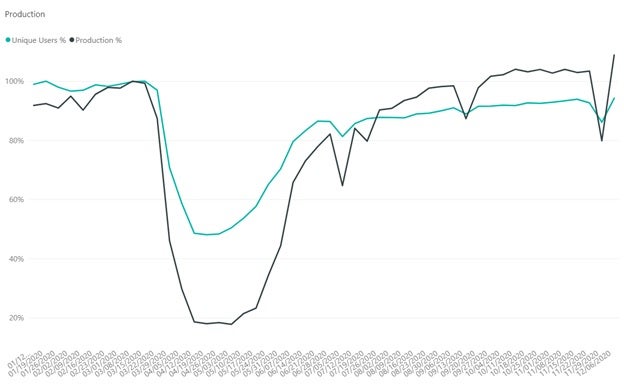 Interestingly, while global production levels have continued to rise, the number of unique users has not experienced that same exponential growth. With the number of unique users at 94% this week, it has created the largest gap in the ratio of production levels to unique users experienced this year at 14%. This suggests that despite a lower workforce volume, due to investments in automation tools and smart technologies, along with traditional measures such as additional shifts and increased operating hours, manufacturers are continuing to prove they can meet high levels of production.
The slower growth in unique users is also consistent with reports of manufacturers' difficulty in attracting and returning workers due to coronavirus. Although manufacturers have learned to adapt and pivot their operations to quickly respond to changing business conditions, absenteeism at factories and their suppliers and a lack of staffing could eventually disrupt activity and ultimately impact manufacturers' ability to keep up with demand.
A look ahead
Despite rising COVID-19 cases across the world, manufacturing continues to show positive momentum and we are optimistic about growth in the year ahead. However, prior to widespread vaccine availability and distribution, we will closely monitor if workforce resource constraints, such as difficulties in returning and hiring workers and the potential for increased restrictions, will cause future strain and limit manufacturing growth potential.
Details on the Data Source & How to Interpret Graphs
Plex Systems solutions are cloud-based, giving us access to 20 years of anonymized, compiled operational data from the approximately 700 manufacturers we serve. This group collectively runs 1,200 active production facilities in 35 countries, representing the aerospace, automotive, fabricated metals, food and beverage, industrial machinery, and plastics and rubber industries. For scale, in the fourth quarter of 2019 alone, this group together processed over 1.4 million shipments. Daily, they record upwards of 8 billion transactions (such as barcode scans, moved inventory, shipments, etc.). Note this data reflects production transactions from January 1, 2020 to December 6, 2020. There is a margin of error of +/- 2%.