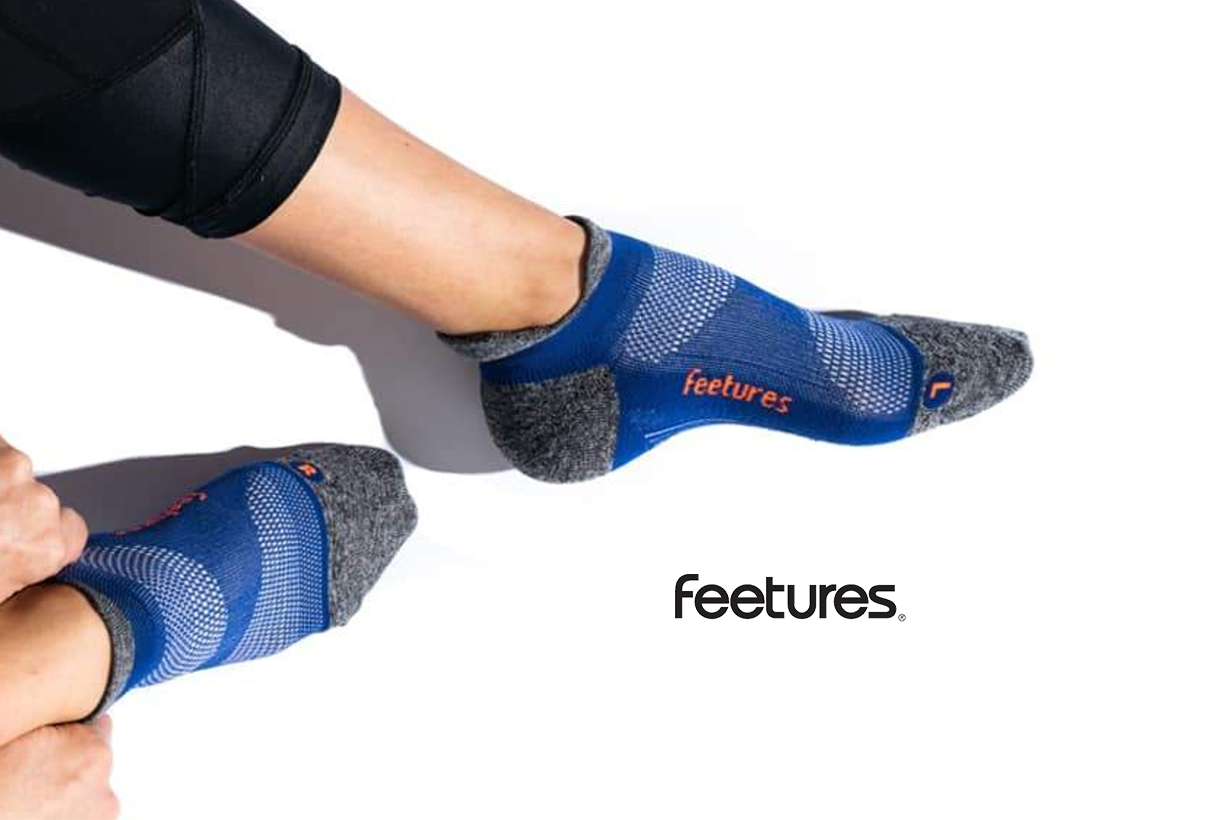 It happens a lot: strangers walk up to Hugh Gaither and take off their shoes.
Awkward, right?
Not for Hugh. He's the founder and CEO of Feetures, America's top running sock brand. And if enthusiastic customers want to show off their Feetures socks, he's all for it.
From airports to trade shows, Feetures fans began to approach him a few years after he started the business. "We realized that we were actually doing something that was making a difference," says Hugh, whose sons John and Joe are also Feetures executives. Customers eagerly shared that the socks were boosting their performance, which helped them meet their health and fitness goals.
Inspired by the positive feedback, and with a desire to solidify the company's guiding principles, the Gaithers formalized their core values. "And those are values that we live by. We've stuck with them."

Using these core values as a compass is paying off for Feetures in several key ways. Employee engagement remains high after expanding to a second location. A sizeable investment in direct-to-consumer sales is yielding even greater returns. And no employees have been laid off during the pandemic.
With enviable sales, brand recognition, customer enthusiasm, and employee engagement, Feetures is a true success story. But it took trust, respect, and a real passion for the business to bring the company — and the Gaithers — together.
Back to the Beginning
Having three kids in college with another one college-bound in only two years is not the ideal time to become unemployed.
But that's how the Feetures story begins. For 27 years, Hugh had built his career at a North Carolina sock and hosiery mill near where he grew up. It was one of the state's many successful mills, but it manufactured products to be sold under several different brand names — never its own. Add the pressure of global competition in the early 2000s, and many of North Carolina's mills had to close. Thousands of jobs were lost — Hugh's included.
But then his entrepreneurial spirit kicked in.
Hugh was confident he could make a better performance sock. A runner himself, he knew the improvements he wanted to make. "It turned out that the running specialty market was a place where there was a good opportunity to present new products," he says.
It was also a market projected to grow consistently. Hugh was optimistic but knew he would need some help. "Fortunately," he says, "I didn't have to go very far."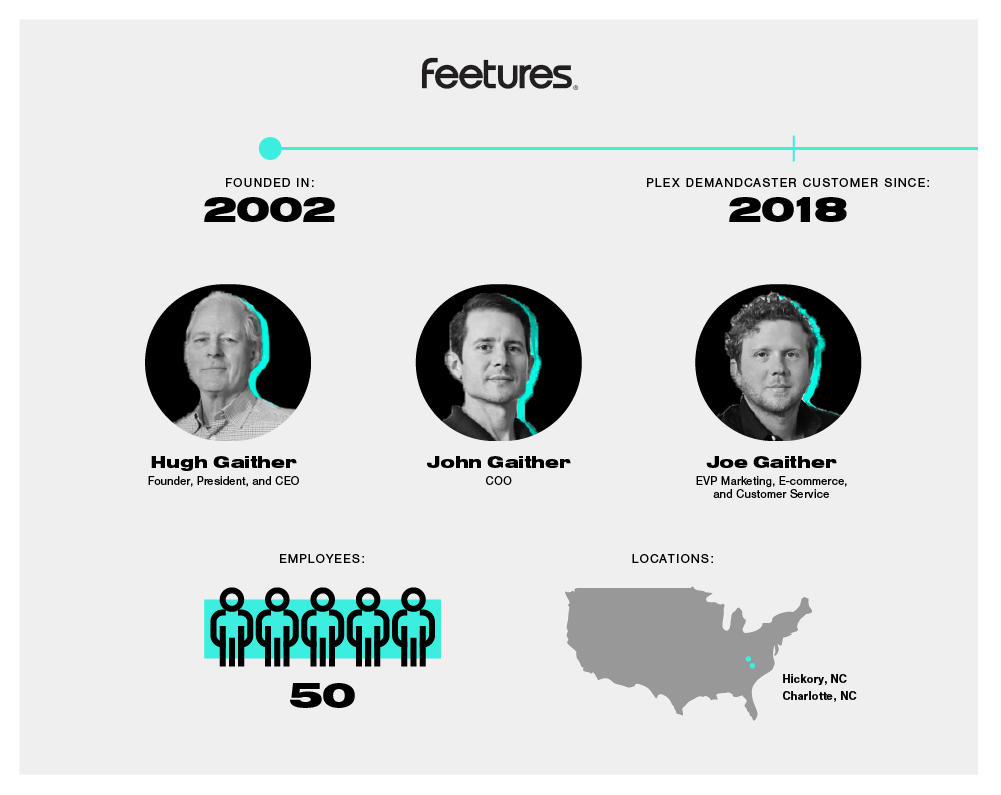 "F-e-e-t-u-r-e-s"
At home, Hugh talked about the important benefits of his new sock design. His vision was that its features would make all the difference and that the new company needed a name to really convey that.
"Feetures." His son Joe, still in high school, came up with the name without looking up from his homework. "F-e-e-t-u-r-e-s."
Joe would go on to officially join the company in 2009 after he got out of college. He's now Executive Vice President of Marketing, E-Commerce, and Customer Service. Hugh's oldest son, John, was about a year out of college when Feetures came to life. Today he is the COO.
"I think the shared passion that we have among the three of us, but also with all of our employees, makes us unstoppable," says John. "It started in the early days with my dad. He was extremely passionate about launching Feetures and passionate about our products."
Being passionate about the business holds many advantages. As does finding the strengths in having – and hearing out – different opinions.
A Culture of Healthy Conflict
"The three of us care so much about what we do that we all show up with preconceived notions about what's best in terms of strategy," says Joe. "Ultimately, that creates conflict, but it's healthy conflict."
The Gaithers say their decision-making process for adding an office in Charlotte is a great example of how they resolve disagreements. Hugh was reluctant to split up their employees. But Joe and John pitched the benefits of the move, and Hugh agreed with them that being in Charlotte would add to the Feetures talent pool and reduce their commutes.
"I've learned to be willing to change and adapt if it turns out that somebody else has a better idea," he says.
Adds Joe: "We came up with a decision that we all agreed upon. And we've benefited from having the Charlotte office. We've got a great culture as a result."

Turning Differences into Game-Changers
Adaptability and innovation came into play when the trio saw a big opportunity in times of unprecedented uncertainty.
"I think everybody knew that direct-to-consumer was going to be an important part of our business, but it was the rate at which we needed to invest and move in that direction that caused debate," says Joe. "I was very adamant about investing, moving forward quickly, and scaling up."
Hugh and John were more cautious. True to their corporate values, the Gaithers reached a compromise. They opted to take 20% of their business online — an approach they knew they could all live with. What they didn't know was that they'd just created a business model for the company's survival.
Because then, the pandemic set in. Consumers were coping by using exercise as an outlet. With gyms shut down, running became an easy fitness option. At the same time, the retailers that sold Feetures were closed. Online became the only channel to sell their products.

"We had been building our e-commerce infrastructure for years and we were poised to take advantage of the opportunity." -Joe Gaither
Together with the CFO, his internal marketing team, and digital advertising partners, Joe put together a plan that everyone could get behind: spend an additional $1.5 million to create $3 million in revenue.
It worked. Instead of having a bleak 2020 due to lack of sales from retail outlets, Feetures was able to reach customers where they were shopping — online — and meet the year's original sales goal.
Motivated to Give Back
Reaching sales goals isn't the only measure of success for the Gaithers. They've made it a priority to maintain a family-run feel and treat others how they'd like to be treated, from suppliers to business partners to employees. For example, it would have been easier to simply lay off employees in the distribution center when the pandemic slowed down shipments. But Hugh — who had been through the uncertainty that goes with losing a job — felt that wasn't the right thing to do.
Since forming the company, the Gaithers have consistently held the outlook that sharing their success is the right thing to do. "Giving back is just part of our DNA," says Joe.
Their generosity benefits several organizations, both within their community and beyond.
"We've responded to disasters, hurricanes in Houston or Puerto Rico, and wildfires in Northern California. Socks are something that people need under those circumstances," shares Hugh.
Feetures also backs organizations that encourage healthy lifestyles and focus on humanitarian efforts. John is on the board of Let Me Run, a nationwide group that works with middle school-aged boys to help build their self-esteem. The company also partners with Access to Success, an organization in Nigeria that emphasizes education as a way to break the cycle of poverty.
In Charlotte, they provide financial support and socks to local nonprofit Roof Above. And they recognized the need to contribute socks to frontline workers during the pandemic, partnering with retailer Fleet Feet to give away more than 30,000 pairs.
Giving back lines up with their values, both corporate and personal.
"Our company is fortunate. We're fortunate as individuals. We feel a responsibility to be able to give back," says John.
What's Next?
With a solid foundation built on core values and giving back, Feetures is prepared to face the challenges that come with growth and success.
"Our company has been bigger than just trying to build something that's successful for my dad, or even the three of us. We're truly motivated to develop products that help people perform better," says John.
"We're chasing our long-term goal of becoming the most recognized performance sock brand in the world."
Recognized — and ready to hear from customers firsthand.
Passion required. Shoes optional.
Plex is helping Feetures grow unit volume by analyzing and tracking demand patterns, identifying supply risks, and forecasting seasonal items. Find out how Plex DemandCaster can help your supply chain planning.
Read more about the company (you have to see these socks, too) at Feetures.com.