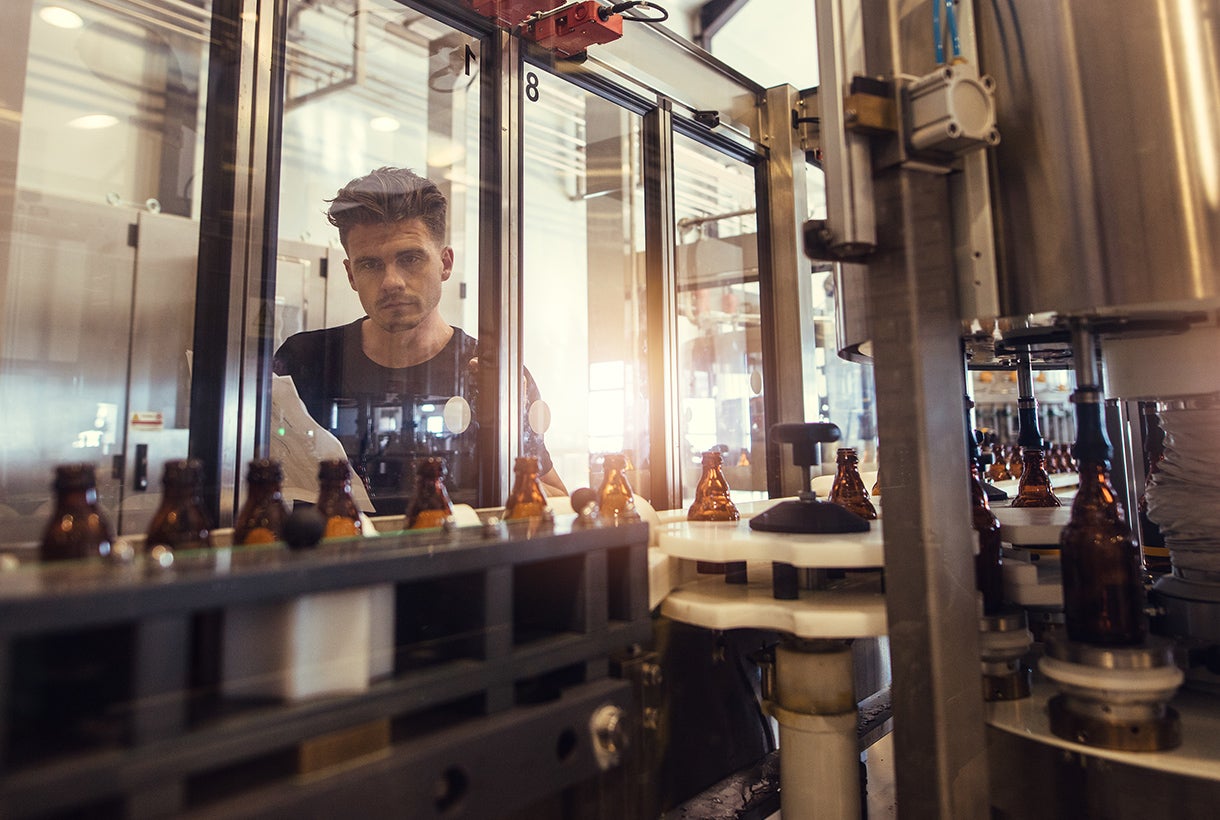 Global manufacturing is at 99% of pre-COVID levels of production as of August 30, while unique users logging in to the company's system of record per week is now at 90% of pre-COVID levels. This data suggests that on average, manufacturers have been able to increase their productivity over time with a reduced workforce.
Global data set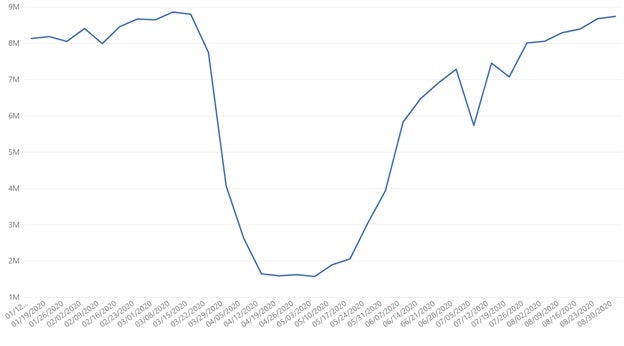 Since our last update two weeks ago, manufacturing production has increased another 4%. While the upcoming U.S. Labor Day holiday will likely cause a slight dip, we expect a continued upward trend afterward toward and potentially beyond 100% pre-COVID production levels.
Unique users per week data set
This view into manufacturing activity shows the average number of unique users (or number of active workers) using the company's system of record to run production each week. Similar to the global data set chart (above) it shows significant improvement since late April, but comparatively the workforce's recovery is progressing at a slower rate. The rate of workers logging in has hovered between 83-90% for the past seven weeks, and as of August 30, a high of 90% of manufacturing workers are logging in since the start of the pandemic.
According to anecdotal feedback from the manufacturers Plex supports, the lower ratio of unique users compared to production activity may indicate that while some companies have brought all of their workers back from furlough and can't hire workers fast enough, others are unsure that the high rates of production will last, and are not increasing hiring to manage what may be a temporary spike in activity.
Europe data set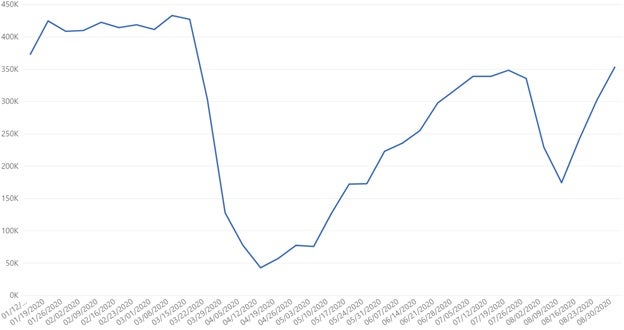 As predicted in the past few weeks, as the annual European summer holiday season comes to a close, production is once again accelerating. Manufacturing activity in Europe is at the highest rate seen since the beginning of the pandemic. However, it's important to note that the region is still behind the global average, at 82% compared to 99%.
China data set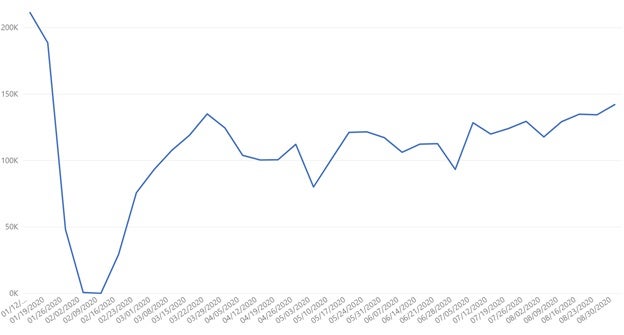 China has once again seen an increase in activity over the past few weeks, growing 5% since mid-August. Similar to Europe, this is the highest rate of activity the country has seen since the start of the pandemic, slightly exceeding the spike in activity in mid-March. According to the official China manufacturing PMI (Purchasing Manager's Index) of 51.0, as reported in the news the country's manufacturing activity expanded, but at a slightly slower rate than what was predicted and as compared to July. Analysts expected the August PMI to be 51.2, and in July, the PMI was 51.1.
Mexico data set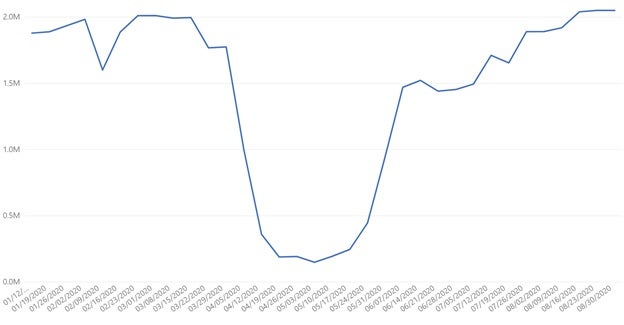 Mexico's production activity has grown .5% in the last two weeks, bringing the country to 102% of pre-pandemic rates of activity. While this two-week growth has been slower compared to the other regions, production may continue to increase, given reports that Mexico is becoming an increasingly viable production location as companies reshuffle their supply chains. According to Reuters, Foxconn and other Asian firms are looking to Mexico as risk in China grows. And a separate article reports $100M being invested in Mexico in the form of new or expanded plants – including a new factory from Plex customer Stant Corp. – which collectively could create up to 4,300 jobs locally.
Automotive industry data set
The automotive industry is just over 100% of pre-COVID rates of activity. While this is positive news, auto manufacturers generally reported significant declines at the end of Q2, and while suppliers have reported that factories are back online and running, a full recovery to pre-COVID levels of activity remains unclear.
A Look Ahead
Global manufacturing production continues to grow at a steady clip, and while we anticipate a brief drop in activity due to the upcoming U.S. Labor Day holiday, production could remain close to 100% of pre-COVID rates of activity in the weeks following, if the industry continues to follow year-over-year trends. It's important to note, however, that recovery rates and trends will likely continue to vary within different regions and industries. For instance, U.S. manufacturing activity has increased to a nearly two-year high and new orders are accelerating. But in China, production remains 70% of pre-production rates and could remain this way, depending on the outcomes of ongoing U.S.-China trade discussions. Plex will continue to report unique trends and outcomes in the coming weeks as we head into the fourth quarter.
Details on the Data Source & How to Interpret Graphs
Plex Systems solutions are cloud-based, giving us access to 20 years of anonymized, compiled operational data from the approximately 700 manufacturers we serve. This group collectively runs 1,200 active production facilities in 29 countries, representing the aerospace, automotive, fabricated metals, food and beverage, industrial machinery, and plastics and rubber industries. For scale, in the fourth quarter of 2019 alone, this group together processed over 1.4 million shipments. Daily, they record upwards of 8 billion transactions (such as barcode scans, moved inventory, shipments, etc.). Note this data reflects production transactions from January 1, 2020 to August 30, 2020. There is a margin of error of +/- 2%.