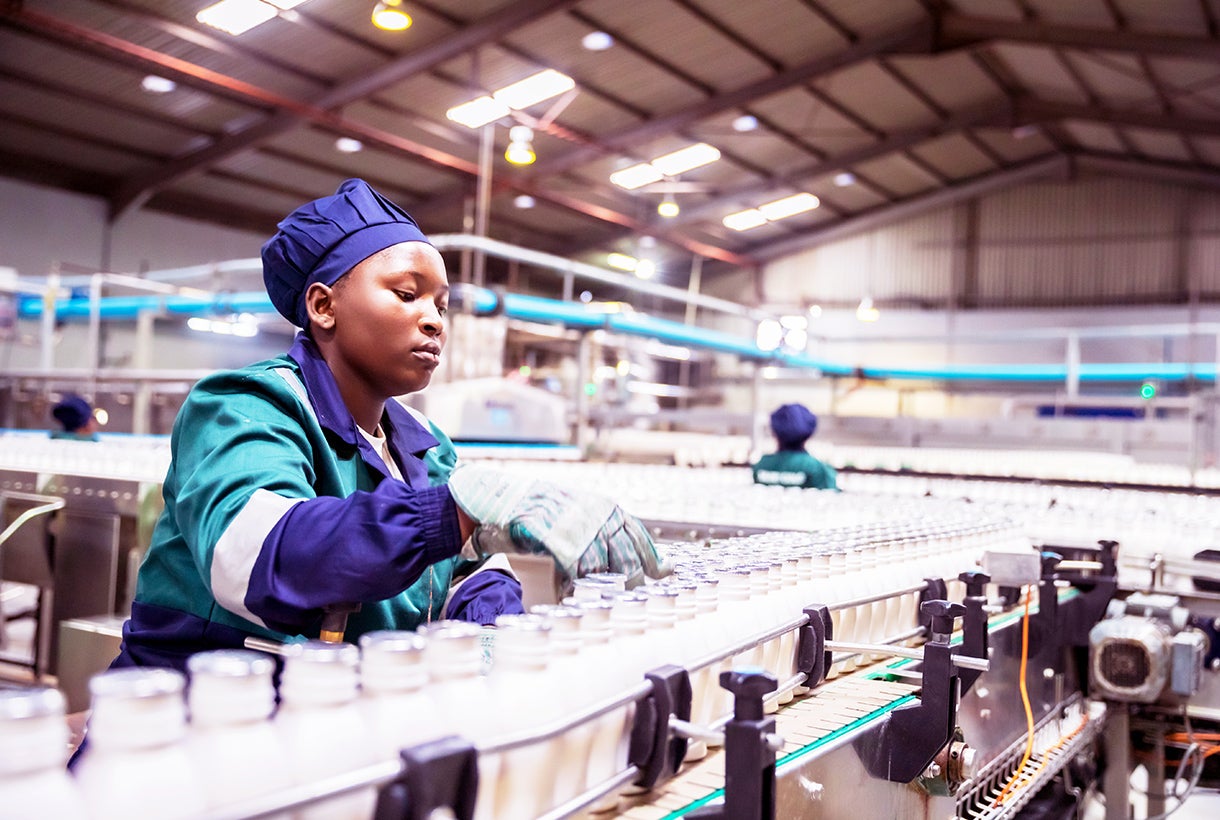 Global manufacturing production is now at 95% of pre-pandemic levels of activity after demonstrating growth for the fourth consecutive week. While the overall increase is slower compared to last week, China and Mexico are continuing to see relatively higher rates of growth, with Mexico becoming the first country to exceed pre-pandemic rates of activity. We are also seeing evidence that European manufacturers are beginning to come back online, indicating the traditional holiday season is coming to a close.
Global data set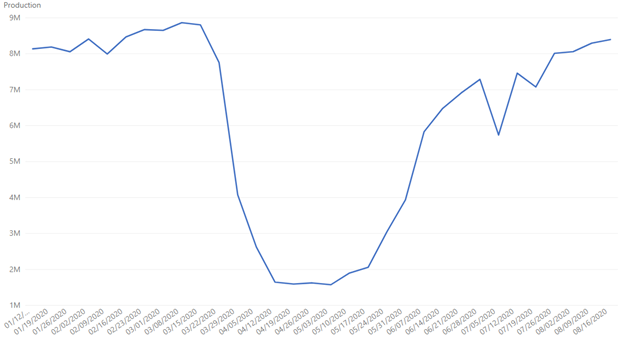 Global manufacturing increased by 1% between Aug. 9 and Aug. 16. While activity has slowed week over week, global production increased by nearly 19% in the past four weeks alone, despite significant slowdowns in Europe due to the annual holiday season during this time.
China data set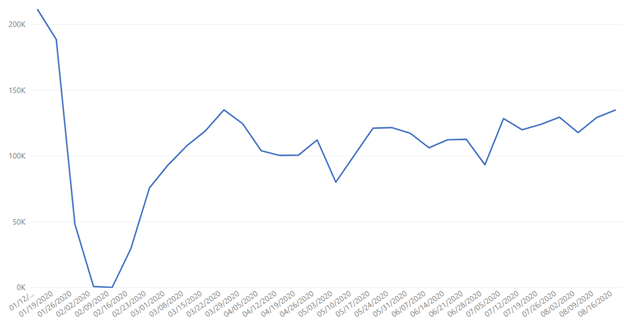 China continues to show growth this week, increasing activity 4% since last week. However, overall production remains at just 64% of pre-pandemic rates of activity. Given President Trump's recent announcement that his administration would set up tax credits for U.S. companies that relocate manufacturing facilities to the United States from China, inconsistent levels of production, as seen since mid-March, will likely continue.
Mexico data set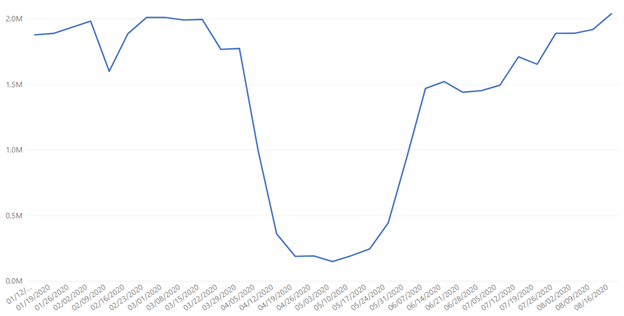 Johns Hopkins – COVID-19 trends in Mexico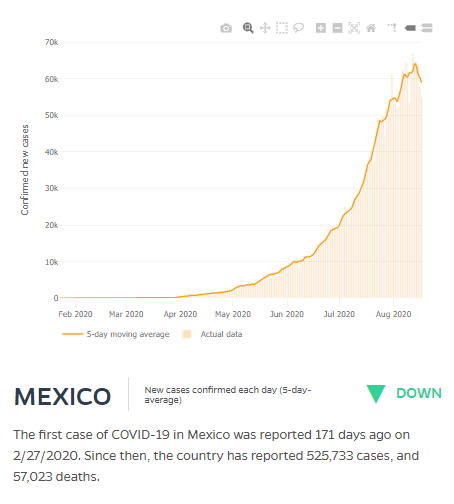 Despite the fact that Mexico is still battling the coronavirus and reporting the world's third-highest number of COVID-19 related deaths, according to a recent report from Johns Hopkins, the country is starting to see a decline in daily confirmed new cases (see above chart and historical data as shared by Johns Hopkins on 8/18).
As the country gains control over the pandemic, it also notably becomes the first country to exceed pre-pandemic rates of activity. While it is slight (at just 101%), we have reason to be optimistic that their growth will continue at a high rate in the near-term: Mexico has continued to aggressively recruit businesses to the region over the last month, and may continue to benefit from the ongoing U.S.-China trade rift. Talks, which were set to take place this weekend, have been delayed, with no new date for continued discussions identified as of this writing.
One Plex customer indicated they expect near-term production rates higher than 100% of pre-pandemic levels for several months to catch up with supplier and order backlogs, but expects activity to settle at less than 100% of pre-pandemic levels for the mid-term until the economy fully normalizes.
France, Germany, Spain, Czech Republic, Romania data set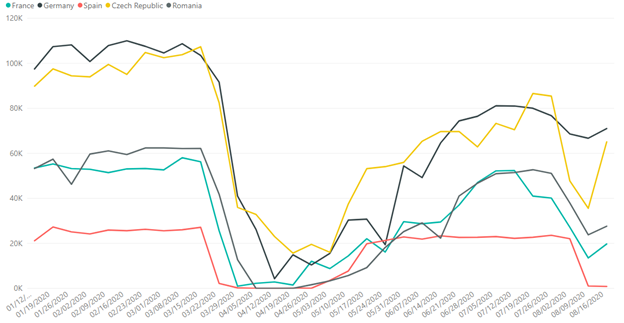 We are starting to again see an incline in production activity in Europe, with production increasing 38% week over week, as plants come back online following the holiday season. The Czech Republic has experienced the most dramatic increase in activity, followed by France, Germany, and Romania. Spain remains at nearly zero activity, producing at a rate not seen since the height of the pandemic, though we anticipate they will increase activity near-term.
Look Ahead
While region-specific activity continues to vary in response to demand within certain industries, local influencers and ongoing global trade discussions, we are cautiously optimistic based on data trends and individual conversations with manufacturers that the industry will continue to see an increase in activity to catch up on backlogged activity for the next several weeks.
Interested in learning more about COVID's impact on the economy?
Join me for a free webinar August 25, along with the chief economist from NAM and data scientists from Machine Metrics as we talk about the latest data and what it means to the future of the business. Learn more and register here.
Or, you can join Plex at the Kentucky Association of Manufacturers (KAM) Autovision conference August 28, where we'll discuss the state of the industry and how smart manufacturing systems address an uncertain supply chain, sharing key insights from Garn Evans, VP of IT & CIO of Motus Integrated Technologies.
Details on the Data Source & How to Interpret Graphs
Plex Systems solutions are cloud-based, giving us access to 20 years of anonymized, compiled operational data from the approximately 700 manufacturers we serve. This group collectively runs 1,200 active production facilities in 29 countries, representing the aerospace, automotive, fabricated metals, food and beverage, industrial machinery, and plastics and rubber industries. For scale, in the fourth quarter of 2019 alone, this group together processed over 1.4 million shipments. Daily, they record upwards of 8 billion transactions (such as barcode scans, moved inventory, shipments, etc.). Note this data reflects production transactions from January 1, 2020 to August 16, 2020. There is a margin of error of +/- 2%.