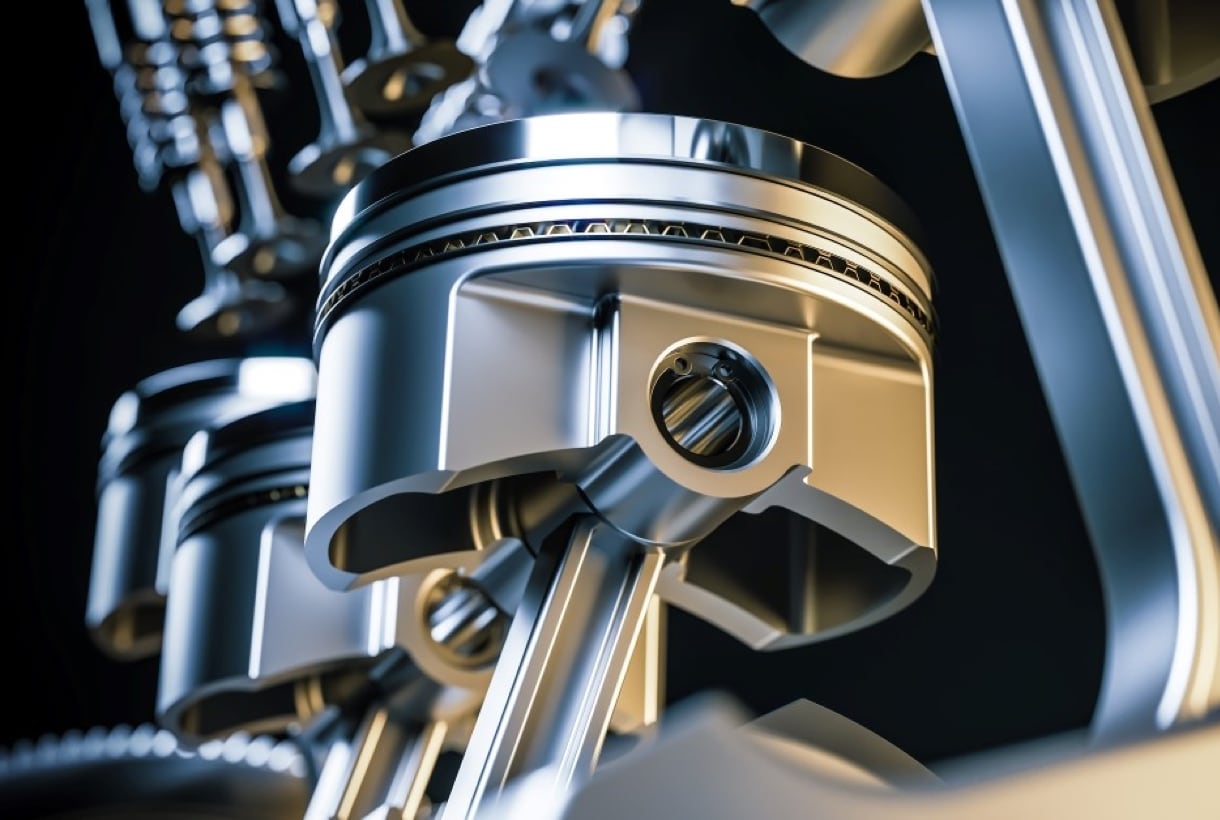 Our latest unique smart manufacturing data shows that global production activity continues to gain momentum, increasing by 10% since last week. As of June 21, the food and beverage sector has now exceeded pre-coronavirus levels of activity, and activity among automotive manufacturers is at 80% of pre-coronavirus production. As we look to specific regions, China's production has essentially flattened and Mexico's growth has slowed slightly in the past week, while rates of production among different countries in Europe are now beginning to vary greatly.
Global manufacturing data set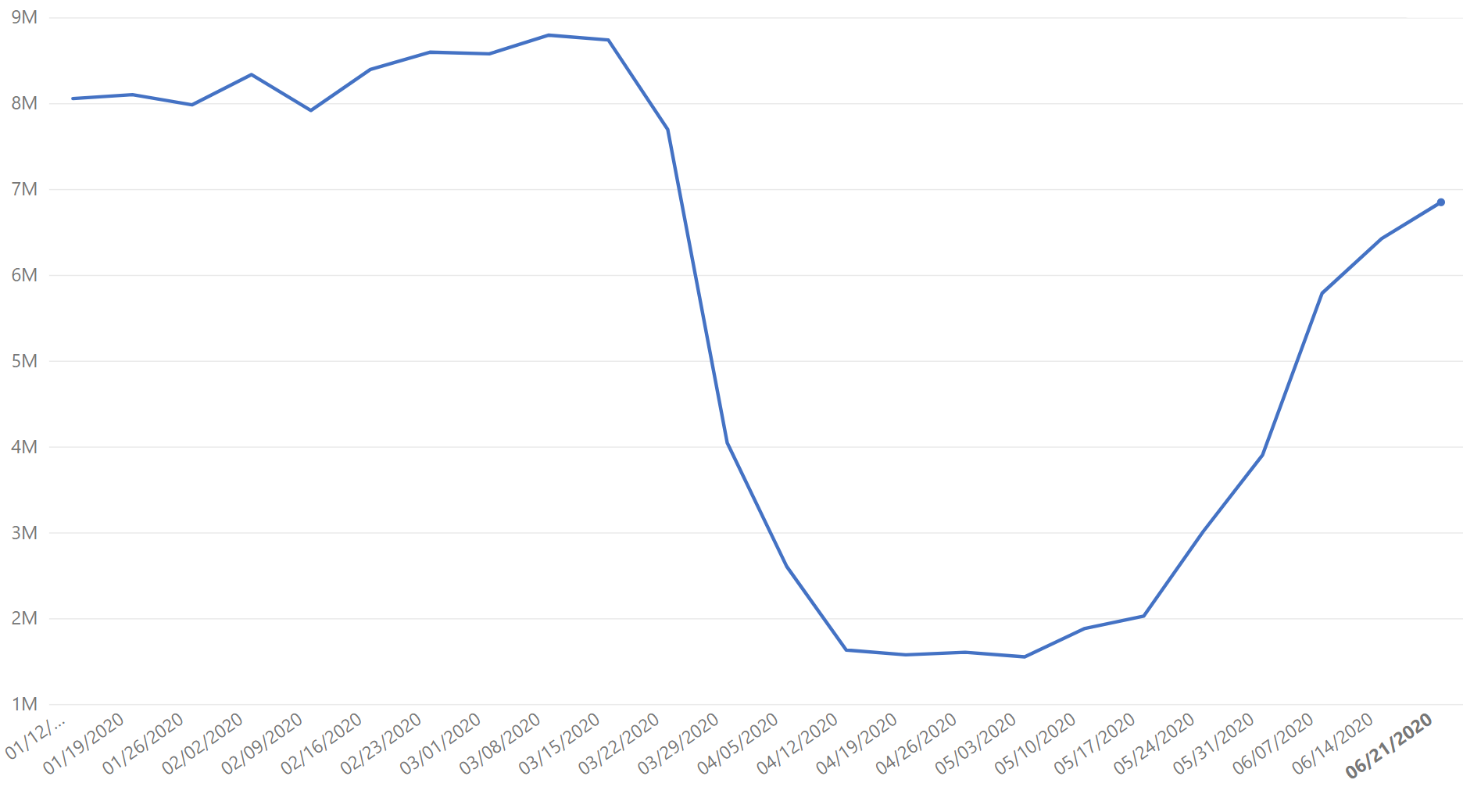 Global manufacturing is now at 78% of pre-COVID levels of activity. Growth has slowed slightly when compared to the rate of change earlier this month, going from 48% the first week of June to 10% in the past week.
Global automotive data set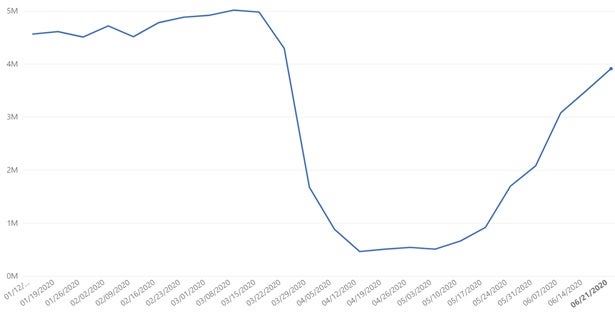 As automakers Ford and Fiat Chrysler report that they expect to return to pre-coronavirus production levels this week, our global automotive data shows that manufacturers supplying the automotive industry continue to see increased rates of activity. This group's activity slightly exceeds the global average at 12% growth week over week. Some automotive manufacturers we work with are even exceeding and in one case doubling their pre-COVID rates of activity, which aligns with reported attempts by the industry and its supply chain to accelerate production in order to catch up to "booming" consumer demand.
Global food and beverage data set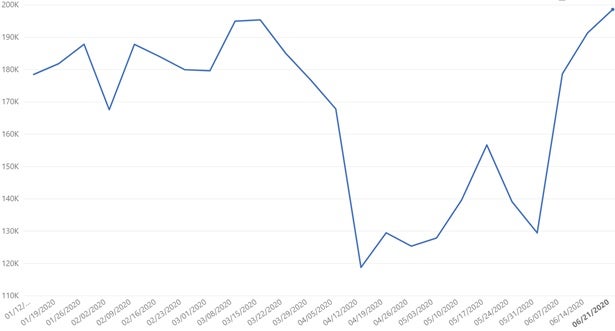 This week, food and beverage manufacturers continue to see accelerated growth, with rates of activity now exceeding pre-coronavirus. Anecdotal information from business leaders suggests that food and beverage manufacturers, similar to automotive manufacturers, are trying to catch up with demand while also working to maintain stringent workforce health and safety standards and avoid the spread of the virus that has been widely reported in food production facilities around the world.
China data set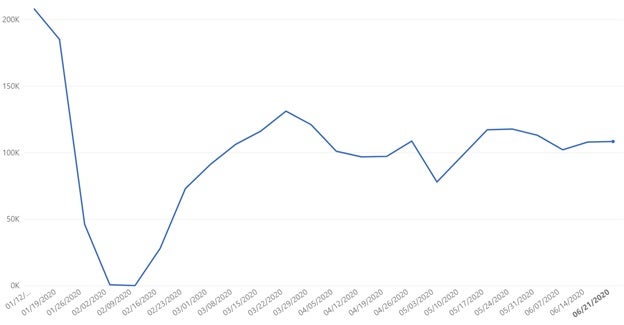 As initially reported last week, China continues to see lower rates of activity when compared to the global manufacturing community. In the last week, they have seen less than one percent growth, hovering at around 50% of pre-COVID-19 rates of activity. We expect this trend to continue in the near-term, as the conversation around "decoupling" the U.S. from China continues.
Mexico data set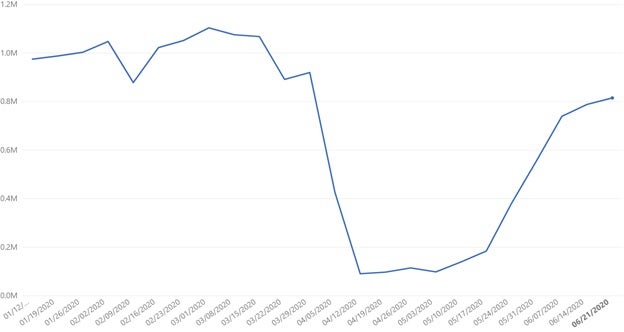 In Mexico, we are seeing a slightly slower than average growth, potentially due to the country's reported status last week as one of the worst-hit in Latin America. Given that factories reopened just last week, combined with the fact that this data set largely consists of automotive manufacturers, we will be watching to see if efforts to contain the coronavirus were effective or not, which could impact the average momentum seen by the globally automotive industry.
Europe data set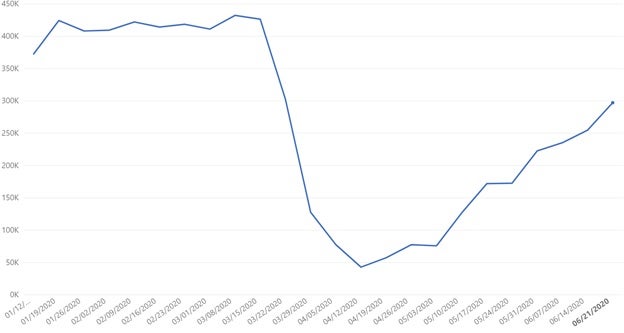 France, Germany, Italy, Spain data set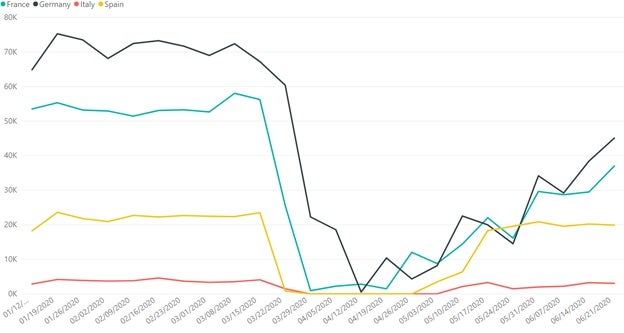 While Europe is seeing an increased rate of production continent-wide, we are seeing inconsistencies at the country-by-country level. For instance, Italy and Spain are now seeing declining rates of activity while German and France are seeing high week-over-week increases in activity, with France in the last week lifting a significant number of restrictions. As some countries begin to relax travel restrictions, health care professions are already beginning training to prepare for a second wave of infections, indicating that the recovery in Europe could be inconsistent for weeks if not months ahead.
Future Outlook
Rates of production among the global manufacturing community are continuing to increase, though we should expect that at the industry-, region-, and plant-specific level, inconsistent levels of activity will likely continue. One trend that appears to remain throughout is the focus among businesses and manufacturing leaders to maintain the health of employees while reducing the risk of infection in order to stop production lines from shutting down.
If you'd like to learn more about the impact of COVID-19 on manufacturers, and what it means for the broader economy, listen to the webinar sharing insights from Plex, the chief economist from the National Association of Manufacturers (NAM) and leaders from MachineMetrics.
Details on the Data Source & How to Interpret Graphs
Plex Systems solutions are cloud-based, giving us access to 20 years of anonymized, compiled operational data from the approximately 700 manufacturers we serve. This group collectively runs 1,200 active production facilities in 29 countries, representing the aerospace, automotive, fabricated metals, food and beverage, industrial machinery, and plastics and rubber industries. For scale, in the fourth quarter of 2019 alone, this group together processed over 1.4 million shipments. Daily, they record upwards of 8 billion transactions (such as barcode scans, moved inventory, shipments, etc.). Note this data reflects production transactions from January 1, 2020 to June 21, 2020. There is a margin of error of +/- 2%.