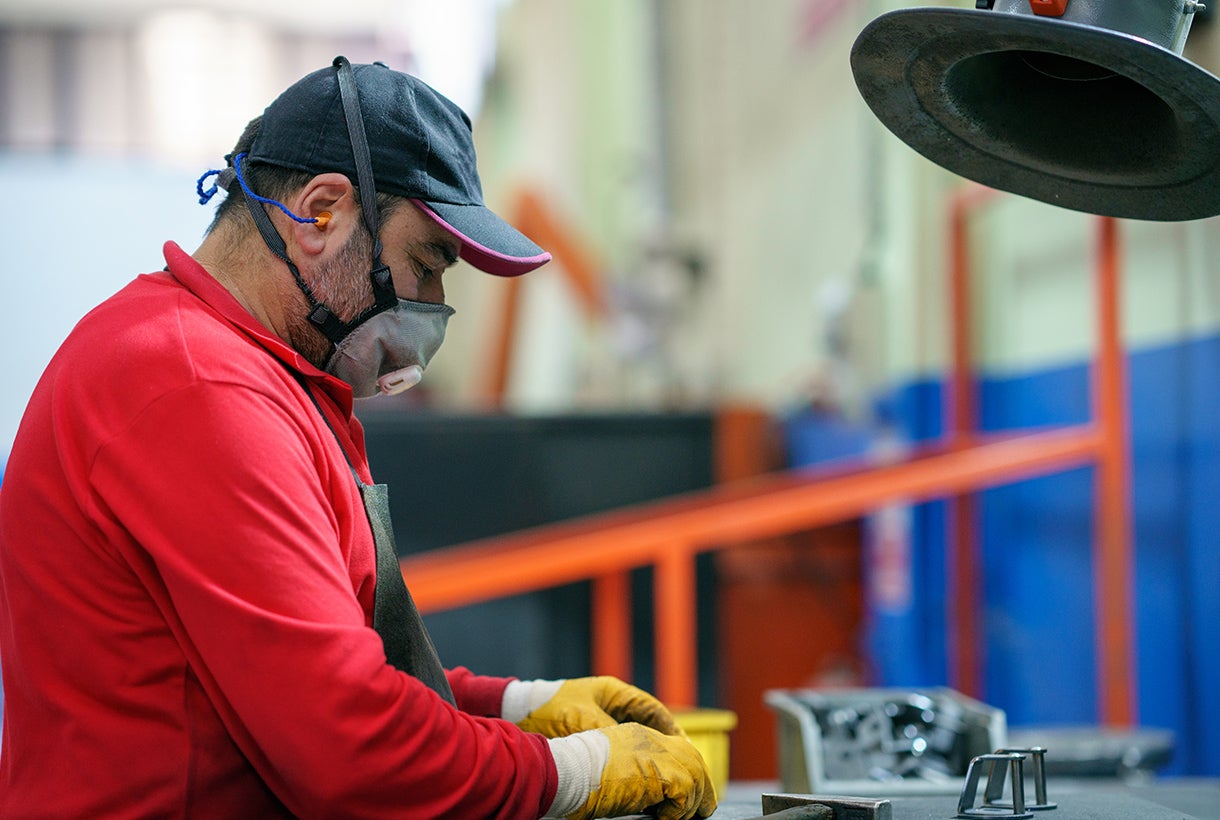 While some regions around the world continue to see surges in coronavirus cases, including the U.S. and Mexico, the global manufacturing community has largely remained insulated from these spikes, with trends in activity now more closely resembling those seen in 2019. However, the levels of production within some individual countries are not as immune.
Global data set (blue line indicates 2020 activity; orange line indicates 2019 activity)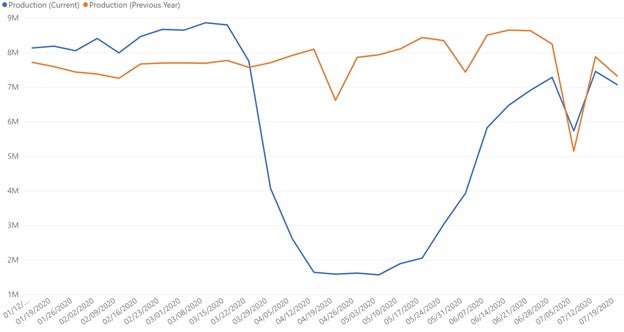 When comparing 2020 activity (blue line in the above chart) to 2019 (orange line in the above chart), smart manufacturers appear to be slowly "normalizing," repeating pre-pandemic production trends seen a year ago even if production volume has not returned to pre-pandemic levels. A notable decline in activity in early July due to annual holiday and summer slowdowns or shutdowns (largely attributed to the U.S.'s Independence Day and Canada Day), along with the slightly slower rate of activity mid-July, is consistent with 2019. As of July 19, smart manufacturers around the world are at 80% of pre-pandemic rates of activity.
Europe data set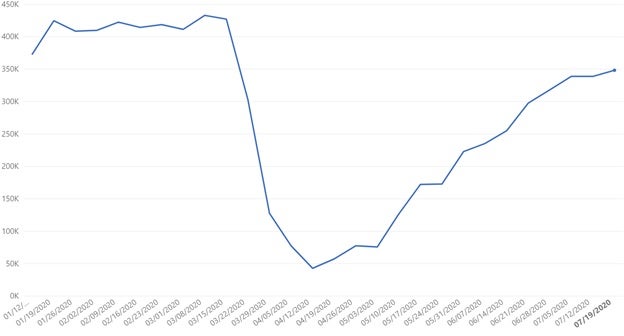 Plants in Europe have generally continued to experience a steady increase in activity, though recent growth is mostly attributed to manufacturers located in Central and Eastern Europe, including the Czech Republic, Hungary, Romania, Slovakia and Serbia. Notably, manufacturers in the Czech Republic saw a 22% increase in activity over the previous week.
France, Germany, Italy, Spain data set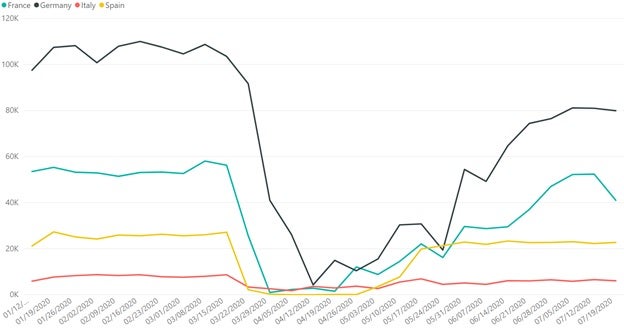 Unlike manufacturers in Eastern and Central Europe, plants located within Western European countries France, Germany, Italy and Spain are no longer increasing production. Factories in Germany, France and Italy are all declining production, while those in Spain generally remain flat. In Germany, outbreaks of the coronavirus in meatpacking plants, where lower temperatures and recirculating ventilation systems are conducive to virus spread, have caused companies to explore technologies and processes that reduce the risk of airborne transmission of COVID-19. This may eventually extend to plants that process fish, frozen fruit and vegetable and milk due to low plant temperatures, further slowing production in the weeks ahead.
China data set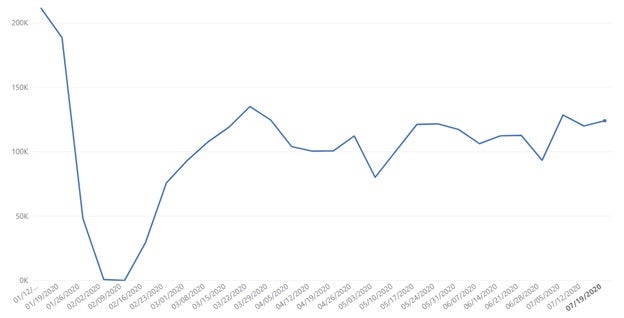 While China continues to battle localized outbreaks, manufacturing production has grown slightly at 3% week-over-week. However, activity is at 59% of pre-pandemic rates. As reported in our previous blog post, ongoing trade discussions with the U.S. and renewed interest in reshoring may indicate that we might not see large increases in manufacturing activity in China for some time.
Mexico data set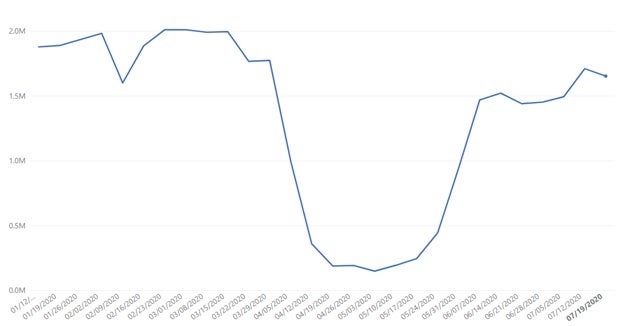 In Mexico, record-breaking numbers of new coronavirus cases were reported over the weekend. The resulting impact on manufacturing workers and the broader supply chain they support, which is already being felt by Ford Motor Company, may soon spread to other companies that rely on local manufacturers.
Looking ahead
The global smart manufacturing community appears to be showing signs of normalcy, but as the coronavirus continues to grow unchecked in some parts around the world, it may become increasingly difficult for manufacturers to find (and keep) a healthy workforce to keep factories running. Consider the automotive industry alone: GM, Fiat Chrysler, and Ford have all reported high rates of absenteeism and a resulting scramble to hire workers in the U.S. And, in the state of Michigan, which houses three of the world's largest automakers as well as parts of its supply chain, the governor has already issued warnings that if cases continue to rise, auto factories may be shut down.
We will continue to monitor production activity closely in the weeks ahead to see how ongoing efforts by manufacturers to protect the health and safety of their employees will be impacted by localized outbreaks of the coronavirus.
Details on the Data Source & How to Interpret Graphs
Plex Systems solutions are cloud-based, giving us access to 20 years of anonymized, compiled operational data from the approximately 700 manufacturers we serve. This group collectively runs 1,200 active production facilities in 29 countries, representing the aerospace, automotive, fabricated metals, food and beverage, industrial machinery, and plastics and rubber industries. For scale, in the fourth quarter of 2019 alone, this group together processed over 1.4 million shipments. Daily, they record upwards of 8 billion transactions (such as barcode scans, moved inventory, shipments, etc.). Note this data reflects production transactions from January 1, 2020 to July 19, 2020. There is a margin of error of +/- 2%.