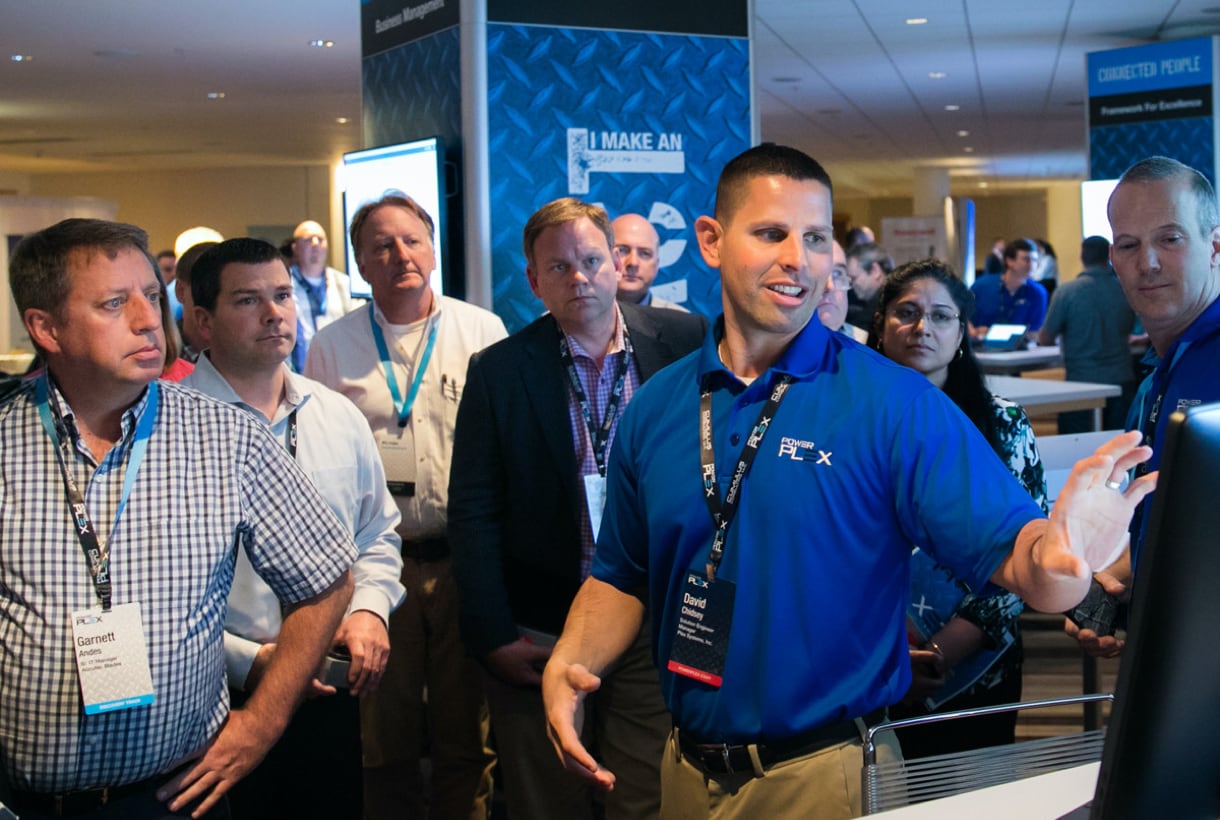 As PowerPlex 2017 wraps up this week, I find myself reflecting on the many great conversations I had with smart, interesting people who are working on making things. I was surrounded by innovation — businesses making innovative products, organizations with a rich history that have continuously evolved by innovating over time, and people who are doing new and unique things with Plex to differentiate their business. Here are a few highlights.
A Broad Range of Businesses
I spoke to a Plex prospect whose company makes optical filters for aircraft windshields to protect pilots, military personnel, and law enforcement from the threat of laser strikes. Who knew this was such a big problem? Green Flash Brewing Co., a Plex customer and San Diego-based brewery, bases its business on continuous innovation, having introduced over sixty-eight beers since starting the company in 2002. Shank's Extracts, a private label maker of flavoring extracts and food coloring and winner of the 2017 Plex Impact award for transformation, was established in 1899 and has evolved their business from producing vanilla flavoring to private label manufacturing of thousands of different recipes.
Plex in Action
Here are several examples of how customers are using Plex to foster innovation in products and process.
North American Lighting: North American Lighting (NAL), an automotive lighting manufacturer, is no stranger to innovation. Back in 2007, NAL introduced the world's first LED headlights. Now, they're focused on Adaptive Driving Beam (ADB) technology—smart headlights that monitor the road ahead and adapt to reduce glare for approaching vehicles and pedestrians. Judy Nagy, General Manager at NAL, said Plex integrates all of NAL's manufacturing and the back-office. She is looking to replace manual production tracking with Plex to track things like scrap numbers and whether specs are out of tolerance—so that adjustments can be made immediately rather than waiting until the end of the shift.
The Piston Group: I spoke to Lindell Stephens at The Piston Group, a leading Value Add Assembly company, which was founded in 1995 by Vinnie Johnson, Chairman and CEO, who is also a former Detroit Pistons basketball player. The company is using Plex to track parts as they travel through the assembly line, providing better visibility into where parts are in the process at any given point in time—enabling the business to improve efficiency, manage inventory more effectively and provide better service to their customers.
USHydrations: USHydrations, a beverage contract manufacturer, is constantly looking for new ways to improve on its spring water-based beverages—with water enhancements including flavoring, vitamin and nutrient additives, electrolyte, and high PH packaging—resulting in over 50 iterations. USHydrations is using Plex for quality management after replacing a system based on Excel spreadsheets. Because of compliance requirements in the food and beverage industry, and number of product variants, it is important to have a system that can capture information quickly, easily and accurately. IntelliPlex dashboards to put real-time data where it is needed to support traceability and recalls, and tablets on the shop-floor communicate this information instantaneously.
Batesville Tool & Die: Samuel Wintz, IT Manager at Batesville Tool & Die Company, a metal stamping manufacturer, is using Plex to automate manual and paper systems. With many open jobs, the company is hiring workers and paying for training and education. Automating with Plex will enable them to redeploy workers to more highly skilled positions.
Firstronic: Firstronic, a provider of electronics manufacturing services (EMS) producing up to 10,000 circuit boards a day, has recently added several new facilities and are operating at 60 percent capacity, giving the business the ability to address growing customer demand and quickly launch new products. Firstronic leverages Plex capabilities on a global basis. The cloud architecture enables them to shorten the process of bringing on new plants from 12-18 months to fewer than 90 days. Plex provides the transparency to track material movement, and traceability at the component level. The company will expand its use of Plex to do more predictive planning, helping identify which parts are running low and to order additional stock.
The list of great examples of companies making cool and unusual things and using Plex in the process could go on. For now, hopefully this will stimulate some thoughts on the variety of ways Plex helps manufacturers innovate.
See also: Manufacturing Industry Leaders Choose Plex Systems